Campaigns & Elections
Who will get the chance to take on Trump?
And more coverage of key 2021 races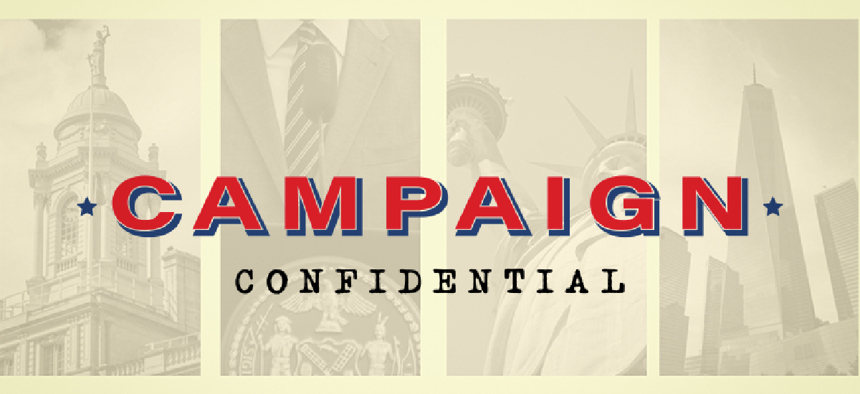 Welcome to City & State's Campaign Confidential newsletter, where Senior Reporter Jeff Coltin is covering the run-up to New York City's hugely consequential 2021 municipal elections for mayor, City Council and more.
Weekly, on Tuesdays. Sign up here.
DA candidates expect to inherit Vance's Trump case
Whoever wins the election to be the next Manhattan district attorney will inherit an office that processes tens of thousands of low-level misdemeanors each year. The next district attorney will also, most likely, inherit what may be the most high-profile and closely watched court case in the entire country, where more than 159 million voters on either side of the 2020 presidential race have a rooting interest: the anticipated prosecution of Donald Trump for financial crimes.
"As long as the work of the DA's office and the current DA is pending, these are going to be things that we inherit," said Tahanie Aboushi, one of eight candidates competing in the Democratic primary for Manhattan district attorney. "So if the investigation is still open, we're not just going to come in and interfere with that, but we're going to have an opportunity to actually have that inside information, assess (the case) and make a decision there."
The stakes are high, but information about the case is limited. Manhattan District Attorney Cyrus Vance Jr.'s office reportedly intensified its criminal investigation of Trump's personal and business finances once it became clear that the former president had lost his reelection bid and would no longer have the legal protections of the White House.
Which candidates say they have the experience to take on Trump? Read more here.
By the Numbers
414,000
The number of Instagram accounts following Lamor Miller Whitehead, who's running for Brooklyn borough president. That's huge. To contextualize with fellow Brooklynites, Public Advocate Jumaane Williams has more than 94,000 followers, Rep. Hakeem Jeffries has 141,000, and the Rev. Al Sharpton has 389,000. Miller Whitehead's follower count may be artificially inflated – some of the accounts following him appear to be fake, and his account has gained more than 110,000 followers in just the past week. His campaign says his "embrace from New York's Hip Hop community accounts for the rapid growth," and sure enough, Miller Whitehead announced endorsements this week from Fabolous, Maino, Dame Dash and Foxy Brown – who is reportedly Miller Whitehead's cousin. Could 414,000 Insta followers propel him to victory? Unlikely. His fundraising has been really weak, and Miller Whitehead, a Christian pastor and ally of Brooklyn borough president Eric Adams, served time in prison on identity fraud charges and was chastised by the Brooklyn district attorney's office in 2014 for fundraising off a nonexistent initiative with the DA's office.
Stringer the comptroller vs. Stringer the candidate
Gov. Andrew Cuomo criticized both Scott Stringer and Eric Adams last week for not talking enough about police reform. "You want to be mayor, what would you do about this?" he asked. "In concrete terms. A few months from a mayoral election, I don't know what their positions are." Can't blame Cuomo for being confused. Stringer released a detailed policing plan this week – but on his government website as comptroller, rather than his campaign website. One rival's staffer texted: "This is so transparently using govt resources to campaign. I legit had to double take." Sure enough, adding any part of the plan to his campaign site might violate conflict of interest rules since it was compiled by government employees – but Stringer is avoiding controversy for now by simply not having any clearly accessible list of plans and policy positions on his campaign site.
Groundhog predicted an early oppo season
The "get to know the candidates" season is ending, and news outlets are starting to drop some pretty critical pieces on the leading mayoral candidates. Politico New York pushed a well-researched piece on Scott Stringer having it both ways with real estate developers. And the Daily News delivered a classic oppo dump on Eric Adams' overseas trips sponsored by sketchy governments like China and Azerbaijan. But Andrew Yang seemed to dodge a Business Insider bullet. The Jan. 30 piece on the sexism and "bro culture" of his presidential campaign was kept behind a strict paywall. And soon after publishing, Business Insider added a lengthy editor's note about sloppy sourcing, overstated evidence and uncorroborated anecdotes. Journalists: keep 'em coming. But keep your standards high.
Draw your own conclusions
While the state campaign finance disclosure website continues to be entirely unusable, a couple of activists have taken the city's campaign finance data and highlighted only the political insiders. It's called Project Red String, and it tracks donations to and from elected officials, staff, club members, journalists and more – basically, anyone who might read City & State. It was co-founded by two Very Online Gen Z operatives: Michael Sutherland, who's a researcher at the Housing Rights Initiative, and Lucy Merriam, a CUNY Graduate Center student. And though it's still in the beta stage, it's an endlessly interesting tool for any donation detectives.
Gale's Brew-haha
A stronger Gale blew into the Jim Owles Liberal Democratic Club's meeting Thursday night, but members withstood the Lind – er, wind – and did not vote to revoke their endorsement of Sara Lind for City Council District 6 following Manhattan Borough President Gale Brewer's complaints. Some big names showed up in the virtual meeting to support Brewer – New York City Public Advocate Jumaane Williams, Manhattan Democratic Party boss Keith Wright, RWDSU President Stuart Appelbaum and former Council Members Rafael Espinal and Rosie Mendez among them, per a tipster. But Brewer's effort failed, and Lind kept the endorsement. Too early to start tearing up Broadway?
Endorsement Watch
Assembly Member Jessica González-Rojas endorsed Dianne Morales for mayor – Morales' first endorsement as someone's top choice … City Council Member Farah Louis endorsed Eric Adams for mayor … United Food and Commercial Workers Local 1500 backed Scott Stringer for mayor … comedian Amy Schumer endorsed Andrew Yang and is hosting a fundraiser with his campaign … Carlos Menchaca picked up his first two mayoral endorsements from City Council candidates Hailie Kim, who is running in District 26 in Queens, and Chris Sosa, who is running in District 5 in Manhattan … Menchaca also endorsed their council campaigns … Assembly Member N. Nick Perry endorsed Khari Edwards for Brooklyn borough president over his fellow Assembly Member Jo Anne Simon … the Professional Staff Congress union at CUNY endorsed a slate of council candidates, including Amit Bagga in District 26 … Bagga was also endorsed by state Sen. Jessica Ramos and former Democratic gubernatorial candidate Cynthia Nixon … CWA District 1 endorsed a slate of council candidates, including Mino Lora in the District 11 special election in the Bronx and Elisa Crespo in the District 15 special election in the Bronx … District Council 37 also endorsed a slate, including Eric Dinowitz in District 11 and Ischia Bravo in District 15 … RWDSU also endorsed Dinowitz … and Council Member Jimmy Van Bramer endorsed Lora … Council Member Mark Treyger endorsed Ari Kagan to succeed him in District 47 in Brooklyn … and the Bronx Democratic Party endorsed Althea Stevens over the party's former political director, Yves Filius.
Poll Sight
The Hell's Kitchen Democrats didn't make their primary endorsements in a smoke-filled room – instead, 105 of their members voted online using ranked-choice voting, and shared the full results! Check that link for great visualizations of instant-runoff voting across eight races. In the mayoral race, notice that all of the voters who had Dianne Morales as their top pick had Maya Wiley ranked on their ballot too. Kathryn Garcia outperformed expectations with a second-place finish, and nobody was surprised to see Manhattan's own Scott Stringer win the club's backing. And for the data nerds – some rounds do not add up to 100% because of "no endorsement" votes.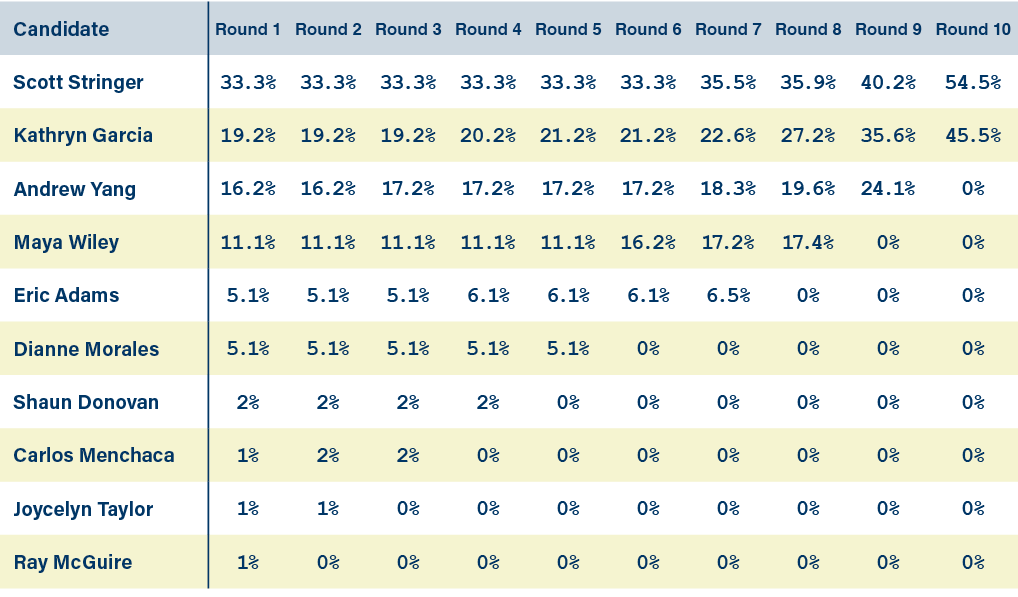 Staffing Up
Lindsey Green has joined Kathryn Garcia's mayoral campaign as communications director … Julia Savel has joined Maya Wiley's mayoral campaign as director of rapid response … Ray McGuire's mayoral campaign has hired Ny Whitaker as campaign operative, Rod Townsend as constituency liaison and Vinuri Ranaweera as policy associate … Katie Shane, deputy political director of the New York City District Council of Carpenters, is serving as campaign manager for Crystal Hudson's City Council campaign in District 35 in Brooklyn … Ansley Pentz has joined Alexa Aviles' council campaign in District 38 in Brooklyn as deputy campaign manager … María Di Franco Quiñonez is joining Sandy Nurse's council campaign in District 37 in Brooklyn as field director … Saman Mahmood, former deputy district director for Rep. Max Rose, will be campaign manager for Mike Schnall for City Council in District 49 on Staten Island.
Got tips? Email JColtin@CityandStateNY.com or DM me @JCColtin
District Data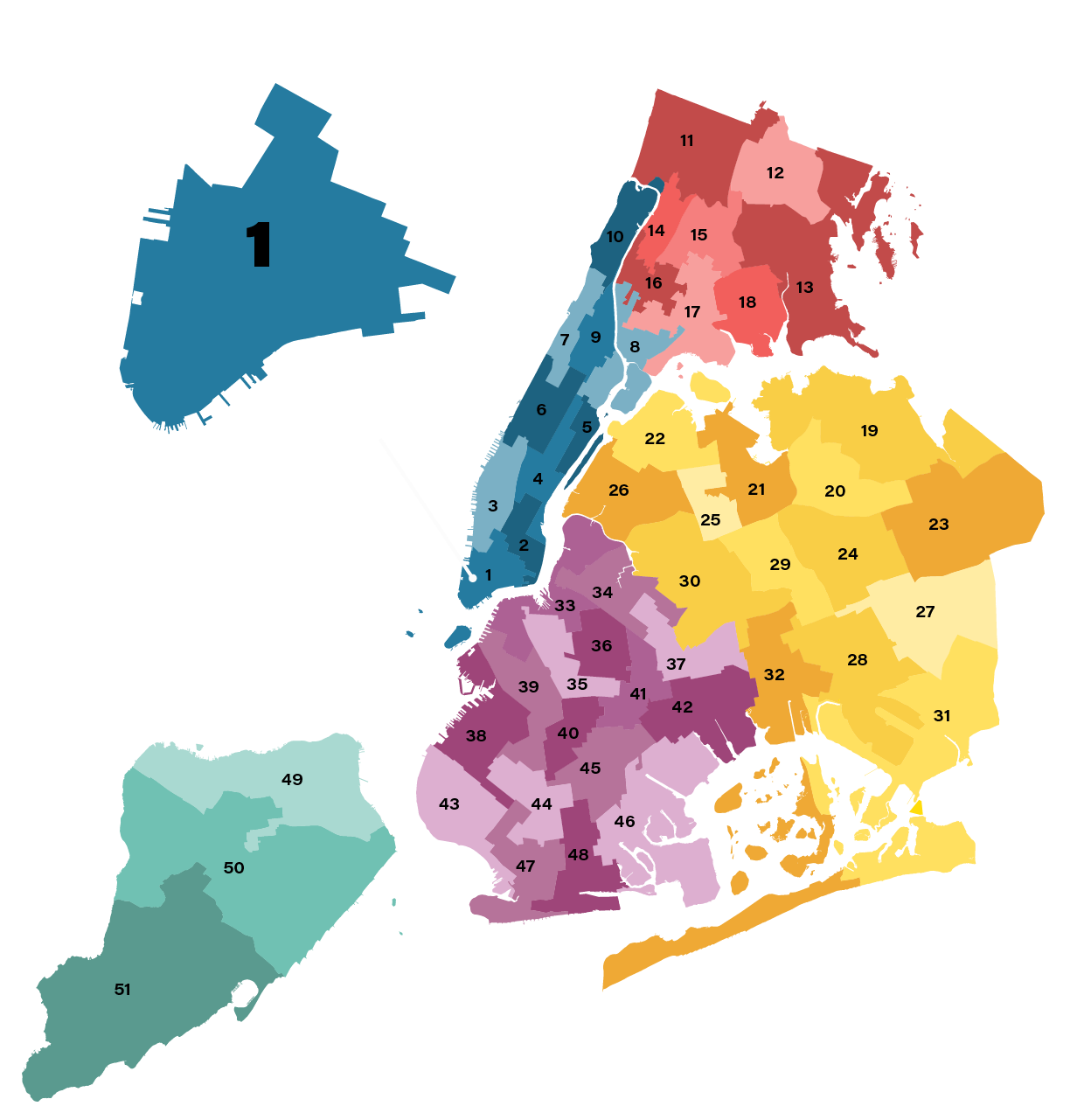 City Council District 1 in lower Manhattan, covering neighborhoods including SoHo, Chinatown, the Financial District and the Brooklyn Bridge Park piers
Current council member: Margaret Chin, since 2010, who is term-limited at the end of this year
2010 census demographics: 45.1% white, 36% Asian, 12.4% Hispanic, 4% Black
Housing: 78.8% renter-occupied, 21.2% owner-occupied
2013 primary election results: Chin: 58.9%, Jenifer Rajkumar: 41.1%
2017 primary election results: Chin: 45.8%, Christopher Marte: 43.9%, Aaron Foldenaur: 6.3%, Dashia Imperiale: 3.9%
Who's running: Susan Damplo, Jacqueline Gross, Susan Lee, Gigi Li, Jenny Low, Maud Maron, Christopher Marte, Denny Salas and Tiffany Winbush. Low is a longtime local power broker who works for Council Speaker Corey Johnson and has grabbed major endorsements from Rep. Nydia Velázquez, the New York City Central Labor Council and the United Federation of Teachers. A progressive in the field, Marte is leading in fundraising and has devoted supporters who almost helped him unseat Chin four years ago. Li, who's currently Chin's chief of staff, has the current member's support, and recently got a boost from mayoral candidate Andrew Yang. And Maron, an education activist, has raised a lot of money while appealing to more conservative voters in the district.
Twitter Posting 
BREAKING: The mayoral ballot will be printed on a CVS receipt.

— Ember(@embernic) February 4, 2021
Powered By
NEXT STORY: How Claudia Tenney won back her seat in Congress