Coronavirus
AOC explains it all
Rep. Alexandria Ocasio-Cortez flexed her social media prowess to give an update on coronavirus stimulus talks.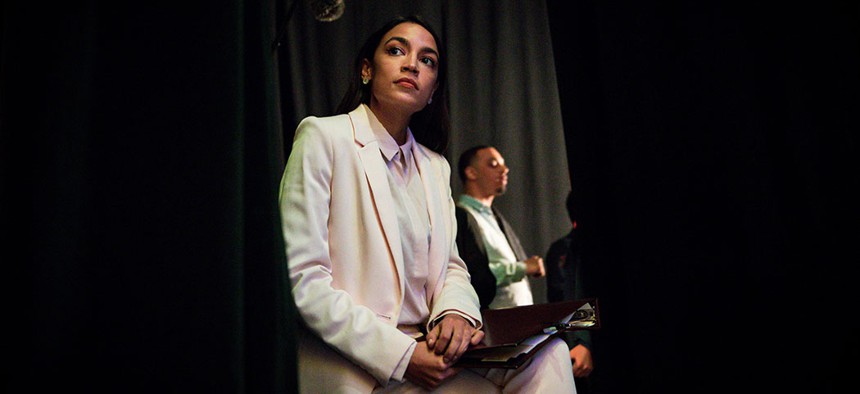 Confused about the current state of stimulus talks? Unclear what's even on the negotiating table? Need a primer on lemon-zesting? Rep. Alexandria Ocasio-Cortez can help you out with all three.
Ocasio-Cortez took to Instagram live on Thursday night for a combo stimulus explainer and cooking demonstration, after a follower on Twitter asked her for an update on the drawn-out, at-times confusing and continually contentious coronavirus relief negotiations in Congress. "Here's the deal. Everyone's talking about all this fighting going on in D.C., and honestly, to a certain extent, who cares about the fighting … when the end result of this fighting is that people aren't getting what they need," Ocasio-Cortez told the roughly 46,000 viewers who tuned in to the start of her live video.
The reason for the continued delay, Ocasio-Cortez explained, is that there are a few key sticking points that each party has yet to budge on. One is the insistence by Senate Majority Leader Mitch McConnell and other Senate Republicans that the coronavirus relief package include corporate liability protections – a measure that would shield businesses from COVID-related lawsuits. While McConnell has framed liability shields as a measure to protect small business owners, Ocasio-Cortez argued Thursday that they would also protect giants like Amazon – which already faced a lawsuit alleging the company failed to provide Black and Latino workers with access to personal protective equipment.
McConnell has suggested backing off from his insistence on liability protections – pushing off that issue to a future relief package, along with state and local aid – but state and local aid is a must for Democrats.
For some Democrats, another sticking point is stimulus checks – such as the ones Americans received in the CARES package this spring – which are not currently included in the $908 billion relief package being discussed. There is some bipartisan support for another round of $1,200 stimulus checks, however. "This is not a situation of every Republican not wanting to cut checks. This is a situation of Mitch McConnell not wanting to cut checks," Ocasio-Cortez said on Instagram on Thursday. U.S. Sens. Bernie Sanders and Josh Hawley have introduced legislation to ensure Americans receive another round of $1,200 checks.
Ocasio-Cortez has demonstrated her command of social media time and time again – including on Twitch, a livestreaming platform largely used for video games – and Thursday's impromptu broadcast was yet another example of her draw. And while viewers of her Instagram live steadily dropped off – from roughly 46,000 viewers at the outset to 26,000 by the end – virtually any other New York politician would be thrilled to have that kind of immediate reach. (Not included in that is probably Gov. Andrew Cuomo, whose once-daily coronavirus briefings – in a more traditional broadcast format – drew a total of 59 million viewers around the world.)
But if you tuned in to Ocasio-Cortez live for the cooking demonstration, you may have been disappointed. In her nearly hour-long broadcast, she managed to zest exactly one lemon.