New York State
Asian American elected officials talk about the wave of hate crimes
Grace Meng, Yuh-Line Niou, Ron Kim, John Liu and Kevin Thomas on the crises their communities are facing.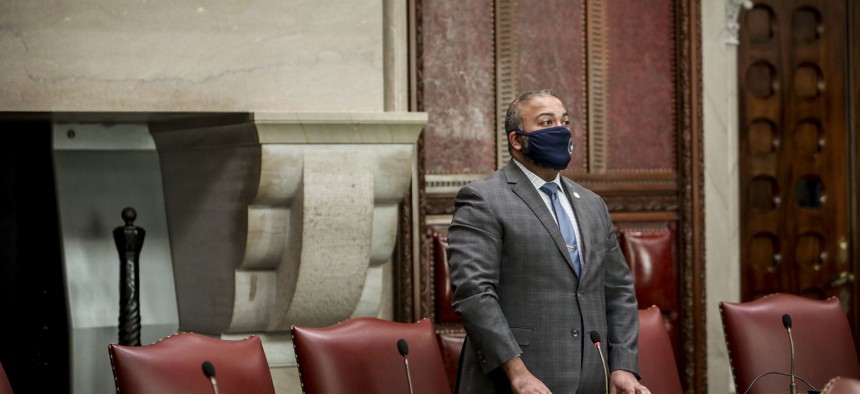 New York, like other parts of the country, has seen an increase in hate crimes and bias incidents targeting Asian Americans. Last month, a clip of a woman being violently shoved to the ground in Flushing went viral, but that was reportedly only one of four attacks against Asian American women in the city that day. It isn't known how many other attacks fly under the radar, because many victims don't feel comfortable coming forward to report. 
A number of factors are driving the spike in anti-Asian hate crimes: the pandemic, a slumped economy, Donald Trump's incendiary rhetoric surrounding the coronavirus and Asian Americans being labeled as "perpetual foreigners," to name a few. There have also been a number of solutions put forward to better support victims and prevent these acts from happening, but lawmakers and community advocates acknowledge there's still more work to be done.
City & State spoke to several downstate Democratic Asian American lawmakers about their experiences of this crisis, their past experiences of racism on the job and their upcoming policy proposals for protecting their communities. Below are condensed and edited responses from Assembly Members Yuh-Line Niou and Ron Kim, state Sens. John Liu and Kevin Thomas, and Rep. Grace Meng.
How does it feel to be an Asian American elected official right now?
Yuh-Line Niou: My community really suffered economically early on, people stopped coming to Chinatown way before the shutdowns, and it was just really hard to watch it all happen and to try to stop some of the racist views that were being spread. It wasn't like little things either, even in the media, we were seeing our big newspapers and big networks showing Flushing and Chinatown (for coronavirus coverage) before there was even a case there. Why was that the visual for what coronavirus looks like, what this pandemic looks like? It hurt me, it hurt my heart, it just made me feel very lonely, because I felt like I was screaming into a void a little bit. I told folks, I said it in my budget speech, I said it in my conference, I begged for resources, I told folks my small businesses are in trouble, and that we were going to see a huge wave in anti-Asian hate crimes, and nobody heard me.
John Liu: Well, it's more about how it feels to be Asian American. We're not new to hate crimes, but it's been a long time since we saw such a humongous spike in bias incidents, ranging from snide comments and offensive gestures to outright discrimination and acts of violence. The NYPD reports a 1,900% increase from 2019 to 2020, and nationally there have been a few thousand documented cases, and undoubtedly many more that were not reported, and this comes at a time when the nation is facing the onslaught of coronavirus, but Asian Americans have faced a two-pronged attack, that of COVID-19 and that of the virus of hate.
Ron Kim: I feel privileged that I have a soapbox, and I have the ability to forge solidarity with other communities and work towards solutions. Whereas the Asian American families who are living in fear, they're just stuck in this space where they feel they're just doing everything they can to survive, and the whole world seems to be targeting them for no reason, and they don't have any means to find justice, and to feel like they belong in our community. I know how that feels, and I feel that it's my responsibility, along with other Asian electeds, to really give them the voice and a solution that they deserve.
Kevin Thomas: There's been a lot of hateful rhetoric in politics in the past couple of years … it's similar to after 9/11, when a lot of South Asians were targeted because they were brown and had a beard or wore a turban. We're living in similar times. It's important as one of the very few Asian Americans in the state legislature to have a voice, to uplift the community.
Grace Meng: I have two words that I've been using to process it, one is "hurtful" and the other is "relief." Growing up as an Asian American, my experience – I don't want to speak for everyone – but my experience was always to be encouraged to blend in, to fit in, and to be invisible ... We were taught that if we fit in and stay quiet then we would be seen as "American enough." Right now, when I say I feel a sense of relief, it's because I feel like whether I'm talking to people in my community, or whether I'm responding to allies from other communities, we can finally say to ourselves: We don't have to be silent. That in order to prevent future incidents we have to speak out, and it's so important that we speak up, and that's where my sense of relief comes from. I will say that it obviously feels hurtful to see people who look like my own parents and grandparents getting attacked for no reason at all, and I hurt for the people who might not be able to speak up for themselves when it happens.
What kind of racism have you experienced in your political career?
Yuh-Line Niou: People have called my office to tell me that I eat bats, like literally, just to tell me "you eat bats" and hang up. People have called my office to tell me that I eat cats and dogs and I need to go get my wok and fry them up. It's been very interesting to get those kinds of calls because they would literally look me up online to call my offices, and you're just like, "Really? You've got that much time on your hands?" ... I feel tired every time I get something like that. You think after a certain amount of time, and after a certain number of comments, that it doesn't get to you anymore, but that's never true. It's always about whether or not I belong, whether or not I deserve to be a part of this place, and have the same rights as them.
John Liu: When I first ran for New York City Council in 1997, I had the door slammed on me a lot. When I was going door to door, after the door slammed, I could hear the person yell, "I would never vote for fucking ch––-." Now, the door is not slammed quite as loudly, but it's still shut pretty quickly, and the words are, "You think I would ever vote for someone like you?" Even when I was running for citywide office, in 2009 for comptroller and in 2013 for mayor, there were pundits who would say, "John's a good guy, but the city's not ready for someone like him."
Ron Kim: I've experienced a lot of microaggressions in Albany. In a crowded elevator, people would ask me if I knew Mr. Park who owns a dry cleaner in Buffalo, or how to dance like Psy when "Gangnam Style" was popular. Those are examples of how they'd try to softly humiliate me in front of other people. It happens less than it used to, but it's a slow death with microaggressions. It can be even worse than someone just shouting a racial slur at you, where you think like, "OK, you're just a racist," and then they go away. It's about changing the culture in Albany, but also this is something so many Asian Americans face at their jobs.
Kevin Thomas: I'm what, three years into this? But you don't picture an Asian American with my name, right? Kevin Thomas is super white. It's just educating people about where I come from and who I am. I wouldn't say I've been discriminated against, but I'm sure there's some bias here and there when they see me. During the campaign, there was a lot of rhetoric about me that was pushed by the other side. There were a lot of mailers that pasted my brown face on a white body, running away with money. 
Grace Meng: Luckily, there's not been anything physical. It's just a daily part of life that I expect, it's not necessarily because I'm a politician, but just because of the way I look, right? I live in a very diverse city in New York, but I can always depend on someone saying something every few weeks or months to make feel that I'm not really American enough – from people yelling out "ching chong ching chong" – those types of slur, to people asking me where I'm really from and complimenting me on my English skills. Related to my job, after I passed our resolution, which I really meant to be very unifying and symbolic, I got all these voicemails in my office, basically making fun of me, and people saying that they're gonna say "Chinese Virus" no matter what.
Is there something in particular you'd like to see from your colleagues on this issue?
Yuh-Line Niou: What I would really like to see is for folks to fight for us in the budget, to make sure Asian Americans are included in social services, in access to care, access to benefits. Even with the vaccine rollout, people saw how little access and accessibility our communities had. Language access is such a huge issue for services, and yet nobody has been proactively helping except for the folks who need it the most, and I would like to see my colleagues support that.
Grace Meng: In Congress we have a Black caucus, a Hispanic caucus, Native American members, who have stood with the Asian community and condemned this bigotry from literally day one. I just think that is so important, because in the past Asian Americans haven't always felt like communities beyond ours recognize what we're going through. I will say there is always room for leadership, to do more, whether it's in politics or in other spaces, whether you are an elected leader, whether you are a religious leader, whether you run a corporation.
What policies are you working on to combat this?
Yuh-Line Niou: I think that there are a lot of different things that we've asked for that would help protect Asian Americans, and it's not even just really large things, it's also small things that happen day to day. For example the robocall bill that I introduced with Sen. Brad Hoylman is something that will protect our seniors, because my seniors in Chinatown have been fleeced almost $4 million dollars from the robocalls. We've worked with our Attorney General Letitia James, who has actually been really great about putting together a hotline for folks to report. That's a very new thing. The (Asian Pacific American) task force has also worked on multiple different measures to help bring our communities together, and to get funding for the groups that are actually doing the work on the ground.
John Liu: The first and foremost thing is not to be silent, and I've encouraged anybody and everybody who has experienced a bias incident, no matter how seemingly harmless, to report it to authorities as well as post their comments and their sentiments on social media. Also, we now have an Asian hate crimes task force in the NYPD, which the mayor announced with much fanfare, but there are no resources allocated towards this so-called task force. It's a press release, but there needs to be more than just a press release, there needs to be actual officers assigned to the task force, as opposed to the task force being made up of detectives who would be pulled off their normal duties whenever they might be available, and with no compensation thereof.
Ron Kim: There are three ways we can deal with this.One, we can go back and blame Trump for lighting the fire with his language. Two, we can rely on more policing and punishment to make an example of people, like what happened after 9/11, when we funded a lot of money into policing and surveillance and all we ended with was a lot of discrimination against Muslims. Three, we can go back and do the work to improve the social conditions that brew violence and hatred, and that we know is deeply linked to our policymakers' inability to meet basic needs like health care and food. This is the moment we can actually address the violence and the hatred some of our communities are facing. There are people that don't have a job to pay for food and basic needs, and those people can be triggered by a number of things, like (Trump's rhetoric), and this is how we do the job of addressing the violence, rather than trying to get more dollars for the police to punish people.
Kevin Thomas: This isn't just an enforcement thing, it also deals with education. The executive budget, if you go into it, has a part in there for the division of criminal justice services where they were going to cut $25 million from a program called "Securing Communities Against Hate Crimes" and in our one-house (budget) we're pushing to make sure that's restored. How that program works is that money is dispersed to community groups that fight against hate crimes and educate people, so that's one policy that's going into this from the (state) Senate side.
Grace Meng: We worked on a resolution last year that passed the House, for Congress to condemn anti-Asian sentiment during COVID, and there were three bills embedded in this one resolution. President Biden recently signed an executive memorandum, which had all three of my bills in it, including the symbolic condemning of anti-Asian bigotry, but also for us to work within federal agencies to provide more resources to collect data and statistics on the levels these incidents are happening at, so we get a more complete picture, in order to hopefully provide more long term solutions.
Another thing is a more long-term solution, but I believe is crucially important. Growing up as a kid in New York, I don't believe that I learned enough about what complete American history looks like. I think there's a tremendous opportunity for us here, and I am working on legislation to make sure that our school curriculum across the nation has a more diverse display of what American history truly looks like.
Powered By
NEXT STORY: How Letitia James' star is rising