New York State
Assembly's impeachment law firm raises concerns
Davis Polk, hired to lead the impeachment investigation law firm, has ties to Cuomo allies.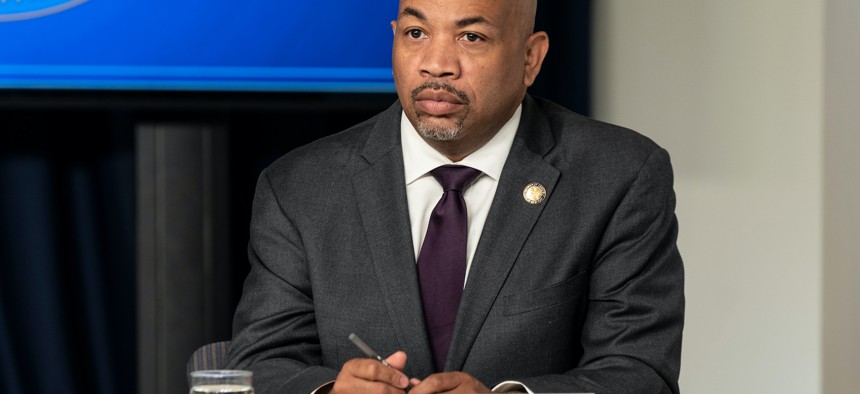 The Assembly's impeachment investigation into Gov. Andrew Cuomo took a small step forward Wednesday, as Speaker Carl Heastie and Judiciary Committee Chair Charles Lavine announced they've hired a law firm to assist with the probe. But the announcement was met with almost immediate backlash because the firm, Davis Polk & Wardwell LLP, has ties to Cuomo allies. The announcement also comes as Heastie reels from a leaked conference meeting in which some Assembly members suggested that he's using the impeachment investigation to stall for time and potentially to protect Cuomo.
Three lawyers from Davis Polk will take charge with the Judiciary Committee to investigate allegations of sexual misconduct, Cuomo's handling of nursing homes during the COVID-19 pandemic and an alleged coverup of structural problems with the Gov. Mario M. Cuomo Bridge. Greg Andres was notably part of then-special counsel Robert Mueller's team investigating Russian interference in the 2016 presidential election and potential collusion with the Trump campaign. He prosecuted ex-Donald Trump campaign manager Paul Manafort as part of that probe. Martine Beamon is a former federal prosecutor in New York and Angela Burgess leads the law firm's White Collar Defense and Investigation Group. "Hiring Davis Polk will give the Committee the experience, independence and resources needed to handle this important investigation in a thorough and expeditious manner," Heastie said in a statement, adding that he has "the utmost faith" that Lavine and the Judiciary Committee will conduct a "full and fair investigation."
But already, questions have arisen about the Assembly's choice of law firms. Observers on Twitter pointed out that Davis Polk has ties to Chief Judge Janet DiFiore, a Cuomo ally and appointee. Last month, after two former aides had come forward with accusations of sexual harassment, the governor tapped DiFiore to jointly appoint an independent investigator with Attorney General Letitia James after receiving backlash for attempting to appoint an investigator himself. Cuomo soon caved to continued public outcry and referred the investigation to James alone (James' investigation of sexual misconduct allegations is independent of the Assembly's.). DiFiore's husband Dennis Glazer, now chair of the SUNY Purchase College Council, spent over 30 years at Davis Polk, where he led its litigation practice. Cuomo appointed Glazer to his SUNY Purchase position in 2019, and since 2014 has been a member of the state Gaming Commission.
The decision drew the ire of Debra Katz, the attorney for Charlotte Bennett, one of Cuomo's accusers. "We were alarmed to learn that Speaker Heastie has hired Davis Polk to assist with the investigation, given the connection between Dennis Glazer, who spent over 30 years as a partner at Davis Polk, and the Governor," Katz said in a statement. "This is an unacceptable conflict of interest."
Republican Assembly Member Michael Montesano, the ranking member of the Judiciary Committee, expressed confidence in both the investigation and choice of law firm his Democratic counterpart decided to hire. "I think it's going to be fair, I think it's going to be equitable," Montesano told City & State after the hiring was announced. "I have confidence in what we do. Like I say, a lot of us argue about a lot of things, but when certain things have to get done, they get that." He said that looking at Davis Polk, the law firm seems to have the "background and experience" not just to help conduct a thorough and fair investigation, but to do so expeditiously. 
The hiring announcement came the morning after a leaked conference meeting laid bare divisions within the Democratic conference about the investigation. At the leaked March 11 meeting, in which he futilely criticized such leaks, Heastie emphasized the importance of "due process" as he defended his decision to move forward with a preliminary investigation rather than formally beginning impeachment proceedings. "We need to get witness testimony," Heastie said, according to Yahoo News. "We need to hear from people who have this information. You put them under oath." 
Some progressive members of the conference, including Assembly Members Ron Kim and Jessica González-Rojas, criticized the move in the closed-door meeting as an attempt to buy time for Cuomo. And Heastie admitted he has "no idea" how long the investigation may take.
The leaked conference led Heastie to abruptly pause session on Tuesday in the middle of voting on high-profile legislation to end solitary confinement in prison to conference with his members. According to reports, he said he would no longer hold virtual meetings with the full conference, instead meeting with members in smaller groups.
With reporting by Zach Williams
Powered By
NEXT STORY: Who's got the money and who's got momentum?