Letitia James
Does calling for Cuomo to resign undermine NY's first Black AG?
A growing number of lawmakers, clergy and others are arguing that it hinders Letitia James' independent investigation.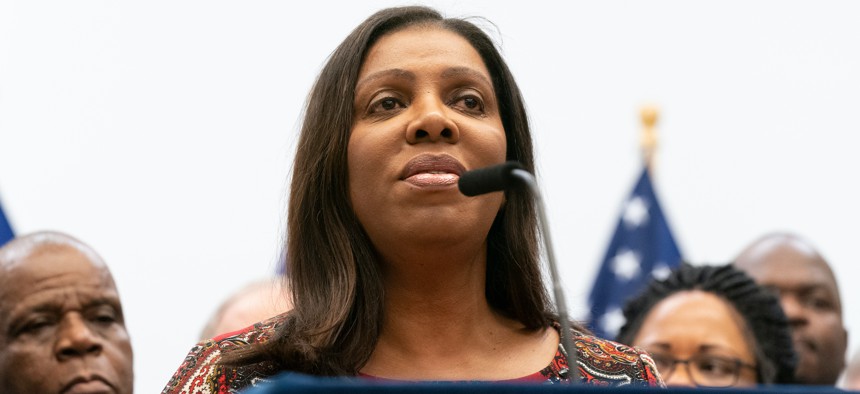 At least 50 members of the state Legislature say they have heard enough. They say Gov. Andrew Cuomo should resign after multiple women have accused him of sexual misconduct. "We have allegations about sexual harassment, a toxic work environment, the loss of credibility surrounding the COVID-19 nursing home data and questions about the construction of a major infrastructure project," state Senate Majority Leader Andrea Stewart-Cousins, the most prominent state official to call for his resignation, said March 9. "We need to govern without daily distraction." Recent polls show a significant chunk of the electorate thinks Cuomo should resign, but a majority of voters want him to stay in office as an investigation overseen by state Attorney General Letitia James continues.
The governor has obvious reasons to want to slow down calls for his resignation despite the half-dozen times when he said other embattled electeds ought to just give up and go. "There are allegations and then there are allegations," he told reporters March 9. "There is a spectrum of allegations." Whether at his urging or not, dozens of state lawmakers, pastors and other political notables say they feel the same way. "I have been a friend of the Cuomo family for 47 years," reads a March 10 statement from former Rep. Nita Lowey, issued through the state Democratic Committee. "Attorney General Letitia James has appointed two outstanding attorneys to conduct an independent investigation. At least until they have reported their conclusions, the Governor should remain in office." James has signaled that the investigation will continue whether or not Cuomo steps down.
A growing number of elected officials, clergy and political notables are pushing back at calls for Cuomo's resignation by saying they are trying to help James – not him. They say it is a matter of moral principle that she gets a chance to give Cuomo the due process they say he deserves, even if that has clear political benefits for the increasingly embattled governor.
"My position has nothing to do with Andy Cuomo," Assembly Majority Leader Crystal Peoples-Stokes, the most prominent Black legislator to explicitly say Cuomo should not step down, told Spectrum News. "It's a principled position. It has all to do with the fact that there is due process in the court systems and all too often people don't get to have that," she said. "As you can see, I am an African American woman. This is no offense against anyone else, but I am of a people who have in this county for generations been found guilty of things before we were properly tried."
She is one of nearly two dozen female legislators who released a letter making the argument that calls for Cuomo's resignation were premature and that they undermined James' ability to demonstrate how an independent investigation handled by outside attorneys could find the facts, whatever that means for her political future. "We agree with their position that the Attorney General should not be undermined as the chief law enforcement officer in the State of New York by preventing the investigation or, as we would put it, rendering such an investigation moot," reads a March 9 letter sent in support of the lawmakers by two dozen clergy leaders from across the state.
City & State attempted to contact all of them. Most did not respond to requests for comment, but Omar Jolly, lead pastor at the Sanctuary of Elmont on Long Island, said in an interview that he signed the letter after seeing it circulated in an informal online network of Christian ministers. "There needs to be a fair trial or process when it comes to (the) investigation," he said. He added that applies with the current accusations of unwanted touching and inappropriate comments against Cuomo, the litany of sexual harassment and assault allegations against former President Donald Trump, or anyone else. "That's what I wholeheartedly believe in," he said. A review of the location of each pastors' church found that about 2 in 3 were represented by state lawmakers who have not called for Cuomo to resign.
Just who exactly has been behind efforts to push back against calls for Cuomo to resign by arguing the merits of due process remains a bit of a mystery. A Cuomo spokesperson and female legislators have denied that the governor had anything to do with their recent letter. A Cuomo representative did not respond by publication time about the level of involvement he might have had with the letter from the clergy, but the attorney general was not involved, according to her office. "It does look like something the ministers organized on their own," said a spokesperson for Peoples-Stokes. Whether the ministers meant it or not, their efforts to help James are helping Cuomo in the way that he appears to want the most. He is in the fight for his political life, and whatever James' investigation might find, a little time hardly hurts in living to fight another day.
Powered By
NEXT STORY: Corey runs citywide, take two