How good-government groups would handle COVID-19
A new letter outlines the public health regime New York would have if watchdogs had their way.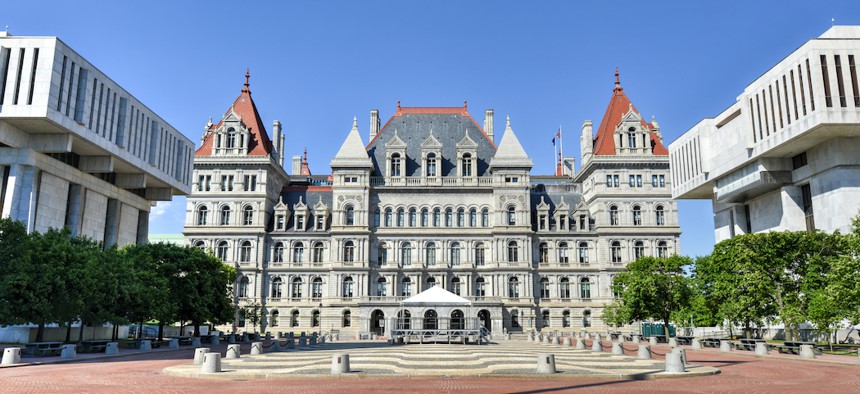 Gov. Andrew Cuomo has overseen the state's response to COVID-19 for more than a year. State lawmakers have their own ideas about how to effectively manage the public health crisis, but as the state Senate and Assembly get ready to assert their own power against the increasingly embattled governor, nine government watchdogs are offering a glimpse of how things might be if they were in charge. The groups envision a public health regime ruled by full data transparency. State lawmakers would conduct oversight hearings that would assess the successes and failures of the state's response to the pandemic. An independent tribunal would do the same with local governments, hospitals, social services and the health care system.
Call it revolutionary for the Empire State, but the federal government and numerous states already do much of what the good-government groups are requesting. "In a healthy democracy, transparency and oversight are normal and expected," reads a March 3 letter to the governor, state Senate Majority Leader Andrea Stewart-Cousins and Assembly Speaker Carl Heastie. "We ask you to work together to provide full public transparency about the COVID-19 emergency."
That could be difficult considering the ongoing friction between the legislative leaders, who are moving forward with plans to roll back Cuomo's expanded emergency powers next week, and a governor facing scandals over alleged sexual harassment and his handling of COVID-19 nursing home deaths. Still, the "three people in the room" who call the shots in state politics might find some things to like in the letter. Organizations signing on to the letter were Reinvent Albany, BetaNYC, Citizens Union, Common Cause New York, Empire Center for Public Policy, League of Women Voters of New York State, National Freedom of Information Coalition, New York News Publishers Association and New York Public Interest Research Group.
This document lists the 121 data sets the groups want to see posted online, including the racial breakdowns of vaccinations and fatalities as well as more detailed explanations of how the state crunches its numbers. It is not that the Cuomo administration does not make much of this information already available – though notably not regular and detailed information on COVID-19 deaths and vaccinations by race or ethnicity – but this data should be published in a format easier to analyze. "In April 2020, some of our groups wrote Gov. Cuomo asking him to put tabular data online in the state's open data portal," reads the letter. "We received no response, and at last count we found only a handful of spreadsheet-readable COVID-19 related datasets online or on state websites." A spokesperson for the governor said the administration would review the letter.
Representatives for Stewart-Cousins and Heastie did not respond to a request for comment about the letter, but their chambers have conducted a litany of hearings on the state's handling of the pandemic going back to the late spring. Good-government groups want them to do more of that at a time when there continue to be big questions about the state's handling ofnursing home deaths, immunity protections for nursing homes and other issues like the money spent on ventilators."We agree with legislators who are calling for one or more oversight hearings to create a full picture of the COVID-19 emergency and better understand how NY state and local governments responded to it," reads the letter.
COVID-19 has been a unique disaster in the state's history, but the governor and state lawmakers do not need to reinvent the proverbial wheel in order to determine some lessons learned about the pandemic. The process used by the National Transportation Safety Board to investigate jet crashes and train derailments is a model of how government officials, independent experts and private industry can work together to get the facts, according to the good-government groups. "New York State was hit as hard by COVID-19 as anywhere in the world," reads the letter. "Why? What did state and local governments do that worked or did not work? What lessons can be learned and new systems put in place to mitigate the next pandemic?"