New York State
Looking back on a year of locked down New York
Public health experts discuss what has gone right and what's gone wrong in New York's approach to combating the spread of COVID-19.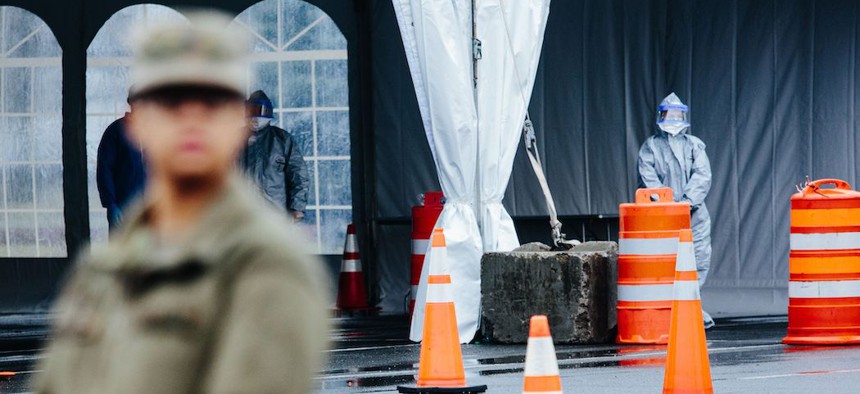 A year ago this week, Gov. Andrew Cuomo signed the New York State on PAUSE order, shutting down all nonessential activity in the state and setting in motion what we'd all come to understand as "lockdown." It's been 12 months of pandemic restriction rollbacks, reopenings and renewed shutdown orders, but the state has yet to really press play on the resumption of normal life. 
New York was one of the first states to shut down nonessential business activity at the beginning of the pandemic, yet Cuomo and New York City Mayor Bill de Blasio have each received criticism for not acting fast enough to shut down or failing to communicate the severity of the virus's threat to New Yorkers. Today, new cases of COVID-19 are broadly declining after surging in the fall and winter, and vaccinations are finally ramping up. But the pandemic is far from behind us, and the emergence of new variants – including one that first appeared in New York City – has posed some concerns about the continuing spread of the virus.As we look ahead at a spring and summer poised to be full of staggered reopenings and relaxed restrictions, it's worth looking back at New York's policy approach to slowing the spread of the virus over the last year.
To weigh in on what New York state and city did well – and not so well – when it came to shutting down last March and relaxing restrictions over the past 12 months, City & State reached out to public health experts and epidemiologists, including Bruce Y. Lee, executive director of Public Health Informatics Computational and Operations Research and professor at the CUNY Graduate School of Public Health and Health Policy; Wafaa El-Sadr, a professor of epidemiology at Columbia University's Mailman School of Public Health; Rachael Piltch-Loeb, an associate research scientist at NYU School of Global Public Health; and Stephen Morse, a professor of epidemiology at the Columbia University Mailman School of Public Health.Responses have been edited for length and clarity.
What did New York state and New York City do right when it came to instituting lockdowns this time last year? What did they do wrong?
Bruce Y. Lee: Things could have been much worse had New York state and New York City not closed schools, businesses and other public gatherings last spring. This was done despite other political leaders around the country still trying to downplay the COVID-19 pandemic, suggesting that it was not as serious as it really was. However, there were also several issues. One was that the decision to take action should have occurred earlier, once cases started appearing. Secondly, New York should have put in place programs and policies to help people better deal with the consequences of the shutdown. Thirdly, there needed to be a number of other interventions layered on simultaneously, like a surveillance system to track where the virus was spreading to allow more targeted approaches, a contact tracing program to help box in the virus, programs to boost the distribution of face masks and other personal protective equipment earlier, and a warning system that clearly tells everyone what restrictions will be in place. Finally, there needed to be a clear and organized plan regarding when restrictions would be initiated and relaxed. 
Wafaa El-Sadr: One of the most heartening elements of the New York state and New York City (approach) has been the engagement and commitment by the people to their own health and wellbeing as well as that of their communities. The leadership worked hard at communicating frequently in order to keep people informed and unified. The quality of the data shared has been enhanced over time and more promptly shared, which was so fundamental in maintaining societal cohesion. In terms of the things that could have been better, I would say that the testing and PPE shortage at that time was quite difficult and created frustration and confusion.
Rachael Piltch-Loeb: New York (on) PAUSE was thoughtful in that it was not simply a lockdown, but rather a ten-point plan that covered multiple aspects of behavior and protective actions for various service sectors. What was missing at the time from the PAUSE – and is still an ongoing challenge – was how we would know when it was time to reopen or scale back some of these measures. Expectation management was difficult too, meaning establishing a realistic timeframe, and being honest about the scientific uncertainty and (about the fact) that there would be a range of risks associated with different tasks. There was miscommunication based on lack of scientific understanding at times. 
What are the city and state doing right when it comes to the restrictions in place right now? What are they doing wrong?
Wafaa El-Sadr: The accelerated momentum of easing of restrictions now goes counter to the data we are seeing in terms of the transmission of the virus in the community. We have stalled in terms of number of cases, hospitalization rates and testing positivity, all reasons for concern when combined with findings of evolving new virus variants. It would behoove leadership to pause on the easing for now until we see a consistent improvement in the pandemic metrics. We can lose the gains we have achieved thus far.
Rachael Piltch-Loeb: Getting a handle on testing capacity, turnaround and results was a challenge a year ago and is still a challenge. I still see questions on how can we interpret the positivity rate, and how to use data to make decisions, so there is still room for improvement. Testing and vaccination – as well as other protective actions like mask wearing or social distancing – and healthcare interventions are all part of a toolbox, and we can't forget about the other tools because a new one, i.e. the vaccine, is now our favorite. 
Stephen Morse: I think the recommended precautions – masks, distancing, ventilation, avoiding crowds and large gatherings, especially indoors, and good hand hygiene – were communicated well. This was challenging as best practices could change in response to new knowledge or better supply availability. I think most of the restrictions were done better than in most other states, and generally in line with the scientific advice. Parts of the state outside of New York City may have had restrictions rolled back too soon. Large indoor sporting events would also not be among the first places I'd open up. I understand the strong desire to do it, but I'd prefer to start more cautiously.
By the two-year anniversary of New York on PAUSE – a year from now – what kinds of restrictions will still need to be in place and what restrictions are likely to still be in place? What about in the next six months?
Bruce Y. Lee: The strategy needs to be more proactive than reactive. There should be a surveillance system in place that tracks where the virus may be spreading so that restrictions can be more targeted and selective. There has to be a system in place that can catch surges/outbreaks before they get worse, rather than waiting until cases and hospitalizations rise. 
Wafaa El-Sadr: I am optimistic that by the second anniversary, we might be in a different place in terms of the pandemic situation and societal restrictions. I can see a scenario where we remain vigilant in terms of monitoring the status of the epidemic while remaining cognizant of certain public health protective measures that may have durable benefit. Will we be aware of staying home when sick? Will we be more selective when shaking hands and instead bump elbows? Will we be aware of distancing, preferring to stand or sit apart when possible? Will we use the knowledge gained from this experience in being supportive of public health efforts? Will we be better neighbors and citizens, caring about those less fortunate and in need? Will we be kinder in our interactions remembering how much we missed human contact?
Stephen Morse: New York has done about as well as humanly possible since starting shutdowns, despite unfortunately getting a late start, but far ahead of almost every other state. A lot of what happens in the future depends on what we do. With vaccines rapidly becoming available, there's hope we could get back closer to normal by next year. I'm afraid that the combination of the optimism brought on by the vaccines, and fatigue and boredom with all the personal precautions may push us into complacency or carelessness. The danger isn't over. More than ever, we still need to be cautious, and keep up our other precautions until everyone is vaccinated. Our vaccination programs are in a race with potential new viral variants that could evade our vaccines, and new variants can start anywhere in the world. Despite mask fatigue, the only way to get an edge in that race is to prevent virus transmission as much as possible.
Powered By
NEXT STORY: The major 2021 New York City mayoral contenders