Andrew Cuomo
Melissa DeRosa was on the rise, then the last two months happened
Ongoing scandals have ended the secretary to the governor's star turn.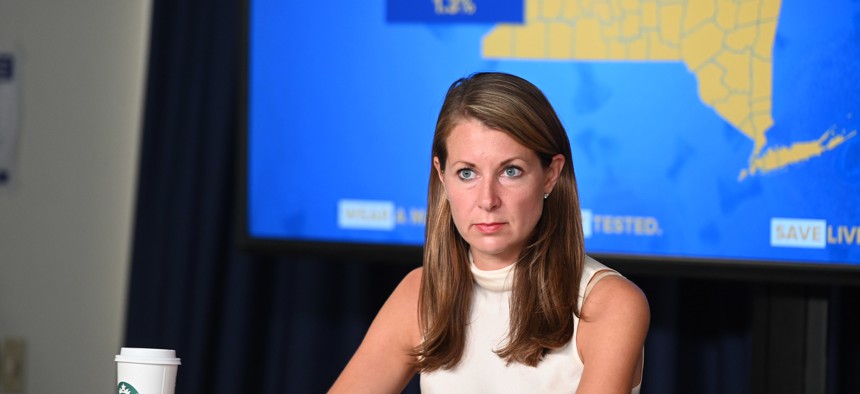 Millions of Americans got to know Secretary to the Governor Melissa DeRosa over the past year. She appeared in nationally televised COVID-19 briefings and in glossy magazine profiles. She rallied celebrities on social media to combat the pandemic. Whenever Gov. Andrew Cuomo spoke to the public, DeRosa was seemingly always by his side, working her smartphone, shuffling paperwork and offering responses to just about any question reporters might ask about the greatest public health crisis to hit New York in a century. Like her boss, DeRosa's developed a national reputation as an avatar of competence and calm, in stark contrast to the chaos emanating from the White House. "Their strategy is simple: Be as transparent as possible, even when the news is bad," reads an April story in Elle, referring to Cuomo's team. For better or worse, her time in the national spotlight was hardly over.
As protests against systemic racism erupted last summer, causing other New York political figures such as New York City Mayor Bill de Blasio embarrassment over their reluctance to stand up to their own police, DeRosa continued to enjoy flattering coverage. "We flattened the curve, and we saved lives," she told Harper's Bazaar. "We now must use that same energy and unity and resolve to confront and beat back 400 years of systemic racism and discrimination." The June issue of the fashion magazine featured DeRosa on one of six covers that also included a member of Congress, a widely respected epidemiologist and a six-time Olympic gold medalist. An advisory role to the transition team for President Joe Biden hinted at bigger things to come for the 38-year-old DeRosa. "Instead of working 24 hours a day, she's been working 27 hours a day lately," an anonymous source told the Daily News in January. 
Now, with Cuomo under scrutiny for his management of COVID-19 in nursing homes and a series of sexual harassment allegations, DeRosa's public image is again following the governor's trajectory, and this time it's downward. Her role in overseeing a report that undercounted COVID-19 deaths among nursing home residents, as well as her role in contributing to a reportedly abusive work environment in the governor's office, is leading a growing group of former gubernatorial staffers (and some anonymous current ones), state lawmakers and political insiders to say she embodies much of what is wrong with Cuomo's reportedly brutal management style.
"The enforcer for all of this is Melissa DeRosa," a former senior Cuomo staffer told City & State on condition of anonymity. "And the way she goes about it is often about tearing you down to build herself up, and it's usually about making sure other people see her do that to you, so they know they are a target as well." 
The Cuomo administration denies these charges. "Melissa is the exact same person behind the scenes as she is on camera – tough, hardworking, brilliant, meticulously prepared, and always fighting to improve the lives of New Yorkers," Cuomo spokesperson Rich Azzopardi said in a statement.
The governor is the indisputable head of his administration, but DeRosa (the first woman to ever be named to the top appointed position in the state) has an outsized influence in keeping staff in line. She entered the administration in 2013 as a spokesperson for the governor working under then-Secretary to the Governor Bill Mulrow, and moved up the ranks of Cuomo confidants as other aides left the administration. By the time Cuomo's last reputed "enforcer" Joe Percoco went to federal prison in 2018 following a federal conviction for bribery, DeRosa had become one of the few people inside the governor's innermost circle, after succeeding Mulrow in 2017. "DeRosa is definitely one of those people who, at the end of the day, their main goal is to make sure that he's happy," said a current gubernatorial staffer who requested anonymity to speak candidly. "His personality is always an element in everything." 
"The way she goes about it is often about tearing you down to build herself up, and it's usually about making sure other people see her do that to you, so they know they are a target as well." - former senior Cuomo staffer
Like Cuomo, DeRosa's image took its first major recent hit on Jan. 28, when a report on nursing home deaths released by Attorney General Letitia James stated the administration had undercounted the official death toll by 3,800 people in a report that DeRosa oversaw. The present scandals afflicting the administration really began accelerating after a Feb. 10 meeting between top administration officials and state lawmakers. The legislators were upset about months of delays in fulfilling their request to release data on exactly how many nursing home residents died of COVID-19 in hospitals. According to DeRosa's comments in that meeting, the administration delayed releasing information to state lawmakers because the Department of Justice was also requesting similar information. "We froze," she said. "We were in a position where we weren't sure if what we were going to give to the Department of Justice, or what we give to you guys, what we started saying, was going to be used against us." Those words were leaked to the New York Post.
Cuomo then made a fateful telephone call, in which he allegedly threatened Assembly Member Ron Kim, demanding he disavow a statement on the brewing scandal or face retribution. Azzopardi told The New York Times that Cuomo had only asked Kim to clarify his remarks. The governor went on to criticize Kim in a press conference, making accusations of unethical fundraising practices. A full transcript of the Feb. 10 meeting was released on Feb. 17, and the scandal blew up from there. 
As The Wall Street Journal reported, DeRosa and other top gubernatorial advisers – including Health Department Commissioner Howard Zucker, Department of Financial Services Superintendent Linda Lacewell and SUNY Chancellor Jim Malatras – reviewed and requested changes to a July report by the state Department of Health that blamed unwitting nursing home staff for spreading the coronavirus in facilities across the state. An earlier version of the report included thousands of deaths among nursing home residents in hospitals, which did not appear in the final version after DeRosa and Lacewell saw the data, according to the Times. Cuomo administration officials said that was because they remained unsure at the time about the accuracy of the data. 
"Strong-willed men in politics are often portrayed as these like manic geniuses. Strong-willed women and politics are somehow always just a mix of Miranda Priestly and Regina George." - political consultant Lis Smith, who has worked with DeRosa in the past
Another growing scandal meanwhile belied the political persona DeRosa, who declined to speak with City & State for this story, cultivated as a no-nonsense, can-do professional. People who have worked under her supervision though told New York magazine that the executive chamber is not as efficient and competent as its reputation suggested. "There's so much fear all the time," former speechwriter Camonghne Felix told the magazine. "That's bad because it stops not just progress; it stops government from efficient governing." DeRosa has been known to shame colleagues with dismissive looks, profanity and insults, according to a former senior gubernatorial staffer. "One thing that's noteworthy about Melissa is her penchant for impossible requests," the former staffer told City & State, on the condition of anonymity to avoid reprisal from the administration. For example, one might be ordered to get someone to change an already-published statement and insulted if unable to do so. "It often can feel when you're working for Melissa DeRosa like you are trapped and condemned to failure."
Staffers expend a lot of effort pleasing the governor. Longtime staffers advise young women to bring heels and skirts whenever Cuomo is around, the Times reported. Men supposedly had to keep their shoes shined or risk a displeased comment from the boss, according to WNYC. "I got screamed at for a lot of bad photos," one former staffer told New York, of selecting which gubernatorial photos to release to the public. 
A current staffer said DeRosa could leave underlings scrambling to get things done with little notice or issue a sudden request to track which cable news networks are featuring Cuomo for the longest time on screen. "This is obviously a hard charging environment that's not for everyone but I'm not going to stand by and let her be maligned," Azzopardi said in a statement to City & State, in response to those claims
Cuomo critics have drawn a link between DeRosa's managerial style and the numerous allegations of sexual harassment and assault against the governor. She has not been linked to any of the allegations, but she nonetheless faces her own allegations of abusive behavior. "When Melissa looked at me; I could not have felt like less of a human being," one former staffer told New York. Screaming, cursing and crying were common sights when DeRosa dealt with subordinates, according to The New York Times. "We've promoted each other, and we've supported one another," DeRosa told reporters after multiple women came forward with allegations of sexual misconduct. "And I don't think that this diminishes any of that."
"Anybody, regardless of their sex or their gender or their gender identity, can be an enabler, a power abuser or a gatekeeper, and that includes Melissa DeRosa." Erica Vladimer, co-founder of the Sexual Harassment Working Group
DeRosa defending Cuomo is nothing new, and obviously expected given her role, but her critics have said that she oversteps the line of civility. "You're both full of shit and a pretty terrible person," she told Sen. Alessandra Biaggi, a former gubernatorial staffer who has become a vocal critic of the governor in office, in texts made public by New York. Biaggi didn't respond in kind, but DeRosa went on to call her "a bad person" and "full of shit" again. That is not the first time that DeRosa, or people under her supervision, have gone after critics of the governor in starkly personal terms. DeRosa called former Democratic gubernatorial candidate Cynthia Nixon "unhinged" while she campaigned against Cuomo in the 2018 primary. Azzopardi called three female lawmakers "fucking idiots" after they held a press conference highlighting gubernatorial fundraising during budget season the following year. 
The irony is that DeRosa herself has detailed her own experiences with workplace abuse in a state Capitol where sexual harassment remains a norm to this day. She too has had to endure salacious comments from powerful men who preach the virtues of equality in public. "I'm not sure which I find more offensive – the fact that this kind of behavior has been allowed to continue to go on as long as it has, or the idea that everyone is acting as if they are just now finding out about it," she said at a 2017 keynote address at delivered at Berkeley College's Women in Media conference. Yet, her ongoing efforts to defend Cuomo strike some as holding up the type of social progress that DeRosa, the chair of the New York State Council on Women and Girls, has supposedly championed for years. That does not make her immune to criticism, according to Erica Vladimer, a former legislative staffer and co-founder of the Sexual Harassment Working Group, said in an interview. "Anybody, regardless of their sex or their gender or their gender identity, can be an enabler, a power abuser or a gatekeeper, and that includes Melissa DeRosa," Vladimer said.
Getting called an enabler of an alleged sexual harasser and abusive boss inserts elements of tragedy into the ongoing saga of DeRosa. Exposed to politics at an early age, she has risen through the ranks of state government as a staffer to former Attorney General Eric Schneiderman and the governor. She has played a key role in Cuomo administration accomplishments like expanding the minimum wage, paid family leave and tuition assistance programs for public college students. She has helped normalize fertility treatments for women by going public with her own personal struggles. She also had a key role in helping New Yorkers survive COVID-19 at a time when leadership from the federal government was conspicuously absent. It is not as if other opportunities do not exist for DeRosa in Albany either. Several members of her family are in the lobbying business, including her father Giorgio DeRosa, who is among the most highly paid lobbyists in the state. Melissa DeRosa, though, has remained in public service.
Some past colleagues say that DeRosa faces a double standard. "Strong-willed men in politics are often portrayed as these like manic geniuses," political consultant Lis Smith, who has worked with DeRosa in the past, said in an interview. "Strong-willed women and politics are somehow always just a mix of Miranda Priestly and Regina George," she added, referring to the famously nasty, diva-ish antagonists of the films "The Devil Wears Prada" and "Mean Girls," respectively. "That just doesn't capture who Melissa is," Smith said. 
While she too is facing calls for her resignation, some of her critics remain sympathetic to her plight, arguing that Cuomo's top lieutenants are simply dishing out what their boss has served them. "His presence is always suffocating," the current gubernatorial staffer said. 
Karen Hinton, one of the women alleging wrongdoing against Cuomo, told WNYC that DeRosa "has been abused as well." Be that as it may, she remains ever-loyal, having stayed with the governor since 2013, while other gubernatorial confidants like former counsel Alphonso David have moved on. 
If the scandals engulfing Cuomo force him out of office or cost him reelection in 2022, it's unclear where that will leave DeRosa. A few weeks ago her future opportunities appeared boundless. Much less so now, according to a longtime Albany insider. "She has a job with Andrew Cuomo for as long as he's there and as long as she wants it," one Democratic insider told City & State. "The problem is, her fate is tied to Andrew Cuomo."