New York City
Survey: Queens voters felt good about ranked-choice voting
A new exit poll found that a majority of respondents were at least somewhat familiar with the new system before voting.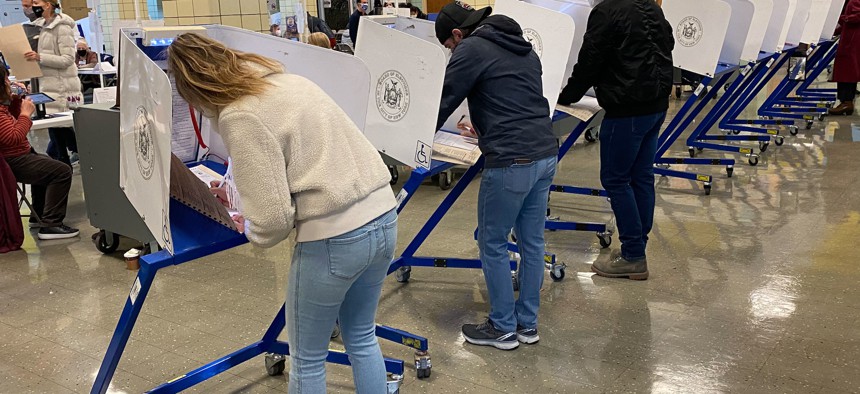 As New York City prepares for the June primaries, the city's first major elections that will use ranked-choice voting, a series of special elections are acting almost as a testing ground for the new voting system. Now, new exit polling from this year's two City Council special elections in Queens appears to indicate that voters are adapting well to the system, and that educational outreach seems to be working.
Rank the Vote NYC, a coalition that advocated for ranked-choice voting and now educates people, surveyed 635 voters in Council Districts 24 and 31, where special elections were held in February. The results offer one of the first insights into how voters interacted with the new method of voting, and whether educational outreach efforts were actually working. According to the survey, over 95% of respondents found filling out a ranked-choice voting ballot to be either very or somewhat simple. That the vast majority surveyed considered it at least somewhat simple held true across gender, age and education level. The majority of voters who responded to the survey were also at least somewhat familiar with ranked-choice voting before going to vote, again something that held true across demographics. And 61% of respondents chose to rank multiple candidates on their ballots, with 31% opting to rank the max of five candidates. Among those that selected only one candidate, nearly 80% said they did so because there was only one candidate they liked.
Ranked-choice voting allows people to rank up to five candidates in order of preference. If no candidate wins over 50% of the vote outright, the last-place candidate is eliminated and their votes get redistributed to the second choices on those ballots. This process continues until just two candidates are left. Susan Lerner, executive director of Common Cause New York and board chair of Rank the Vote NYC, said the results show that education efforts are working. "The survey results show that voters are aware of the system and that they are utilizing it based on their own preferences, and their own assessment of the candidates," Lerner said. "At least in these special elections, the system is working the way we expect it to work."
One of the biggest concerns over the rollout of ranked-choice voting has been whether there was enough time to make sure voters are well-informed about the change. Late last year, several lawmakers and civic leaders brought a lawsuit to delay the implementation of ranked-choice voting, arguing that voters – especially low-income people, older New Yorkers and people of color – would be disenfranchised without more time for education. And certainly, there is still a lot of outreach that still needs to happen. A recent PIX11 News, NewsNation and Emerson College poll found that 46% of Black voters still had not heard of ranked-choice voting, along with 38% of Latino voters. And some politicians remain concerned that voters will be confused by the change.
But Lerner said that Rank the Vote's survey results show the success of education during a condensed time frame prior to the two special elections. "The time between now and the June 22 primary is more than adequate to ensure that voters are aware of ranked-choice voting, understand how to use it and then make up their own minds about how to rank the candidates," Lerner said. She added that hopefully the survey results assuage some fears. "This poll confirms our experience in other cities, the voters understand ranked-choice voting, they find it simple and straightforward," Lerner said.
The poll is still limited in its scope, with a relatively small sample size of voters in the two races. It was only available in English and Spanish, which means that insights from voters who speak any other language were not taken into account. Latino voters were underrepresented in the poll, and roughly one-quarter of respondents were unfamiliar with ranked-choice voting before casting their ballots.
Lerner agreed the survey had limitations, and that special elections inherently present somewhat unusual circumstances, but she noted that Rank the Vote performs education outreach in a variety of languages and said the results remained fairly consistent among different ethnic groups. "We will definitely be looking at the results to see if there are things that need to be adjusted," Lerner said. "But I think the bottom line is that it indicates this outreach to voters works."
Powered By
NEXT STORY: Gillibrand's tight spot on Cuomo