New York State
What is New York's vaccine passport app?
A new app will allow New Yorkers to carry proof of their vaccine status or a negative coronavirus test. There are privacy concerns about the first such "vaccine passport" app in the country.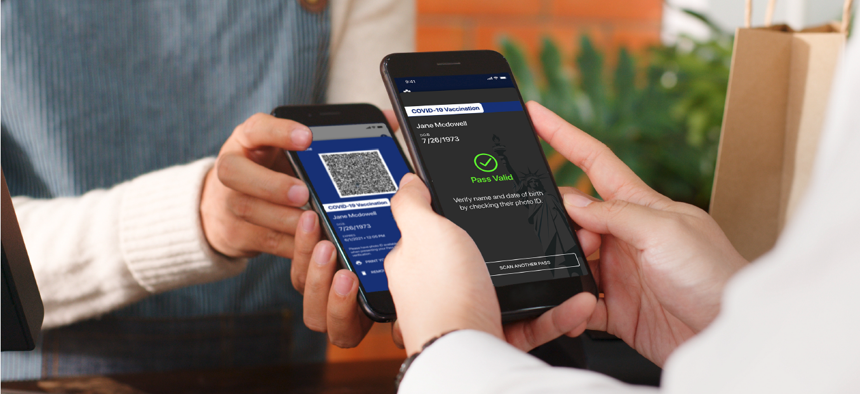 Gov. Andrew Cuomo opened the floodgates to vaccine eligibility on Monday, announcing that New Yorkers 30 years old and over will be eligible as of Tuesday, while New Yorkers 16 years old and over will become eligible as of April 6. As vaccinations across the state increase, New York is rolling out a plan to ensure that those who have received the vaccine – or those who recently tested negative for the virus – can take advantage of the state's reopening economy. On Friday, Cuomo announced Excelsior Pass, a new program that will allow people to prove their vaccination or COVID-19 status via a smartphone app or printout.
The idea of "vaccine passports" has been batted around for a while, and it's something the Biden administration is now considering for travel and business reopenings too. But New York is the first state to launch its own digital passport program.While the program has already been through two pilot phases, and large entertainment venues including Madison Square Garden have already signed on to use it, some have raised concerns that the app doesn't offer detailed enough privacy protections. Here's what you need to know about Excelsior Pass.
What is Excelsior Pass, and how does it work?
Excelsior Pass is a voluntary way for New Yorkers to prove that they are negative for COVID-19 or have been vaccinated against the virus. Developed with IBM, Excelsior Pass uses a smartphone app that can demonstrate that a user has received the COVID-19 vaccine or has recently tested negative on a PCR or antigen test. Users go to the Excelsior Pass website to answer questions about their vaccination or recent test, and a QR code is generated that validates their status. Participating businesses and venues could then scan that QR code upon a user's entry. Smartphone users can download the Excelsior Pass Wallet app and store their QR code pass in that digital wallet. People without smartphones can still enter information about their vaccination or recent test status online, generate their QR code, and then print it out on a piece of paper to be scanned at a business or venue. (Access to the internet and a printer is still required.)
Cuomo's office has stressed that Excelsior Pass is just one way to validate your vaccination or negative test status; businesses and other facilities are required to accept other kinds of proof, including your Centers for Disease Control and Prevention vaccination card or a printout of a test result.
How will it be used?
So far, several large venues have signed on to accept Excelsior Pass, including Madison Square Garden in Manhattan and the Times Union Center in Albany. But it may not be long before smaller venues opt in to use the passport program too. Starting April 2, smaller businesses and venues will be able to start using the verification app. It's a program that the state's business leaders have said will be key to reopening. "The business community is eager to get our city's workforce back to the office, to safely reopen entertainment venues and restaurants, and much more," said Kathryn Wylde, president of the Partnership for New York City in a press release. "The Excelsior Pass is an exciting new tool that will accelerate our state's economic recovery. It is evidence of New York's forward-thinking approach to restoring jobs and moving beyond the pandemic."
What do privacy advocates say about it?
A vaccine passport app may sound like a good idea in theory, but privacy advocates have raised concerns about how users' personal information could be improperly used or shared, or their location tracked, through passport apps. Those concerns could prove to become a hurdle in getting New Yorkers to download and use the app. "We don't have even the most rudimentary information about how this app is designed, how it operates, what data is collected, how it's stored and how it's accessed," said Albert Fox Cahn, executive director of the Surveillance Technology Oversight Project. 
The privacy policy for Excelsior Pass says that data will not be stored on the version of the app that businesses will use to scan New Yorkers' QR codes, and that users can delete their information at any time on their own app. ButCahn said the privacy policy lacks detail about how it would protect data from being shared with unauthorized parties, for example, and says only that the app "does not use location services on your mobile device," but offers no further explanation of safeguards to prevent location tracking. "The risk this creates is just a level of tracking and perpetual location surveillance that looks much more like Beijing than prepandemic Brooklyn," Cahn said. Representatives for Cuomo did not immediately respond to a request for comment. 
Powered By
NEXT STORY: Another Cuomo scandal and a pot deal reached