New York City
A guilty verdict in Chauvin trial and Cuomo impeachment probe continues
Rounding up the week's political news.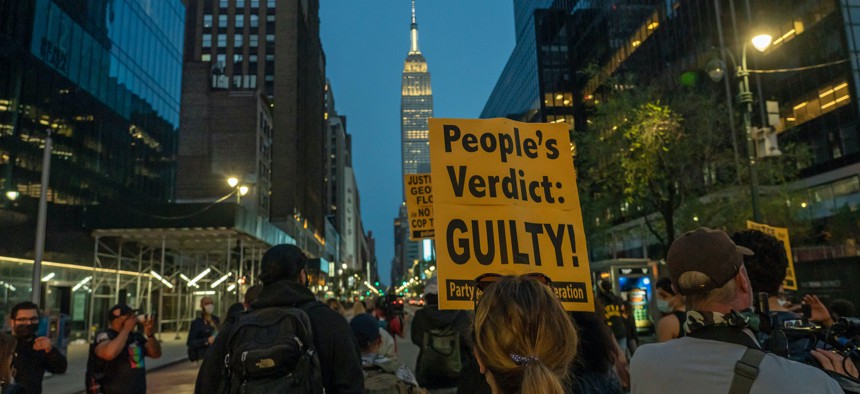 New Yorkers celebrated a historic 4/20 this week: for the first time, it was legal to light up in public for the unofficial pot holiday. The day often draws at least a handful of protesters against the devil's lettuce. But this year, a digital billboard with a giant blunt lit up Times Square, and those vaccinated against COVID-19 were even offered free joints in Union Square. Quite a change from past years. Keep reading for the rest of this week's non-reefer news.
Guilty verdict in Chauvin trial
Almost a year after George Floyd's death in Minneapolis, a police officer has been convicted for his murder. A jury convicted former officer Derek Chauvin on all counts – second degree murder, third degree murder and second degree manslaughter. Sentencing will take place in several weeks, but he faces up to 40 years in prison. Protests had been planned in New York City in anticipation of the verdict, and the NYPD had been preparing for unrest. But in wake of the jury decision, the demonstrations took on a more celebratory atmosphere while still calling for more police reform, and no arrests were made. Many lawmakers, officials and candidates weighed in on the verdict, mostly expressing relief while saying that more must still be done to enact more systemic change. However, New York City Police Commissioner Dermot Shea received criticism for his Tweet saying "justice is served" considering the way the NYPD reacted to last summer's protests. 
Cuomo impeachment investigation continues
The Assembly Judiciary Committee met again about the chamber's impeachment investigation into Gov. Andrew Cuomo, although the public portion of the meeting was fairly short. Investigators have received over 200 tips so far, and have spoken to 70 people as part of the inquiry. But several of the women who have accused Cuomo of sexual harassment said they would not cooperate with the investigation. The Sexual Harassment Working Group, which pushed for reforms in Albany, has asked the Judiciary Committee to exclude the allegations of sexual harassment and misconduct from their investigation, instead leaving that to the state attorney general's office. The impeachment inquiry also covers other scandals that have been plaguing Cuomo recently, including an alleged cover-up of COVID-19 nursing home deaths and use of government resources on the production of a book he published last year. The attorney general is only conducting a probe of the sexual harassment allegations. Asked about whether he would resign if the attorney general determined he broke state sexual harassment law, Cuomo refused to say, once again repeating the he would wait for the outcome of the probe. As the investigations continue, recent polling has Cuomo's favorability continuing to sink. State Senate Majority Leader Andrea Stewart-Cousins also raised eyebrows this week by appearing alongside the governor at an event in her Yonkers district, despite having called on him to resign over the allegations of sexual harassment. 
Yang still leads
New polling still has Andrew Yang leading the pack of New York city mayoral candidates. A poll from NY1/Ipsos found that Yang is the first choice of 22% of respondents, well ahead of Brooklyn Borough President Eric Adams, who sits at 13%. But the biggest pool of voters is still undecided, with 26% saying they don't know who they'll be voting for yet. And with about two months before the primary, a lot can still change. In some good news for Shaun Donovan, who polled in the bottom half of the eight leading candidates, the Campaign Finance Board paid public matching funds he qualified for after a delay due to scrutiny of a super PAC that is supporting him. The Campaign Finance Board wanted to ensure there was no collaboration between the PAC, whose largest donor is Donovan's father, and the campaign. Yang, despite leading in the polls, still got more negative press this week after an apparent gaffe at a screening interview with the Stonewall Democrats of NYC. His comments to the gay Democratic club while seeking their endorsment left several members offended.
City Council member pleads guilty to tax fraud
News broke that New York City Council Member Chaim Deutsch pleaded guilty to federal tax fraud for failing to pay $82,000 in taxes. But he has no intention of stepping down from his position. Under city law, a lawmaker who pleads guilty to a felony or a crime related to their position is automatically expelled. But since Deutsch pleaded guilty to a misdemeanor, he won't be forced out, so he plans to stay. Still, colleagues are calling on him to resign before his term ends at the end of the year. And a spokesperson for Council Speaker Corey Johnson suggested that the body will take disciplinary action against Deutsch, including removing him from committees he sits on and chairs. But it's unlikely that the council will expel Deutsch, something it has only done once in recent decades.