Andrew Cuomo
Cuomo's woes keep piling on
Sexual misconduct, undercounted nursing home deaths, COVID-19 vaccines and tests – and a certain book he wrote.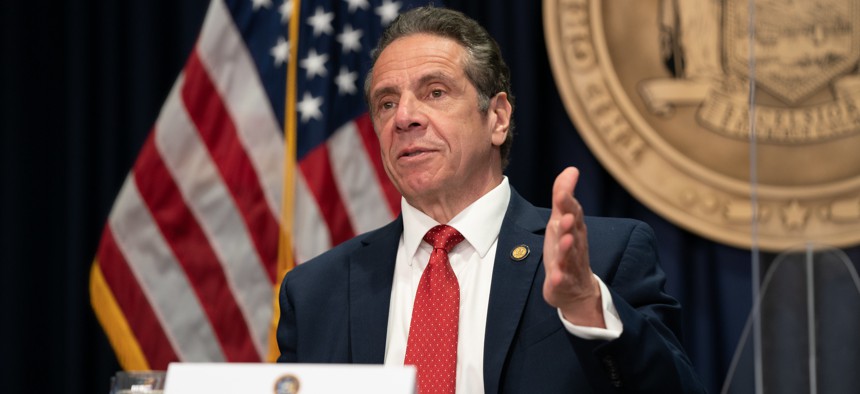 Gov. Andrew Cuomo is facing political peril from so many sides that it is getting difficult to keep things straight. 
There is the outstanding matter of his administration's handling of the coronavirus in nursing homes. A litany of sexual misconduct allegations from multiple women have led to calls for his resignation and impeachment. Other scandals concern possible political meddling in distributing vaccines, safety concerns at the Gov. Mario M. Cuomo Bridge and special treatment arranged by the governor for family members who needed COVID-19 tests. Revelations about a controversial $4 million book deal hardly help.
The governor has denied wrongdoing in every case, but ongoing probes could make it difficult for him to finish his current term in office or run for a fourth term next year. State Attorney General Letitia James could confirm the worst accusations of alleged sexual misconduct and could expose the governor's alleged self enrichment at public expense through the book deal through the two investigations she is now overseeing. 
Members of the Assembly Judiciary Committee meanwhile are probing a range of issues as they continue an impeachment investigation that will likely stretch into the summer. That means Cuomo's political fate hinges on much, much more than the alleged sexual misconduct and nursing home cover-up that have tended to dominate discussions about the erstwhile pandemic hero. While he is staying afloat for now, there is always a chance of him becoming the first governor in more than a century to be impeached and removed from office.
Here is a list of the current scandals facing Cuomo. 
Nursing homes
State lawmakers and others demanded data for months and months and months last year that would show how many nursing home residents died of COVID-19 in hospitals. A lawsuit by the Empire Center for Public Policy compelled the administration to release the data in February and then Secretary to the Governor Melissa DeRosa held a fateful Feb. 10 meeting with state lawmakers when she seemingly confirmed that political considerations were the reason why the administration waited so long to confirm that thousands more nursing home residents died of COVID-19 in hospitals than previously reported by the state. A federal investigation of the matter (and immunity protections granted to nursing homes last year) remains ongoing and state lawmakers have made the issue a top priority for their ongoing impeachment probe. 
Sexual misconduct
The most serious accusation against the governor concerns an unnamed aide who says the governor groped her at the Executive Mansion in Albany. Other allegations include unwanted kissing, touching, inappropriate comments, and a toxic workplace in general. A long list of New York Democrats at the state and federal levels have now called for Cuomo's resignation or impeachment, but key allies in organized labor, big business and the Black community have said the governor deserves due process. That makes an ongoing probe overseen by James particularly vital to Cuomo's efforts to stay in office. A damning report could even turbocharge efforts to impeach and remove him from office. 
Gov. Mario M. Cuomo Bridge
The Times Union reported March 7 a cover up of structural problems on the bridge spanning the Hudson River, which opened to traffic in 2018 just before Cuomo was elected to a third term in office. The state Thruway Authority (which operates the bridge) and the Federal Highway Administration have said the public should not worry about the safety of the suspension bridge, but the Assembly Judiciary Committee could include the subject within its ongoing impeachment probe.
Political pressure with vaccines 
Members of Team Cuomo often play multiple roles for his administration. Former Secretary to the Governor Larry Schwartz is a good example. His volunteer work for the state response to COVID-19 means he has been a point man for coordinating the distribution of vaccines with county governments. Some local leaders, however, have felt uncomfortable following phone conversations when Schwartz would discuss public health issues before doing a temperature check on their support for the governor during his current political struggles. 
Preferential treatment with COVID-19 tests
At a time when many New Yorkers could not get tested for COVID-19, Cuomo reportedly helped family members get special access alongside state officials whose health actually mattered to the public at-large. The state Public Officers Law states that officials cannot give "unwarranted privileges or exemptions" to themselves or others. Some say that includes dispatching state police to your brother's house in the Hamptons to escort test samples back to an Albany lab. Assembly Judiciary Committee Chair Charles Lavine has said that this issue will join others on the investigatory agenda before the impeachment probe.
$4 million book deal
Cuomo appears to have used gubernatorial staff and resources to write his 2020 bestselling book "American Crisis: Leadership Lessons from the COVID-19 Pandemic." That might violate state ethics rules and possibly the Public Officers Law. Team Cuomo says he kept things straight while finishing the project. Yet, reporting shows that top aides might have been editing his book, and a state report on COVID-19 in nursing homes, to maximize fame and fortune alike for the governor. Now that state Comptroller Tom DiNapoli has provided the necessary referral, an investigation led by James into the book deal offers yet another chance to show just how far Cuomo has fallen in recent months.