Campaigns & Elections
Is Staten Island ready to be represented by a progressive?
Brittany Ramos DeBarros certainly thinks so, after gaining more than 1,000 donors in the first two months of her congressional campaign.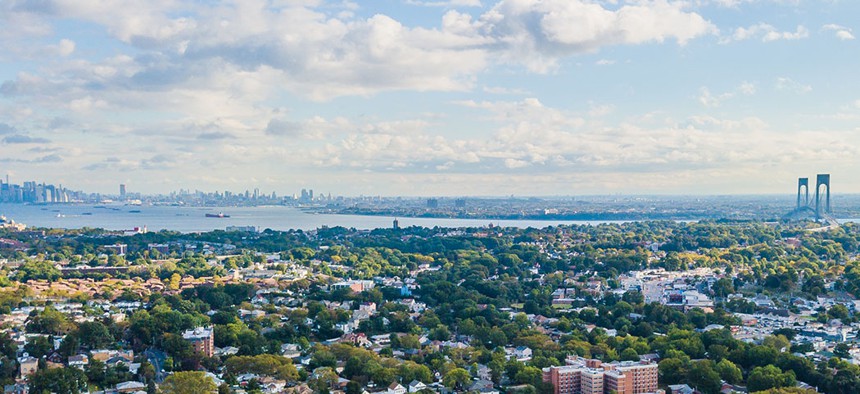 Just two months after filing to run for Staten Island and southern Brooklyn's conservative-leaning congressional seat in 2022, political newcomer Brittany Ramos DeBarros raised nearly $129,000 from more than 1,000 donors, she told City & State.
The progressive Democrat and Afro-Latina combat veteran is trying to win the support of the Working Families Party and the Democratic Socialists of America. Rep. Nicole Malliotakis, a Republican who represents the 11th Congressional District, defeated moderate Democrat Max Rose last year. She said she is not concerned about running as a left-leaning candidate in a conservative district that no moderate Democrat – let alone a progressive Democrat – has held for two terms in Congress since former Democratic Rep. John Murphy ended his nine-term run in 1981.
Instead, Ramos DeBarros believes voters in the district are actually craving a progressive candidate and fresh face to politics who will energize the existing majority Democratic base. "I think what we've heard over and over is people are really hungry for a fresh face, for someone who is really rooted in the movement, who has the political courage to be unapologetically progressive and support the progressive policies that we know are actually popular in (this) district, contrary to conventional belief," she told City & State.
Ramos DeBarros' campaign will certainly test the extent of the district's budding progressive movement, and the theory that the district is ready for a more progressive member after Rose's loss, which he attributed to his attendance at a Black Lives Matter rally. Although there have historically been more registered Democrats than Republicans on Staten Island, Republicans have dominated the borough's politics and have largely controlled this congressional seat. The borough voted for Donald Trump in 2016 and again in 2020, and ousted Rose in favor of Malliotakis, who closely aligned her campaign with Trump.
Ramos DeBarros may be getting into the race early to cement her place in a tough Republican-leaning swing district, but a source within Staten Island's Democratic Party said there are definitely other Democrats "waiting in the wings to announce," but want to first see how the state's redistricting commission will redraw the district lines. When the 2020 census is finalized, New York could lose at least one congressional seat, which means the Staten Island and southern Brooklyn congressional district could gain more Democratic voters, depending how the lines are redrawn.
Regardless, Ramos DeBarros said she believes running as a progressive will be the way to win once the district is redrawn. "We are building a strategy that doesn't depend on redistricting," she said. "We've run the scenarios and we just don't really see a scenario where if the district is expanded as a part of the redistricting process, that it becomes more conservative. It really could only become more progressive, which ultimately could only help us in what we think is a winnable race even without that."
But some longtime Staten Island Democrats remain skeptical that a progressive Democrat can win in a conservative district that has only elected moderate Democrats. "It doesn't matter how much money she raises, she can't erase her policy positions," a Staten Island Democrat said. "It's the first time Malliotakis won't have to lie about her opponent in order to win." Nonetheless, Ramos DeBarros hopes her early announcement and big fundraising numbers will discourage Democratic challengers.
There's talk that Michael Decillis, a retired NYPD officer and teacher who briefly ran in Staten Island's 2018 Democratic congressional primary, could jump in later, the source said.
There are also rumors that Mark Murphy, the party-backed Democratic candidate running for borough president, who ran for the borough's House seat in 2012 against then-Rep. Michael Grimm, could jump into the congressional race if he wins the five-way Democratic primary for borough president seat but loses in the general election. There is also talk that Yesenia Mata, the executive director of Staten Island's immigrant workers' rights nonprofit and the wife of Democratic borough president candidate Cesar Vargas, might also jump in.
"I can see that someone doesn't necessarily need to announce today, maybe at the end of the summer. If they can raise enough money for a primary, they'll be fine for the general, but then you get into the politics of does Brittany draw them to the left? And I think a large part of the primarywill probably be won in Bay Ridge," the source within the Democratic Party said, pointing out that it could be difficult for a more moderate Democrat to win a primary if the lines are drawn into more left-leaning parts of the city.
For now, an organizer in the southern Brooklyn portion of the district told City & State that activists in Bay Ridge are rallying around Ramos DeBarros.
"I know a lot of friends and people I trust like Brittany and are working on her campaign. She seems to be a true progressive and she's a woman of color, which to me are both very important," said Bay Ridge community activist Sally McMahon. "I don't know if there's any new candidates on the horizon but she seems to be everyone's choice. A lot of good people I trust backing her hard."
New York City Council Member Justin Brannan, who represents Bay Ridge, told City & State he has met with Ramos DeBarros but has not heard of any other Democrats on his side of the district who are considering running for the seat at this time.
When Rose conceded to Malliotakis, and later said he would not run for mayor after he had started exploring a potential run, some speculated whether he would try to reclaim his seat in 2022.
But Rose, now a special adviser on COVID-19 to the U.S. secretary of defense, would not be able to run unless he leaves his current post, because the Hatch Act prevents him from engaging in political activities. If he does decide to jump into the congressional race late, the source in the Staten Island Democratic Party thinks Rose has the name recognition to pull off a last-minute plunge.
"He's not going to be able to do anything until he leaves the Department of Defense," the source said. "So, he's sort of at a disadvantage where Mark Murphy is actively campaigning and then he can start his congressional (campaign) the next day. Cesar Vargas' wife can start campaigning now, so it's just a matter of you're losing time, but if there's someone who can come in and raise a lot of money it would obviously be Max."