New York City
Looking at how well education combats Holocaust misinformation
A bill before state lawmakers would authorize a state study to examine how well students are learning about genocide.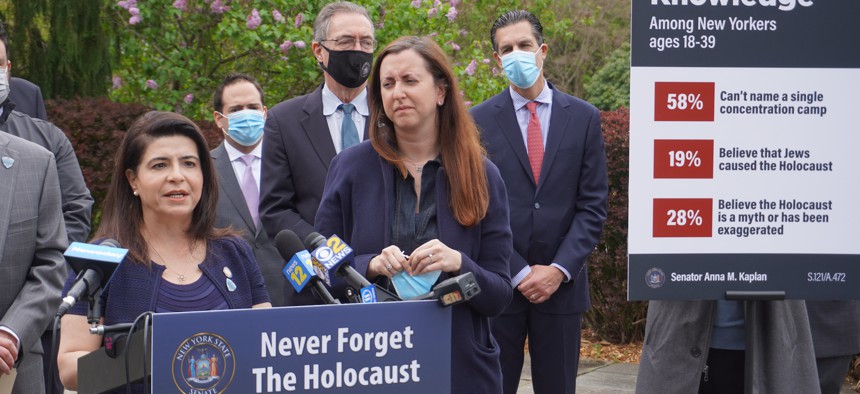 Education is a top weapon against hate. That is one reason why 2,500 New York City public school parents are pushing officials to devote more classroom time to the experiences of Asian Americans amid an ongoing surge of violence. State law already mandates education on slavery, the "inhumanity of genocide" and the Holocaust, among other topics. The thinking goes that if young people learn about such things, such atrocities will be less likely to happen in the future. Yet, there are alarming signs this idea is not always working out in practice. 
One out of five New Yorkers between the ages of 18 and 39 years old believe Jews caused the Holocaust, according to a recent study. More than a third believe that the systematic killing of millions of people during WWII either did not happen or was exaggerated. More than half of respondents cannot name a concentration camp like Auschwitz. 
Figuring out why would undoubtedly improve how the state teaches kids about other genocides, according to state Sen. Anna Kaplan of Long Island, a Jewish refugee who left Iran following the 1979 revolution. "We have to acknowledge the existing problem and find steps to really solve this," she said in an interview. "It's not just the Holocaust. Right now, the Asian communities are being hit so hard." A press conference yesterday attended by fellow legislators and advocacy groups kicked off a new push to do something about it. 
A bill Kaplan is sponsoring with Assembly Member Nily Rozic of Queens would authorize the State Education Department to study how schools statewide are teaching about the Holocaust and and develop recommendations by Jan. 1, 2022 about how schools might instruct students better. If the bill becomes law, it could also shed light on why bigotry remains such a big problem in a state that is among the most cosmopolitan in the nation, as evidenced by an interactive map that accompanied the recent study. (Read more here) New York ranks at the bottom of states when it comes to 20- and 30-somethings' knowledge of the most deadly genocide of the 20th Century, according to the map – which can be viewed here.
This is the third year that the legislation has been introduced in the state Legislature and there are only seven weeks left to get it done before lawmakers adjourn for the year in mid-June. The advocacy group American Jewish Committee is leading efforts to enlist as many legislators as possible in the effort. "There hasn't been opposition, but there are hundreds and hundreds of bills in the Legislature and it hasn't gained the traction it needed," Regional Director Eric Post said in an interview. "We are mobilizing Jewish advocacy groups across the state to meet with their elected officials and get the word out." Current legislative sponsors do not include state Senate Education Committee Chair Shelley Mayer of Westchester or her Assembly counterpart Michael Benedetto of the Bronx. A representative for New York State United Teachers, which represents public school teachers statewide, said the union was reviewing the bill. 
Current curricula on the Holocaust appears to lean heavily on materials provided by outside groups like the Museum of Jewish Heritage, according to Brooklyn College Professor David Bloomfield. History is also not necessarily the top area of focus when it comes to determining how best to use classroom time, he said in an interview. "From what I can tell, that law is widely unknown and disregarded in public and private schools," he said of state requirements on the "instruction in patriotism and citizenship and in certain historic documents." A spokesperson for the museum could not provide numbers on how many schools are using its materials, but did note that pedagogical efforts have continued both virtually and in-person during the pandemic. 

A future study by the State Education Department could go a long ways towards understanding how much students are learning about the Holocaust. That in turn could inform efforts to successfully do the same in combating other types of hate-fueled violence, like the ongoing attacks on Asian Americans in New York City. A future study could also show what knowledge-based students are bringing to young adulthood, considering all those 20- and 30-something New Yorkers who think the Jews caused the Holocaust. "If you don't learn from your history, you tend to repeat the same mistakes," Kaplan said. "It's really important to have good knowledge in the times that we're living in with so much misinformation and inaccurate information out there."