New York State
Progressive lawmakers take the War Room overnight
A half dozen left-leaning legislators stayed overnight outside the governor's Capitol office to push for their budget priorities.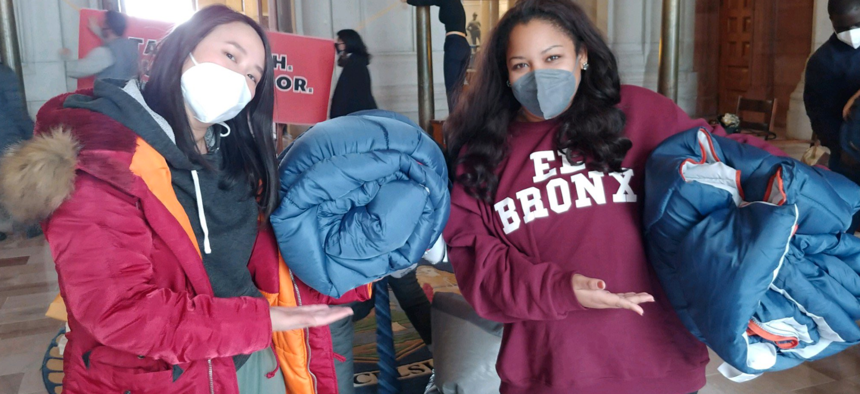 The War Room within the state Capitol features murals depicting some of the great fights in New York state history. Colonists kill native people. Infantry hold the line at Gettysburg. Doughboys storm the Ardennes. Gov. Andrew Cuomo used the room to broadcast his four-part State of the State address in January where he highlighted his vision for rebuilding New York as the war against COVID-19 seemingly draws to a close. 
No wonder political rivals saw fit to occupy the same room last night as they fought for final victory in a state budget process that has already run two days past its April 1 deadline. "We have all just slept out here in the War Room to symbolize the way in which our governor's policies are going to force New Yorkers to sleep out on the streets and be evicted from their homes," Assembly Member Zohran Mamdani of Queens said at a press conference held this morning. "We have to tax the rich to house the poor."
Six Democratic legislators slept over in the War Room outside the governor's Capitol office as part of wider efforts by the political left to pressure Cuomo on the budget, which include an ongoing hunger strike by colleagues and a Friday morning demonstration outside the Executive Mansion in Albany. Budget talks remain ongoing between Assembly Speaker Carl Heastie, state Senate Majority Leader Andrea Stewart-Cousins and Cuomo. The legislative crashers on the Second Floor described their overnight direct action as a way to reassert their own role in a process where the big decisions largely happen behind doors closed to them.
"There's something about this budget process that makes me feel idle," Assembly Member Amanda Septimo of the Bronx, who came up with the idea for a sleepover with fellow legislative freshman Mamdani, said in an interview last night. "We're just waiting for information (and) I was thinking, how can I have an impact? They were joined by their Assembly colleagues, Anna Kelles of Ithaca, Khaleel Anderson of Queens, Jessica González-Rojas of Queens and state Sen. Jabari Brisport of Brooklyn. Their night together highlighted just how different the budget process is in 2021 compared to years past.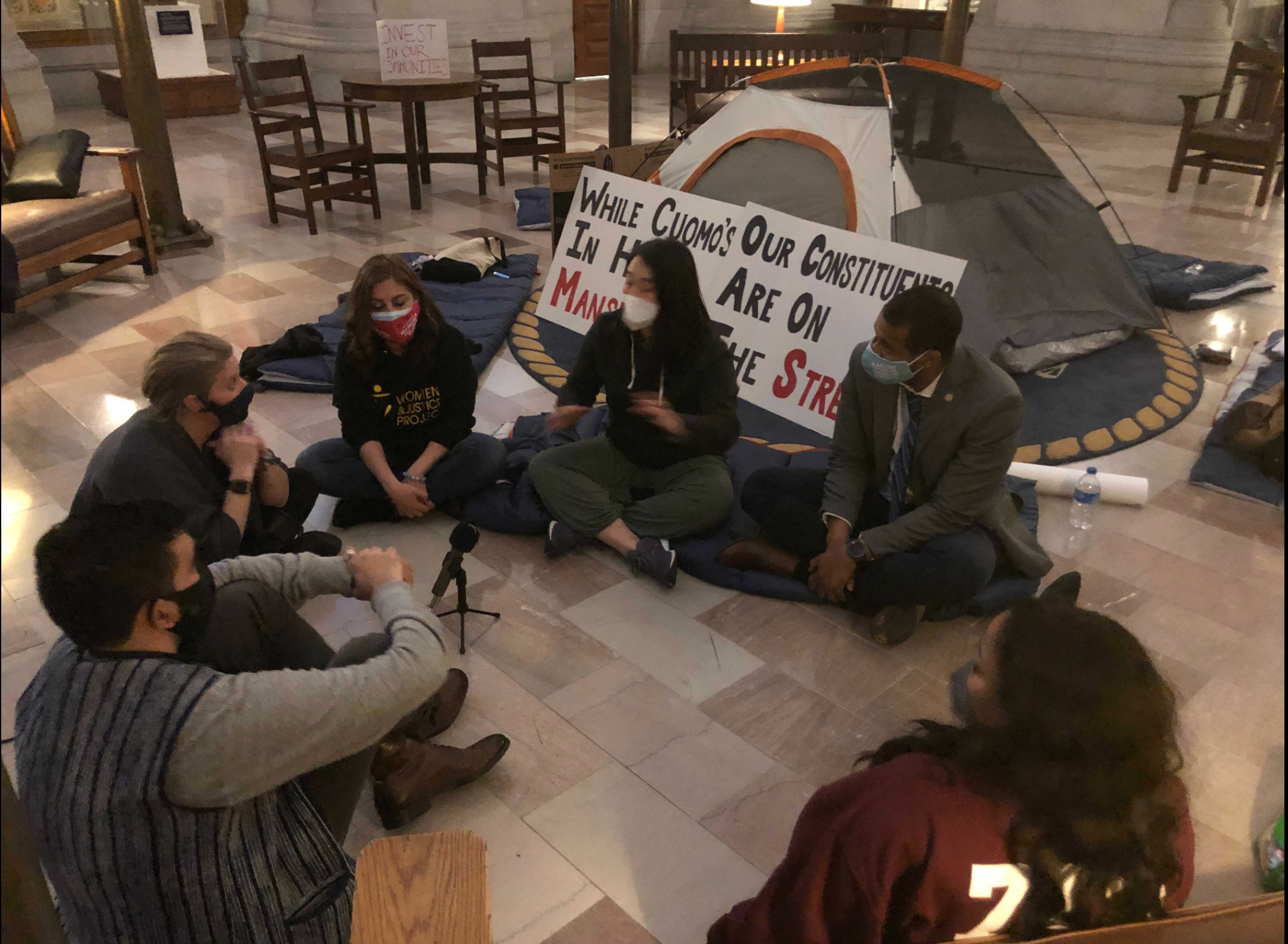 The six lawmakers, five of whom are first-term legislators, are part of a growing group of leftwing lawmakers challenging the dominance of older, more politically moderate wing of the Democratic Party. Their demands this budget season include higher taxes on the wealthy and a housing relief program that would require less documentation for enrollment compared to the governor's proposed budget. Cuomo has also proposed tax increases that are much lower than the $7 billion proposal backed by the Democratic supermajorities in both chambers. The ongoing hunger strike is part of efforts to secure $3.5 billion for a relief fund for "excluded workers" like undocumented immigrants over the objections of Cuomo. 
Such issues were matters of much discussion around the proverbial campfire within the Capitol last night. Income inequality and social justice were two common themes. Kelles scored some props from her fellow lawmakers by acknowledging how she, as the only white lawmaker present, has to listen as well as speak at a time when representation and privilege matter more than ever to the political left. Niou, the only person present who served in the Assembly before this year, had unnerving stories to tell of a gubernatorial boogeyman run amok in past budget cycles. "Last year was devastating," she said. "And the year before that wasn't better – and the year before that." 
One year ago, Cuomo got his way on a budget that gave him unprecedented control over state spending. This time around, legislators are leaning on their newly won legislative supermajorities, billions in federal aid and the ongoing scandals afflicting the governor to push the state further to the political left than ever before. Whether that means total victory over Cuomo or last-minute compromise remains to be seen as budget negotiations continue, but the political left appears to have the initiative, as evidenced by the recent passage of legislation legalizing recreational marijuana in a way that favored Democratic lawmakers over his own proposal. A spokesperson for the governor downplayed the War Room sleep-out and the policy grievances it highlighted. "Quite a few people have slept in this building during this time of year," spokesperson Rich Azzopardi said in an email.
Lawmakers like Niou have had an antagonistic relationship with the governor for years. She and two other lawmakers incurred his wrath two years ago when they held an impromptu press conference highlighting a $25,000 per person fundraiser held by the governor during the budget process. Azzopardi responded with a profane rant to reporters. Now, Niou and others are making a last-minute push for their progressive priorities that might highlight more than ever just how far the governor has fallen from the national fame he enjoyed last year. That all depends on what Heastie and Stewart-Cousins do, but last night in the Capitol, the halls of power featured a very different type of political voice as Niou and González-Rojas spoke to the progressive faithful via the social media app Clubhouse. "Make sure you keep fighting," Niou told a digital crowd of two dozen after midnight. "Without help, what are we? Especially after a pandemic, Jesus." 
With reporting by Rebecca C. Lewis