New York City
Stringer accused of sexual assault and COVID-19 restrictions lifted
Rounding up the week's political news.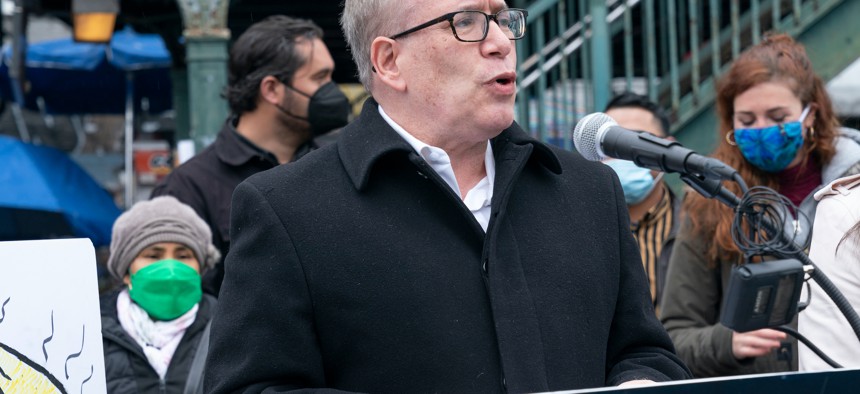 It's springtime in New York, and the season of rebirth seems to be living up to its name after a year of the coronavirus pandemic. The state – and country – isn't out of the woods yet, but it seems there's reason to breathe that spring air a little easier. Fully vaccinated people no longer have to wear masks outside unless they're in a crowded place, more COVID-19 restrictions are easing and New York City Mayor Bill de Blasio is ready to declare summer 2021 the "summer of New York City." But it hasn't been all daisies and sunshine. Keep reading for the rest of this week's news.
Stringer accused of sexual assault 
Jean Kim, a lobbyist who says she was an intern for Stringer's campaign for public advocate years ago, said New York City Comptroller and mayoral candidate Scott Stringer sexually assaulted her while she worked on his campaign. Kim described an incident one evening not long before the 2001 election in which she said Stringer began forcibly kissing and groping her without her consent. Afterwards, Kim said Stringer continued to sexually harass her. Stringer denied the allegations, saying that he and Kim were engaged in a consensual relationship and that she was never an intern, but a volunteer. Kim has called on Stringer to resign and to withdraw from the mayoral contest. Although he said he would not, some of his mayoral competitors have called on him to drop out of the race. And as he attempts to rally support, some of his supporters have already rescinded their endorsements. State Sen. Jessica Ramos was the first to revoke her endorsement, and the union UFCW Local 1500, which represents some 20,000 grocery workers, later took back their endorsement as well. State Sen. Jabari Brisport suspended his endorsement. And perhaps most significantly, the Working Families Party yanked their support for Stringer as well. On Friday, key Stringer backers state Sens. Alessandra Biaggi, Julia Salazar and Gustavo Rivera, Assembly Members Yuh-Line Niou and Catalina Cruz, and Rep. Jamaal Bowman jointly rescinded their endorsements. Their backing was a big deal for the campaign as Stringer attempted to gain traction with the progressive left, and their loss is a major blow.
More COVID-19 restrictions lifted
For the first time since the state Legislature rescinded Gov. Andrew Cuomo's expanded pandemic powers, lawmakers voted to do away with several of his restrictions that were still in place. Chief among them was doing away with the requirement that one had to buy food with alcohol, which had given rise to "Cuomo chips" – the name that some bars gave to the food item they were required to sell in order to do business. In another victory for the restaurant industry, Cuomo also announced that he would revoke the curfew he had in place for bars and restaurants, meaning that they can once again remain open past midnight beginning in May for the first time since November. In New York City, Mayor Bill de Blasio declared that the city would be completely reopened by July 1, and said that 24-hour subway service should return by then as well, although he has no say in that matter. When asked about de Blasio's announcement, Cuomo said reopenings are a statewide decision, but then said that he would like to reopen the state even before July 1 because that date is too distant.
Budget season ramps up in NYC
De Blasio presented his executive budget proposal, pitching it as "the recovery budget" that seemed more optimistic than his smaller preliminary budget proposal earlier this year. At nearly $99 billion, it would be the city's biggest budget in history, and a sharp increase from last year's budget passed when the city was still struggling through the beginning of the pandemic. Bolstered by some $13 billion in direct federal aid for schools and other purposes, plus over a billion more in FEMA reimbursements, de Blasio announced big new spending proposals for the city. But while he expressed confidence that going big is the best way to help the city recover and grow economically, his own budget projects multi-billion budget holes for the next several years that his successor will have to address. Plus, the next mayor will have to figure out $1 billion labor savings that were built into future budget projections without specification. 
Cuomo welcomes back the press
For the first time since December 2020, Cuomo held an outdoor press conference that reporters were able to attend. The governor was facing ongoing questions about why he continued to hold only virtual press conferences where he had complete control. He has not held any outdoor events in Albany yet, the only kind that he said the press could attend, but a couple members of the Albany press corps gamely took the hourslong trip to Syracuse to question the governor in person again. At the same time, new reporting from The New York Times added fuel to the fire of the governor's ongoing COVID-19 nursing home deaths scandal. The Times found that Cuomo's aides went further than previously known to prevent data on those deaths from getting released, keeping the totals artificially low, and had on multiple occasions overruled Health Department officials to keep the numbers from getting out. Meanwhile, Cuomo also said that he has not yet spoken to the attorney general's office regarding the sexual harassment allegations made against him, but that he's "eager" for his side of the story to be heard. Asked to share his side of the story, he said he would not out of respect for the investigation process – but he also stated this past week that the investigation won't find any wrongdoing and denied every accusation.
Update: This post has been updated to reflect the latest on who has rescinded their endorsements of mayoral hopeful Scott Stringer.
Powered By
NEXT STORY: What does the NYC Campaign Finance Board do?