New York City
Back to school in NYC and GOP mayoral candidates duke it out
Rounding up the week's political news.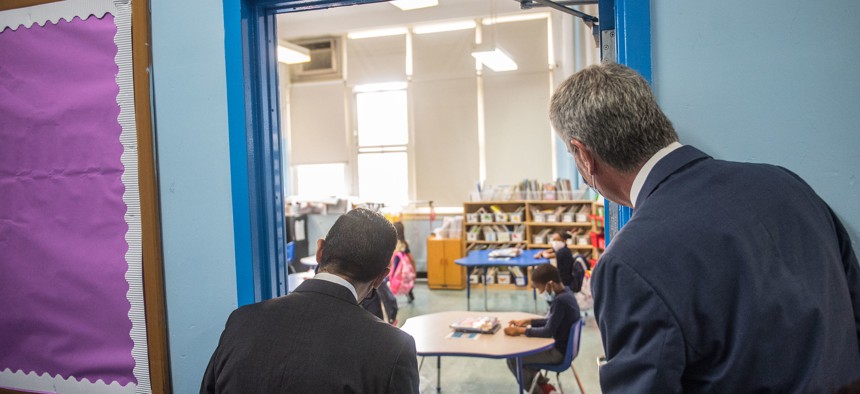 It was another busy week in New York politics as the end of session in Albany draws ever closer, as does the Democratic primary for New York City mayor. In what has likely got all city Board of Elections employees breathing a sigh of relief, the state board has finally given the official thumbs up to software that will tabulate ranked-choice voting results. This week, Gov. Andrew Cuomo announced yet another new incentive for people to get vaccinated, this time offering up full scholarships to public colleges to a lucky few teens. And he announced that the long-awaited East Side Access project will open to passengers next year. Keep reading for the rest of this week's news.
Back to school in NYC
In a major decision for New York City, Mayor Bill de Blasio announced that public schools in the city will be 100% open in the fall with no remote option. Currently, although schools have been open for in-person learning, the city has allowed students to continue learning remotely if they or their parents had concerns about returning to the classroom with the pandemic ongoing. But with vaccines getting approved for younger teens and children and consistently low positivity rates, de Blasio said that kids need to return to the classroom if the city wants to begin achieving a full recovery. But many parents, particularly parents of color, have long expressed wariness at the prospect of sending their kids back to the classroom, even if they don't like remote learning options. Asked about the prospect at the state level, Gov. Andrew Cuomo indicated that there will be a uniform approach to school reopenings and said the state is on track to have all schools fully reopened by the fall. He didn't say whether removing the remote option, as New Jersey recently announced as well, is something he is considering. 
Republican mayoral candidates come out swinging
Although most eyes are on the Democratic primary for the New York City mayoral race, a heated race for the Republican nomination is also underway. And candidates Curtis Sliwa – founder of the Guardian Angels – and Fernando Mateo – a restaurateur and bodega-owner advocate – participated in their first debate of the race. Despite agreeing on many issues, including that crime is the most pressing issue facing the city and committing to refunding the police, the debate devolved into a shouting match of personal insults with props. Mateo attacked Sliwa, who leads in the only polling done in the race so far, as a "liar" and a "comedian," and even mentioned Sliwa's many rescue cats. Sliwa went after Mateo for his past support of Democratic candidates.
Albany looks to update sexual harassment and ethics laws
The state Senate moved on several pieces of legislation, at least partially driven by recent scandals surrounding the governor, to further strengthen the state's sexual harassment laws and to reform the government ethics agency the Joint Commission on Public Ethics, or JCOPE. Asked about the reforms to the commission he helped establish several years ago, Cuomo called JCOPE "meaningless" and that reform would be ineffective without a constitutional amendment, which has also been proposed in the Legislature. Meanwhile, a much anticipated bill that would allow gig workers to unionize effectively died before arrival as most stakeholders came out in opposition to the proposal before it was even introduced.
Turmoil in the Morales campaign 
Diane Morales' campaign for mayor of New York City was rocked with internal turmoil the past week that led to her missing a candidate forum hosted by the Rev. Al Sharpton and to several members of her team resigning or getting fired. Her campaign manager and senior policy adviser both departed the campaign after Morales allegedly failed to address claims of racism, harassment and employee abuse. Morales has said that two of those fired were staffers who were at the root of the complaints, but another four were leaders in the effort to unionize campaign staff. Although several have called on Morales to suspend her campaign, and even to drop out of the race entirely, she said she has no intention of doing either as she downplayed the strife. Members of her campaign staff are still looking to unionize, and attention on their efforts has increased significantly since news of trouble in the Morales camp first broke.