Andrew Cuomo
Cuomo contradicts his own harassment law
The governor's definition of workplace sexual harassment differs from the one he signed into law.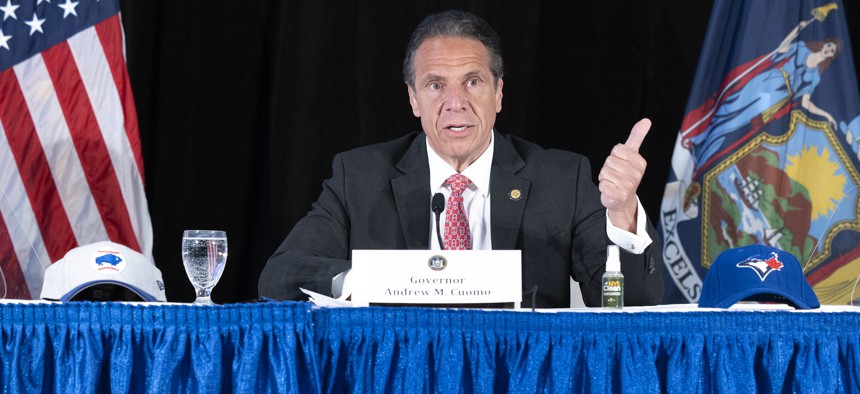 Gov. Andrew Cuomo offered a definition of sexual harassment on Thursday that contradicts a law he signed in 2019. "Harassment is not making someone feel uncomfortable," Cuomo said at a press conference in the Bronx. "That is not harassment. If I just made you feel uncomfortable, that is not harassment, that is you feeling uncomfortable."
In 2019, New York did away with the law that required discriminatory behavior to be "severe or pervasive" in order to be considered harassment. Many victims' rights advocates considered that standard too burdensome, leaving out a lot of reprehensible conduct and making harassment difficult to prove. It was replaced with the standard that the behavior be more than "a petty slight or inconvenience," a much lower bar to clear. It was a change that Cuomo celebrated and something he has taken credit for implementing. 
"Sexual harassment also consists of any unwanted verbal or physical advances, sexually explicit derogatory statements or sexually discriminatory remarks made by someone which are offensive or objectionable to the recipient, which cause the recipient discomfort or humiliation, which interfere with the recipient's job performance," reads the model sexual harassment policy posted on the governor's website. While not all uncomfortable situations are harassment, harassment is inherently uncomfortable for the victim. 
Cuomo's statement came in response to questions from a City & State reporter about an apology Cuomo offered after Charlotte Bennett, the second of now 10 women, came forward. In the statement, the governor did not specifically deny saying any of the things he was accused of, but apologized if he ever made anyone feel uncomfortable. "I now understand that my interactions may have been insensitive or too personal and that some of my comments, given my position, made others feel in ways I never intended," Cuomo said at the time. "I acknowledge some of the things I have said have been misinterpreted as unwanted flirtation."
Bennett accused Cuomo of asking her questions about her dating and sex life, including whether she would date older men – she was 25 at the time and Cuomo is 63. Bennett added that Cuomo told her that he was open to dating much younger women, women in their twenties. According to his own model policy, sexual harassment includes "sexually oriented gestures, noises, remarks or jokes, or comments about a person's sexuality or sexual experience, which create a hostile work environment."
When asked to square his earlier apology with the state law he signed that says that the intent of the harasser doesn't play into a sexual harassment case, Cuomo doubled down. "I never said anything I believe is inappropriate," Cuomo said. He then offered a hypothetical, telling the reporter she could accuse him of harassment. "I would say, 'I never said anything I believed was inappropriate, I never meant to make you feel that way.'"
Cuomo's remarks drew sharp rebukes from his accusers and anti-sexual harassment advocates. "When @NYGovCuomo propositioned me for sex, he broke the law. It is very simple: the issue is about his actions, it is not about my feelings. He broke the law (you know, the one he signed). Apologies don't fix that, and neither do denials," Bennett wrote on Twitter. Bennett's lawyer, Debra Katz, called Cuomo's comments "jaw-dropping," in a statement. "For someone who signed the law defining sexual harassment in New York State… Gov. Cuomo continues to show an alarming degree of ignorance about what constitutes sexual harassment," Katz wrote. And Lindsey Boylan, the first former staffer to accuse Cuomo of harassment, reiterated her call for the governor to be removed from office. "The single most powerful man in New York is trying to play devil's advocate for himself, contradicting a bill that he himself signed into law," Boylan said in a statement.
The Sexual Harassment Working Group, which pushed for the state's new harassment laws in 2019, also released a statement lambasting Cuomo's comments, saying his defense would flop in court. "We accept his original confirmation of Charlotte Bennett's account of him breaking the New York State Human Rights Law he signed, creating a hostile work environment and grooming her for sex," the group wrote.
Cuomo, who also is under scrutiny for his handling of COVID-19 in nursing homes and for allegedly covering up nursing home deaths from the disease, is currently the subject of an state attorney general investigation over the sexual harassment allegations. He has in recent weeks cast doubt on the eventual outcome of the investigation. On Thursday, Cuomo said, "the truth will be told and the truth is much, much different than what has been suggested," adding that he is "eager" to tell his side of the story. The Assembly is also in the midst of an impeachment investigation into the sexual harassment claims, nursing home deaths and other scandals enveloping the governor.
A Cuomo spokesperson did not immediately respond to a request for explanation about the disparities between Cuomo's definition of sexual harassment and the law, as well as how he would then define it.
Powered By
NEXT STORY: How does the Civilian Complaint Review Board work?