New York City
First NYC mayoral debate and Stefanik rises
Rounding up the week's political news.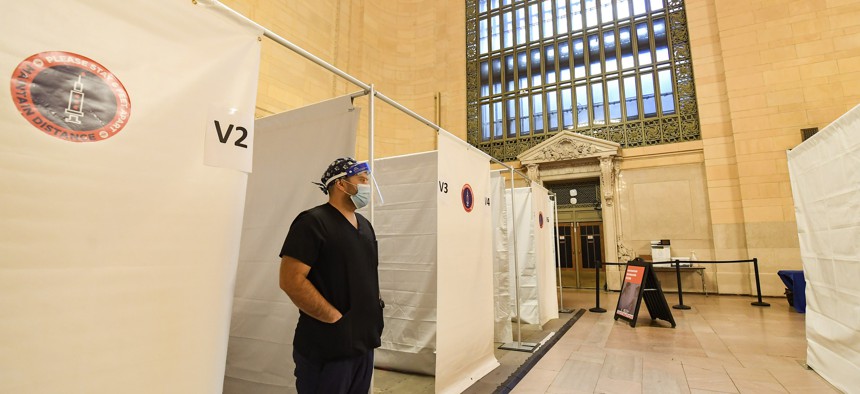 New York City Mayor de Blasio made an unusual appeal to his constituents to get vaccinated. In what felt like a bit of surrealist or absurdist performance art, Hizzoner greeted those who tuned into his virtual press conference on Thursday by eating a burger and fries on camera. One of the incentives the city is offering to get vaccinations is a gift card from Shake Shack, and de Blasio seemed to want to entice viewers by showing them what could be theirs with just one easy shot. "Mmmmm, vaccination," de Blasio said as he took a bite, encouraging New Yorkers to associate the jab with a delicious burger. Not the traditional route, but he's a term-limited mayor, why not get weird. Keep reading for the rest of this week's news.
NYC candidates face off in first debate
After months of Zoom forums, sometimes several a day, the eight leading Democratic candidates for mayor of New York City took to the televised virtual debate stage for the first time to square off against each other. Front-runners Andrew Yang and Brooklyn Borough President Eric Adams were on the defensive, as the other six candidates sought their own quotable zingers. Although the debate got heated at times, with a number of personal attacks, no one had a true breakout moment. Public safety, crime and policing were at the center of the debate as crime in the city continues to be on the rise and a number high-profile shootings – including one in Times Square – have dominated headlines. Yang explicitly denounced the "defund the police" movement. Adams and Maya Wiley traded barbs about a past comment from Adams when he called stop and frisk a "great tool" and Wiley's tenure as chair of the police watchdog agency the Civilian Complaint Review Board. The debate also came soon after Kathryn Garcia received The New York Times' endorsement, increasing her profile and helping to boost a campaign that had otherwise struggled to gain traction. 
Stefanik ascendent
After the House GOP conference ousted its No. 3 leader Liz Cheney for speaking out about former president Donald Trump's false claims about voter fraud, members voted for Rep. Elise Stefanik to replace her. Stefanik, who started her career as an upstate moderate and had distanced herself from Trump in the past, is a rising star in Republican politics who has become a staunch defender of Trump. As the conference sought to remove Cheney, Stefanik shored up support from many lawmakers even as some conservatives and members of the base questioned her somewhat moderate voting record.
Israel-Palestine conflict seeps into New York politics
As tensions between Israel and Palestine boiled over with the worst violence in years, reactions to the conflict drew scrutiny close to home. Protests in support of both Israel and Palestine broke out in New York City as politicians faced backlash for their own responses. Andrew Yang tweeted in support of Israel, saying "I'm standing with the people of Israel who are coming under bombardment attacks, and condemn the Hamas terrorists." His remarks drew swift condemnation from members of the left, including Rep. Alexandria Ocasio-Cortez, and many New York Muslims. He was uninvited from an event to distribute food at the end of Ramadan. In the wake of the criticism, Yang walked back his comments and apologized for not recognizing the suffering of Palestinian citizens amid the conflict. Other candidates weighed on the violence as well, though none received the kind of backlash Yang faced. On the other side, Democratic socialist Assembly Member Phara Souffrant Forrest angered Jewish leaders when she tweeted a map that displayed a Palestinian state occupying all of Israel along with #FreePalestine. She later deleted the tweet with the image that she said misrepresented her position, and that she favors "peace and justice," but stands against "apartheid."
Masks still needed in New York
As more and more people get vaccinated – Gov. Andrew Cuomo announced that 50% of New Yorkers 18 and over are vaccinated – the CDC issued new mask guidelines stating that fully vaccinated people no longer have to wear masks indoors or outdoors in many instances. But Cuomo isn't ready to adopt those guidelines yet and said he would review them before making any decisions for the state, meaning that vaccinated people still legally have to wear their masks in many settings around unvaccinated people. In the meantime, pop-up vaccination sites run by the Metropolitan Transportation Authority are being well received as the state tries to increase the slowing rate of vaccination. Similar sites will be set up in Western New York, and likely other parts of the state as well.