Campaigns & Elections
Hakeem Jeffries on Maya Wiley and Eric Adams
The Central Brooklyn Democrat made a surprising endorsement in the New York City mayoral, may add ranked choices.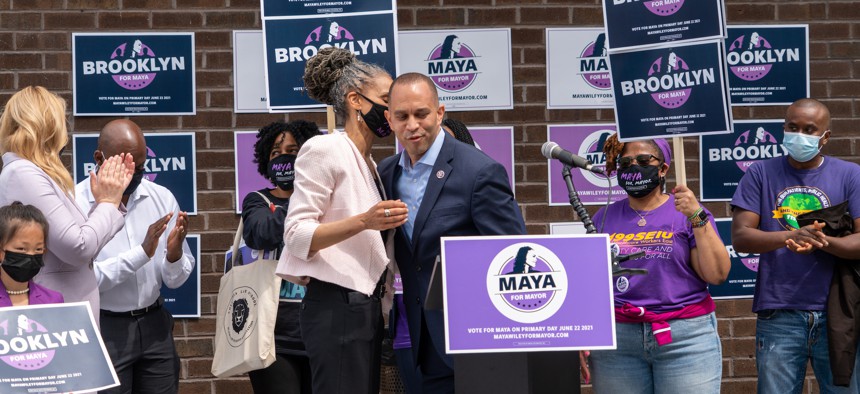 Rep. Hakeem Jeffries, the fifth-ranking Democrat in the House of Representatives, shook up the New York City mayor's race by throwing his support behind Maya Wiley in the Democratic primary earlier this month. The endorsement provided a major boost to Wiley, a former counsel to Mayor Bill de Blasio. It also put the rumored rivalry between Jeffries and one of Wiley's opponents, Brooklyn Borough President Eric Adams, into the spotlight. 
Jeffries talked to City & State about why he backed Wiley and how, despite persistent "political gossip," he has "nothing but respect" for Adams. The borough president also denied any discord. However, from their roots representing overlapping districts in the state legislature, the pair have notably ended up on the opposite sides of multiple political fights as they tried to play kingmaker in Central Brooklyn. With the mayor's race in full swing, the pair find themselves at odds again with Adams trying to maintain his status as a frontrunner and Jeffries placing his bet on the insurgent Wiley. It's a clear fault line through the heart of Brooklyn's political landscape. 
Jeffries is not the only member of Congress who apparently has been impressed by Wiley: Reps. Nydia Velazquez and Yvette Clarke, who both represent Brooklyn-based districts, have also endorsed the civil rights lawyer, who served as chair of the Civilian Complaint Review Board. According to Jeffries, his decision to support Wiley came after "several weeks" of "conversations with several of the candidates to ascertain whether I could find a place to get involved in a meaningful way given the importance of this mayoral race in terms of the future of New York City."
"It increasingly became clear to me that Maya Wiley would govern as a commonsense progressive, which is consistent with my philosophy of the type of leader needed at this moment," Jeffries said in a phone conversation last Thursday. "Maya Wiley will build bridges not walls and, most importantly, focus the recovery efforts on the least, the lost and left behind."
Jeffries had been one of the most sought after endorsers in the mayor's race thanks to his high profile and a longstanding base in Brooklyn. The congressman, who spent six years representing an Assembly district in Brooklyn, hasn't faced a Democratic primary challenge since he was first elected to the House of Representatives in 2012. He's widely rumored to be a leading candidate to succeed House Speaker Nancy Pelosi as the top Democrat in the House after the next election. He also served as an impeachment manager during the first effort to oust former President Trump last year. 
But even as he rose through the ranks in Washington, Jeffries focused on maintaining a robust presence on the ground in his congressional district, which stretches in a shoehorn shape from historically Black but mostly gentrified neighborhoods such as Prospect Heights and Fort Greene through Bed-Stuy to encompass East New York, Canarsie and Coney Island. Through a mix of endorsements and advice, he's built himself a long list of allies across the city.
The support comes at a crucial time for Wiley, who is trailing Adams and Yang in polls of the crowded mayoral field. Jeffries' endorsement means Wiley now leads the pack in terms of congressional support. As Wiley aims for a late surge, the support from Jeffries, his colleagues, and the politically powerful labor union 1199 SEIU are key weapons in her arsenal. 
Julia Savel, a spokesperson for Wiley, described the support of Jeffries, Clark and Velazquez as "critical" for the campaign. "Maya has built a coalition across Brooklyn and across the five boroughs of elected leaders who are supporting her," Savel said. "These leaders have real grassroots energy in their communities and have real people power."
Of course, in boosting Wiley, Jeffries may have dealt a blow to Adams. The mayoral campaign is the latest chapter in a long history of Jeffries and Adams making opposing endorsements over the past decade.
 In 2014, Politico called it a series of "proxy fights," noting that they backed different candidates for New York City comptroller and public advocate in 2009, when Jeffries bet on eventual winners John Liu and Bill de Blasio, respectively, while Adams endorsed David Yassky for comptroller and Norman Siegel for public advocate. In 2013, Jeffries supported Ken Thompson for Brooklyn district attorney, while Adams stuck with incumbent Charles Hynes, who lost to Thompson. In 2012, when Jeffries ran for Congress against then-City Council Member Charles Barron, Adams stayed neutral. Still, Jeffries and Adams steadfastly denied any tension. 
While both Jeffries and Adams maintain their relationship is positive, other Brooklyn politicos describe a far different story playing out behind the scenes. Multiple sources who spoke to City & State on the condition of anonymity to allow them to candidly discuss the powerful pair, said Jeffries and Adams engaged in a heated power struggle.
A veteran progressive activist from Brooklyn, who has not endorsed in the mayor's race, called Jeffries and Adams "Israel and Hamas." 
"It's about as contentious as it gets politically and personally," said the activist. "I think Hakeem weighing in for Maya is significant … It's a huge blow to Eric to have the pre-eminent congressperson from the delegation support his opponent."
An elected official from Brooklyn, who similarly requested anonymity and has remained neutral in the race, also said Jeffries and Adams are "oil and vinegar."
"I would say they both want to be in charge," the official said.
Jeffries is aware of the persistent rumors about tensions between him and Adams, but he dismissed them out of hand. 
"That would be an inaccurate assessment in my view, although I acknowledge that, for whatever reason, it's popular in the political gossip circles," Jeffries said. "I have nothing but respect for Borough President Adams and we have a long history of working together on a wide variety of issues, most particularly, police reform when we were serving in the New York state Legislature together."
In a statement to City & State, Adams similarly pointed to common ground. 
"We may have been on different political sides from time to time, but we've always been on the same side fighting inequality," Adams said. 
Jeffries and Adams did work closely together in 2010 to pass a law that forced the New York City Police Department to shut down a database of innocent people who were stopped, questioned and frisked, but cleared of any crime. Jeffries was the bill's sponsor in the Assembly and Adams backed it in the state Senate. More recently, the pair teamed up on a joint initiative to combat anti-Semitic hate crimes following an attack on the Orthodox community upstate in late 2019. 
And Jeffries has also left the door open to making a ranked choice endorsement where he highlights candidates other than Wiley who have his support in line with the new voting system that's making its debut in this race. For Jeffries, "the most important thing" is making sure his constituents are aware they can rank five picks in the race. 
"I haven't made that decision yet in terms of whether to make a ranked-choice endorsement," Jeffries said, adding, "Once there's clarity on the fact that this will be a new thing for New Yorkers to participate in … then we might consider whether sharing my ballot perspectives beyond who I've endorsed at the time would be appropriate." 
For now, Jeffries says he will be actively campaigning for Wiley alongside her other top endorsers. 
"I look forward to working hard on Maya's behalf over the next several weeks in partnership with my colleagues, Congresswoman Yvette Clarke and Congresswoman Nydia Velazquez along with the mighty, mighty mighty 1199," Jeffries said, referring to the Service Employees International Union health care chapter that is supporting Wiley. 
And Jeffries is confident Wiley's candidacy will resonate as the city emerges from the pain of the pandemic. Specifically, he cited her "extraordinary story of overcoming adversity as a child, having witnessed the death of her father, and then rebounding from that adversity to follow in his footsteps as a civil rights champion."
"This is a change election and it was clear to me that Maya Wiley is a change candidate," Jeffries said, adding, "New York City has been hit incredibly hard by the pandemic. We've been knocked down, but we haven't been knocked out. It's going to take someone who understands the importance and power of resiliency to lead the great New York City comeback."
Powered By
NEXT STORY: COVID Cautious: Quelling New York vaccine hesitancy