New York State
How Democrats could sabotage Stefanik in congressional redistricting
It will not be easy, but Democratic state lawmakers hold the North Country rep's political future in their hands.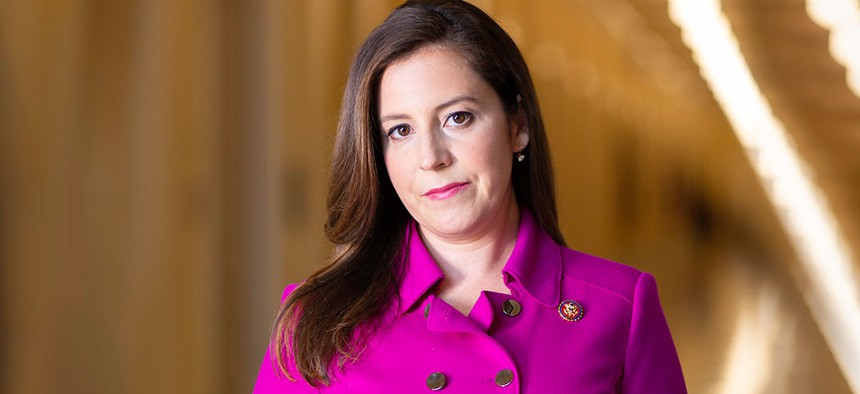 Wednesday is a day of triumph for Elise Stefanik of the North Country now that her Republican colleagues have officially ousted Liz Cheney of Wyoming from the House minority leadership. Stefanik's record of working for conservatives like former House Speaker Paul Ryan, posing as a daughter of the Adirondacks, ardently defending then-President Donald Trump during his first impeachment trial – and, in recent months, normalizing Trump's Big Lie of mass voter fraud is likely to pay off once GOP colleagues follow through on officially approving her ascent as the No. 3 House Republican sometime in the near future. 
But redistricting season is approaching fast, and Democrats are already looking for ways to topple Stefanik. New York will lose one of its current 27 congressional seats in the redistricting process that concludes next year because its population did not grow as fast as other states. More than a few Democrats are hoping that the new lines will make it much harder for Stefanik to win reelection by tilting the partisan balance in favor of a Democratic challenger in Congressional District 21. Making that happen depends on a variety of factors, including how a newly formed Independent Redistricting Commission approaches its task, how Democratic legislators wield their supermajorities in the state Senate and Assembly and the release of population data later this year that will serve as the basis for redrawing 26 congressional districts that remain.
"Simply a hope – for now," Democratic State Party Chair Jay Jacobs responded in a text when asked about splitting up Stefanik's district. "We haven't gotten the census breakdown by district, so who knows?" While a lot remains up in the air, there are a few obvious ways that Democrats can carve up Stefanik's current district to their liking. For starters, despite various states' attempts to reform the redistricting process, the U.S. Supreme Court has upheld the constitutionality of partisan gerrymandering. Things can get tricky when it comes to changing majority minority districts protected by the Voting Rights Act of 1965. Luckily for Democrats, they do not have to worry about that when it comes to messing with Stefanik, considering her constituents are almost all white people. 
The upcoming redistricting process is complicated, but it essentially depends on whether the new Independent Redistricting Commission can get its plans approved by the Democratic supermajorities. If lawmakers reject the bipartisan commission's plans twice, they are essentially given free rein to draw whatever maps they want – assuming likely legal challenges do not require them to eventually alter their plans. "It's definitely complicated," Steven Romalewski of the CUNY Graduate Center, who heads the CUNY Mapping Service that researches political redistricting, told City & State earlier this year. "It's not just one district; it's a jigsaw puzzle that involves all the districts." Congressional District 21 is a great example of how the puzzle pieces are already well positioned to work to Democratic advantage one way or another. 
Data from the 2019 American Community Survey from the Census Bureau shows that Congressional District 21– which includes all of Clinton, Essex, Franklin, Fulton, Hamilton, Jefferson, Lewis, St. Lawrence, Warren and Washington counties and parts of Herkimer and Saratoga counties – is about 50,000 people short of the approximately 750,000 people that every district should have. That suggests that once official data comes later in the year, the district would have to grow geographically even if it were left largely untouched. The 2020 presidential results suggest Democratic partisans would do well for themselves by adding areas like Saratoga Springs (which abuts the district) or parts of Albany to a future district representing the North Country. Current Democratic Rep. Paul Tonko of the Capital Region evidently has plenty of voters to spare considering his 35-point margin of victory last year. 
Unseating Stefanik ultimately comes down to bridging the 20,000-vote margin that she had over Democratic challenger Tedra Cobb last year. Cobb lost every county in the district, but the official results show she ran relatively close in the counties on the eastern side of the district, while the margin of victory in five counties on the western side (Fulton, Hamilton, Jefferson, Lewis and St. Lawrence) make up the bulk of Stefanik's margin of victory. Adding the eastern side of District 21 to counties further to the south could mean that at least half of the North Country would be represented by a Democrat. That leaves the western half of the district, which Democratic partisans would likely want to split into separate districts. Those abutting the eastern counties could be included in a future safe Democratic district. The rest could be added to the Central New York districts currently represented by Republican Reps. John Katko and Claudia Tenney. This is when Democrats intent on destroying Stefanik's congressional future would have to make some very tough decisions. 
Both Katko and Tenney represent districts that Democrats could theoretically win in the next cycle, but if either of them gets deep red counties from the North Country, Stefanik could still run to represent those districts even if that meant unseating Katko (a moderate Republican whose district is more concentrated in that area) or Tenney. Democrats would have to gerrymander another district to make sure Stefanik couldn't do that even if that means letting Tenney cruise to reelection in a future district that lacks Democratic areas in places like Utica. It all comes down to a zero sum game. Whatever the final Census data shows, there will only be so many Democratic voters to place in one district or another, especially considering they are mostly concentrated in urban areas like Albany and Syracuse. 
So if Democrats want to sabotage a rising GOP star, they will likely have to endure some collateral damage for their candidates in other races. And as much as Democrats are hoping to take full advantage of the redistricting process, they will only have a few months to figure out how best to not only improve their position in Congress – where Democrats are clinging to a slim majority – but also the state Senate and Assembly. State legislators have got their own priorities after all. They too want to win reelection easily. They also might prefer that a Republican represent a swing district in Congress if it offers them a chance to move up in the political world. And then there is the Independent Redistricting Commission, which was meant to do away with partisan gerrymandering in New York. Democrats love to say they own the moral high ground compared to the Republicans, who evidently value loyalty to the insurrectionist Trump above all else. Gerrymandering the congressional map would give the GOP another chance to use whataboutism against the Democrats. That is one heck of a complicated jigsaw puzzle.