Campaigns & Elections
It's Insider Vs. Outsiders in Republican Council Primary on Staten Island
A tradition of handing down power within this 50th Council district office is under assault in the most contested Republican primary in this cycle.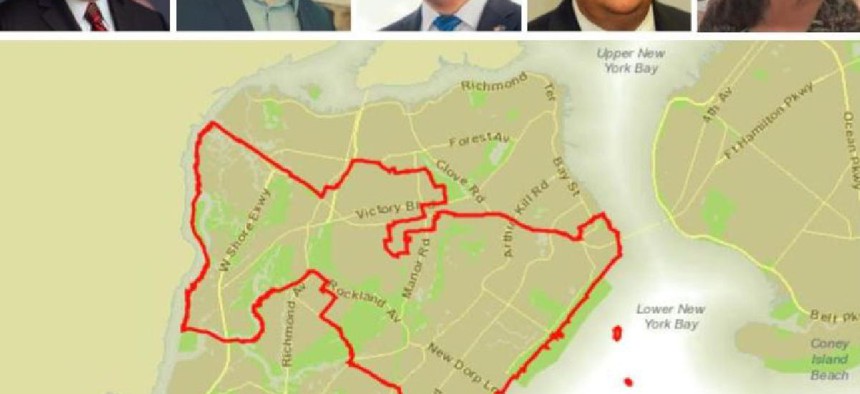 The City Council district covering the center of Staten Island features a wildlife refuge, Historic Richmondtown, a salt marsh, sprawling parks, a CUNY campus, the funky commercial strip of New Dorp Lane and the sandy stretches of Midland Beach. 
Above all else, however, it offers continuity.
The district was created back in 1991, after a court ruling torpedoed the old Board of Estimate and a charter change awarded more power to a City Council that expanded from 35 to 51 seats.

The first man to represent the district in City Hall was John Fusco, who is now a judge. Fusco was succeeded by James Oddo, who had been Fusco's chief of staff. When Oddo became borough president in 2014, Steven Matteo—who had been Oddo's chief of staff—became the councilmember. Now Matteo is looking to follow his old boss into the borough presidency, and Matteo's chief of staff, David Carr, is running for the Council seat.

To continue the lineage, Carr will have to win a June 22 Republican primary—one of only three around the city on a day that is otherwise dominated by Democratic races. Early in-person voting begins June 12.

Joining Carr on the ballot are Jordan Hafizi, a former journalist; Marko Kepi, a one-time aide to Brooklyn Republican State Sen. Marty Golden; Sam Pirozzolo, an optician; and Kathleen Sforza, who works for a local economic development organization. It's by far the most crowded primary in the district's 30-year history.