Campaigns & Elections
Mayoral candidates and their bad answers
The New York Times interviews that led to its endorsement of Kathryn Garcia for mayor of the City of New York revealed how off others in the race were on several responses to key questions.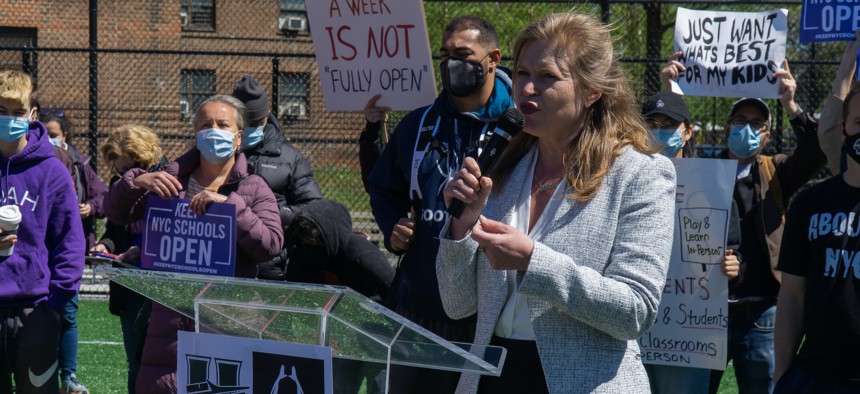 All of the eight leading Democrats vying to win the June 22 primary interviewed with The New York Times to win the paper's coveted endorsement. Just one winner was announced: Former Sanitation Commissioner Kathryn Garcia. But while one candidate walked away with The Times' endorsement, others managed to make headlines, though not all for the right reasons. 
Several candidates completely bombed the question of "what is the median sales price of a home or apartment in Brooklyn?" However, former U.S. Housing Secretary Shaun Donovan perhaps bombed this question the most when he said the median price was "around $100,000" (the real answer is $900,000). 
The Times said Donovan later emailed to clarify that his $100,000 assessment was in reference to the assessed value of Brooklyn homes "I really don't think you can buy a house in Brooklyn today for that little," he told The Times. 
Former Citigroup executive Ray McGuire and Maya Wiley were also way off. McGuire said the median sales price was likely "somewhere in the $80,000 to $90,000 range, if not higher." And Wiley said the price was probably "about $1.8 million." Dianne Morales also estimated the price was "half a million," while Brooklyn Borough President Eric Adams said the figure likely stood at about $550,000. 
The median housing price question sent the Twitter world into a frenzy. 
"How can you fix the city's housing crisis if you're this oblivious?" said Democratic consultant Monica Klein of Donovan and McGuire's gaffes. 
"I mean, do u even watch House Hunters?" quipped southern Brooklyn Council Member Justin Brannan in response to Klein's Tweet. 
Candidates also put their foot in their mouths with other questions. 
McGuire declined to say whether he would release his tax returns when pressed repeatedly by the editorial board. 
"We're reviewing that. I think we're already … in response to what has been asked. We're going to continue to review the submission of the tax returns," McGuire said when asked if he would release his tax returns.
"What does that mean?" Asked Times editor Nick Fox.
"Is that yes? Do you mean you will release them at some point?" Asked Times Editor Eleanor Randolph. 
"I'm saying I'll continue to review that. At the appropriate time, we'll take that under consideration," McGuire explained. 
Scott Stringer would not provide the names of candidates he was considering for commissioner roles. 
"I have had an opportunity in our campaign to talk to a lot of advocates around the country. I don't have a particular name," he said when asked by Times Editorial Board member Jesse Wegman to provide the board with " some names of the kind of people you would you would want as commissioner?"
Andrew Yang was blasted by Fox for his "rather vague" answers to the board's questions about policing, especially on the question about his view on the role of police unions in the city and how he would work to manage them as part of his efforts to reform the NYPD as a whole. 
On the question of working with police unions Yang said: "My goal would be to, frankly, to try and align the unions and say, look, it's not good for the city or you or the public that we're spending hundreds of millions of dollars in this direction or that crime rates are up and clearance rates are down. So let's figure out how we can work together to achieve some of these goals and hopefully that they'll be open to at least some of the changes and proposals that I'm going to be championing."
Fox quipped: "I've got to say, I really find your answer rather vague. There are statutory obstacles to police accountability. There are contractual obstacles to police accountability. You have a union that has been an obstacle to change every step of the way. And they have intimidated mayors for years and years. And just to say, well, you're going to talk to them and they're going to come around — it's not very persuasive." 
While the candidates shied from revealing who, if anyone, would be their number two on the ballot, Garcia was the only candidate to tell the editorial board point blank that she was in the race to win alone. 
"I do not have a No. 2. I would not be in this race if I did," she said. 
Garcia did not hold back on her criticism of her former boss Mayor Bill de Blasio when asked what she thought his biggest mistake was. 
"The biggest mistake: not having a plan to reopen the schools, not having a plan for the vaccines. Those are some of the more recent ones. Being in Iowa when the lights went out. Those are some of the ones that come to mind," Garcia said.
Powered By
NEXT STORY: How Democrats could sabotage Stefanik in congressional redistricting