New York City
New York inching towards reopening and Stefanik on the rise
Rounding up the week's latest news.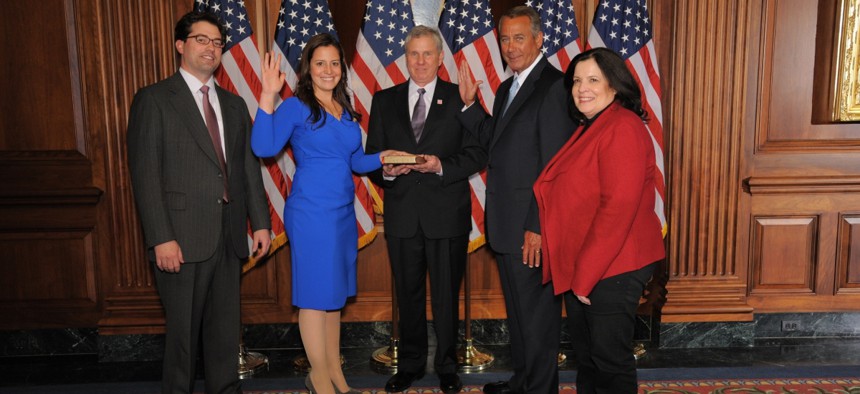 New York wants to get creative with vaccines. Gov. Andrew Cuomo said that baseball fans can get the jab outside Citi Field and Yankee Stadium before attending a game – and they can get a free ticket to a game too. New York City Mayor Bill de Blasio is proposing a more national approach by suggesting that the city offer tourists vaccines at popular spots. Although that would require state approval. But both plans rely on single doses from Johnson & Johnson, which has had issues with production in recent weeks. Keep reading for the rest of this week's news.
New York inches closer to reopening
Not long after New York City Mayor Bill de Blasio said he hoped to have the city reopened fully by July 1, Gov. Andrew Cuomo decided to up the ante. He announced that, in conjunction with New Jersey and Connecticut, most COVID-19 capacity restrictions in the state would be lifted in the state by May 19. That applies to things like indoor dining and museums, as well as large gatherings. The only restriction to remain is the six-foot distancing requirement, which could still limit capacity for some activities. Cuomo also announced the return of overnight subway service for the first time in months. A few days later, Cuomo announced even more reopening plans pegged to May 19, saying that large outdoor venues – notably baseball stadiums in New York City – would have their capacity limits lifted. At Yankee Stadium and Citi Field, sections will be set aside for fully vaccinated fans who will still need to wear masks, but won't have to adhere to the six-foot social distancing guidelines. That will be the case for other outdoor venues as well. Cuomo also said that Broadway tickets will go on sale at 100% capacity, with the first shows starting in September. 
Stefanik on the rise
New York may soon have top-ranking congressional members in both parties as Rep. Elise Stefanik works to replace Rep. Liz Cheney as conference leader, the No. 3 GOP position in the House. After Cheney vocally denounced former president Donald Trump's lies about election fraud and claims of a stolen election, House members began calling for her ouster. Now, Stefanik, long considered a rising star in the Republican Party who has raised money to help get more members of the GOP elected, is looking to capitalize. She has effectively been anointed as Cheney's replacement even before the vote by Republican leaders, including Trump himself. But Stefanik's apparent ascension and Cheney's ouster is causing turmoil within the party and concern over the GOP's future. For Stefanik, who had largely avoided close association with Trump until his first impeachment trial, her conservative bona fides and commitment to the president have been called into question by members of the GOP base. 
Another rent freeze on the horizon
The board that sets rents for some two million rent-stabilized tenants in New York City signaled that they may freeze rents for some for a second year in a row. The Rent Guidelines Board took a preliminary vote indicating a 0%-2% rent increase for one-year leases and a range of 1%-3% increase for two-year leases. So keeping rents flat for tenants renewing one-year leases, as the board did last year due to the pandemic, seems a likely possibility. The preliminary vote was not well-received by landlord groups, who pushed for larger increases on both types of leases. A final vote is expected late next month.
New poll indicates some mayoral shakeups
For the first time in a public poll of the upcoming New York City mayoral election, Brooklyn Borough President Eric Adams edged out Andrew Yang for the top spot. Yang has consistently ranked at the top of polls so far during the race, with Adams trailing behind him in second. Although it's just one poll, it may be an early indicator that attitudes around the candidates are changing and that Yang's star power and name recognition that propelled him to the front of the pack early on may be wearing off as election day draws nearer. Soon after, however, the Yang campaign released an internal poll that placed Adams in third, so it's hard to give too much weight to any one poll.
Sheldon Silver in and out of prison
Initial reports that former Assembly Speaker Sheldon Silver had been let out of prison shook up the New York political world as many tried to confirm whether the reports were true. Silver had served just six months of his over six year sentence in federal prison on corruption. And he had avoided going to prison for years after his initial conviction in 2015, so it was notable when the time came that he could no longer put off his time behind bars. Turned out, Silver was let out on furlough awaiting a final decision on whether the 77-year-old could serve out the rest of his time in home confinement due to the COVID-19 pandemic. After two days of relative freedom, Silver went back to prison when his request for home confinement was denied.
New York City Case Studies
Powered By
NEXT STORY: Wage theft a top issue in final legislative stretch