Campaigns & Elections
Race heats up to fill Corey Johnson's council seat
Johnson's former chief of staff, Erik Bottcher, has seen fundraising success since last year, consistently leading amongst candidates who aren't incumbents and bringing in remarkable amounts of cash.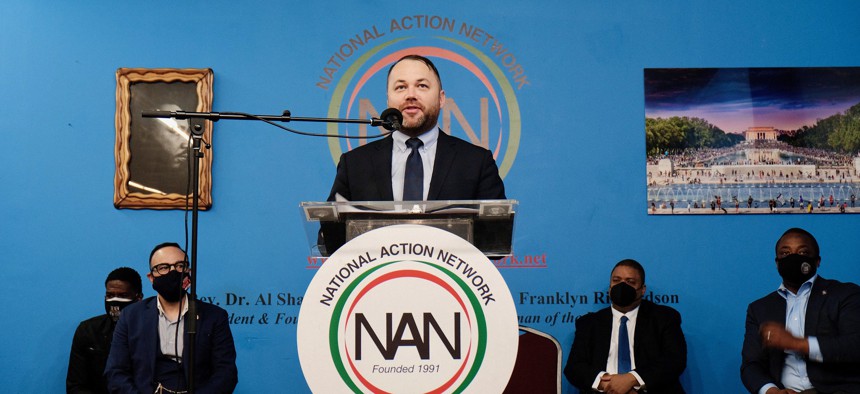 Trying to keep track of all the City Council races? Check out our dedicated Council Countdown section. We've partnered with City Limits, Gotham Gazette, and the Queens Daily Eagle for top notch local election coverage, organized by borough. Don't waste any more time, get informed now.
The race is heating up to replace term-limited New York City Council Member Corey Johnson, who represents District 3 in Manhattan. But the winner, many say, feels pre-determined.
Johnson, first elected to his seat in 2013, ascended through the city's political system to become speaker of the City Council in 2018. The first openly gay man to serve as speaker. In a term-limited position, he announced a run for mayor, which ended almost as quickly as it started in late 2020. In March of this year, he then announced a go at the City Comptroller position — with a NY1 and Ipsos poll finding him leading the Democratic pack a scant month later.
But when it comes to the candidates seeking to replace him, none have quite the funding support as Corey Johnson's own former chief of staff, Erik Bottcher. He's seen fundraising success since last year, consistently leading amongst candidates who aren't incumbents and bringing in remarkable amounts of cash.
According to the city Campaign Finance Board, six Democratic candidates including Bottcher are in the running. Looking at the most recent financial filings with the board, Bottcher leads the pack by a landslide in fundraising, with over $143 thousand in monetary contributions. The only candidate to break the $100k mark, Bottcher has almost four times as much cash as the second-place fundraiser, former investigative reporter Leslie Boghosian Murphy, who received about $37 thousand. Lawyer Arthur Schwartz comes in third with $30,139, and small business owner Phelan-Dante Fitzpatrick follows with $24,585. The final two candidates both rang up totals below $20k: founding member of Hell's Kitchen Democrats Aleta LaFargue raised $18,066, and lawyer and figure skater Marni Halasa raised $16,602.
The district is 69% white, according to census data, and 14% hails from Hispanic origin. About 76% of households are non-family, and almost 80% of housing in the area is renter-occupied. It contains the West Village, SoHo, NoHo, Flatiron, Chelsea, Hell's Kitchen, and parts of Murray Hill. District 3 also lays claim to Christine Quinn, former speaker for the City Council.
In conversations with the candidates running, some major goals became apparent. Like most places across the city and country at large, economic recovery post-pandemic is a priority for many candidates and constituents alike. 
Bottcher said part of that recovery entailed getting people back to work, getting small businesses open, getting the theater industry open, and bringing back tourism. He added that something he wanted to see was the government "getting a handle on many of the quality of life issues that are keeping people away, and causing residents to question whether or not they're going to stay" there. To him, that means improving sanitation, something he's released a comprehensive plan on.
Boghosian Murphy also supports bringing small businesses, restaurants, and hospitality "back and running." "The reason why this is a priority," she added, "is because those industries are so inextricably tied to our district."
Halasa and Schwartz said that affordable housing was one of the most pressing issues in the district — contributing to a "segregated nature" in the area, said Schwartz, and also homelessness, said Halasa.
A strong opponent to Rental Assistance Demonstration within NYCHA housing, Schwartz said he would look to have affordable housing not rely on privatization of public housing. He suggested mandatory upzoning and mandatory inclusionary housing as steps that could help address the crisis.
Halasa also strongly opposes privatization of NYCHA. She added that because there were so many vacant hotels in the district, one potential solution is to repurpose them as affordable housing, add in supportive service features, and then give the homeless permanent places to live. 
Fitzpatrick's website shows priorities include combating educational inequities for marginalized groups and increasing safety, with LaFargue's showing the same. She also supports universal base income, along with supporting affordable housing like other candidates.
Bottcher said that what made him unique in the candidate field was his experience, as he's the only candidate who's been in city and state government. Clocking over a decade in public service, he pointed to the fact the majority of Council members will be new next year as to why someone already involved is particularly helpful.
"I think it's going to be important to elect a council member who can hit the ground running and doesn't need a long period of learning how things work," he said. "I am familiar with virtually every nonprofit in our agency. I know the leadership. I know what their needs are. I know what their goals are. And I won't have to take the first year of my time to meet with all of them."
Halasa, however, saw her lack of such as a strength in itself.
"It's important for the district to have someone quote 'ordinary,' separate from the political system," she said. "We're the closest to the people." She added that her unique strengths stemmed from her combo background of community activist, being a former small business owner, and her law degree — her varied background, she said, means she can understand a lot of different people. 
Fitzpatrick is also a small business owner, who's utilized social services before and "know[s] first hand the economic uncertainty facing working people," according to his site. 
Schwartz highlighted his experience litigating community causes as his unique strength. He's gone from negotiating deals to improve accessibility in train stations, to working with staunch progressive Bernie Sanders as his lawyer in 2016. He said all this pointed to a long-term devotion to the causes he touts: and, he added, his political involvement including on community boards has always been volunteer.
Boghosian Murphy, as a former journalist, says she spent her career doing what politicians should be: "telling the stories of the marginalized, giving voices to people who didn't have them." She, too, volunteers, with her block association, women's and children's shelters, and now on the community board.
LaFargue, a lifelong Hell's Kitchen resident, is an actress and a community organizer. She's served as President of the Manhattan Plaza Tenants Association, according to her site.
Despite that, at large, it seems the candidates are well-aware of Bottcher's political involvement, and the benefits that can bring.
"Eric is the chosen successor to Corey Johnson. He's the guy who's endorsed by all the clubs and all the elected officials in the district," Schwartz said. "And I think that one reason I'm running is because I felt like the elected officials in our district, and particularly our city council member, basically abandoned our community, both around the police misconduct stuff that was being addressed last summer, and also around COVID-19." 
It's not just limited to Schwartz, either. Last year, the five other candidates in the race banded together to boycott a Village Independent Democrats' endorsement event. Bottcher was the only candidate in attendance, and landed all but six of the 79 votes cast — taking home the endorsement.
Schwartz, in his district leader's report to the club, said the "V.I.D. and other Democratic club endorsement processes are unfairly biased in support of one candidate." He told City & State that he felt Bottcher received "some softball questions," and that the club's interview process was the least substantive of all the events and debates he'd thus far attended. Halasa stressed that it was a group decision all five candidates made, with Boghosian Murphy adding that the decision was the result of this "one time specific situation." 
Bottcher, however, said he felt the process was fair, while acknowledging the club was aware of some candidates more than others.
"The members of V.I.D. had never seen any of the other candidates before, with the exception of Arthur Schwartz," he said. The candidates "had the opportunity to come to the club and present their case, and I don't understand why they didn't do that. I think it was a missed opportunity for them."
The primary, electing the Democratic nominee for election in November, will be held June 22, with early voting beginning June 12. 
Correction: An earlier version of this story incorrectly said that Corey Johnson was the first HIV-positive politician in New York state.
See more City Council coverage here. 
Powered By
NEXT STORY: Welcome to the Dianneverse