New York State
Sheldon Silver is getting out of prison
A six-year legal saga once again works in favor of the felonious former Assembly speaker.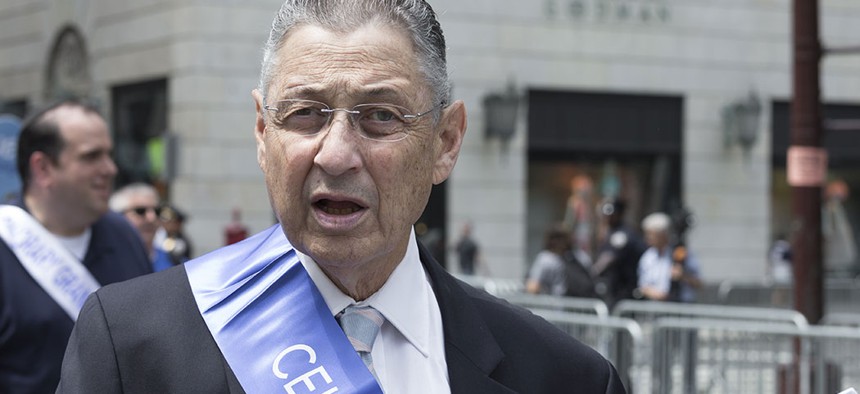 Former Assembly Speaker Sheldon Silver is getting released to home confinement after serving less than a year of the six-and-a-half year sentence for corruption he began last August. 
The Yeshiva World first reported this morning that Silver would be released under the CARES Act, which allows federal inmates to be released to home confinement during the COVID-19 pandemic. "At this time the family is asking for privacy to deal with Mr. Silver's medical issues which he has some serious ones that are ongoing," Rabbi Akiva Homnick of the criminal justice advocacy group Pidyon Shvuyai Yisroel told City & State, citing a conversation with an unnamed family member of the former speaker. "He's expected home momentarily."
When Silver is in fact getting released from federal prison remains to be seen. The New York Post reportedMonday that prosecutors with the Southern District of New York are resisting efforts by the federal Bureau of Prisons to release Silver from Federal Correctional Institution, Otisville in Orange County. A spokesperson for the bureau would not confirm or deny that Silver is getting released. "For privacy, safety, and security reasons, we do not discuss release plans for any inmate," the spokesperson said in an email. NY1 reports that Silver was being processed for release as of noon today. 
The suspense over Silver's seemingly impending release to home confinement is the latest twist in a yearslong legal saga following the 2015 arrest that toppled the longtime Democratic Assembly speaker from the pinnacle of state power. He was convicted later that year on seven counts of corruption, including honest services fraud, money laundering and extortion and sentenced to 12 months in prison in 2016. That conviction, however, was overturned the next year, but then he got sentenced to seven years for corruption in 2018. Two years' worth of legal arguments later, Silver began serving his current sentence at Otisville, a medium-security facility that has housed other political notables like the Republican former state Senate Majority Leader Dean Skelos, who was released from prison in April. 

A rumored move by former President Donald Trump to grant Silver clemency never materialized. But in the end, it would have only saved him a few months on the inside of a federal penitentiary anyway if and when Silver does get released to home confinement.
Correction: A previous version of this story incorrectly described the location of the Federal Correctional Institution, Otisville.