New York State
Stefanik ascendance shows increasing Trumpiness of New York GOP
Republican legislators are stoked she is moving up in GOP politics despite her support for the Big Lie.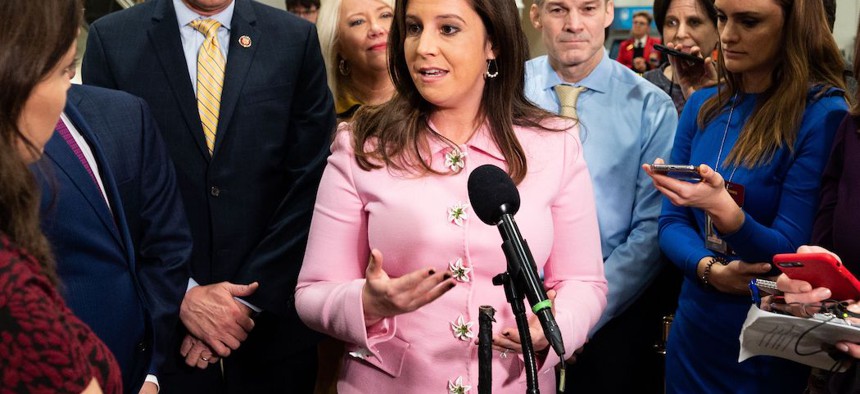 Elise Stefanik of the North Country has been a key defender of former President Donald Trump, making her a rising star in Republican politics, both nationally and in New York. As a member of the House Intelligence Committee, she dismissed his attempt to withhold military aid to extort election interference from Ukraine.After raising massive sums for her reelection bid in 2020, Stefanik aided Trump's efforts to falsely claim the 2020 presidential election was stolen. Months later, she remains a Trump fan despite his incitement of a violent mob of his supporters to storm the U.S. Capitol in an effort to overturn the election's result. 
In fact, her pro-Trump stance may propel her to a top leadership position. "Thank you President Trump for your 100% support for House GOP Conference Chair. We are unified and focused on FIRING PELOSI & WINNING in 2022!" Stefanik tweeted Wednesday after the tax cheat and accused sexual predator announced his support for her to replace Rep. Liz Cheney of Wyoming as the third-highest ranking Republican House member. Cheney (unlike Stefanik) has said her party should reject Trump's personality cult, insurrection and ongoing role in the party – especially given how the former reality TV star remains obsessed with baseless claims of mass voter fraud. A vote on the leadership switch is expected in the coming weeks.
New York Republicans – who claim to be the party of law and order – say they are thrilled that Stefanik is moving up in national GOP politics as a reward for her support of Trump's subversionof therule of law. Even state legislators with reputations as relative moderates are embracing Stefanik's role.
"Most of us see Congresswoman Stefanik as an extremely bright, talented young legislator and rising star in Congress and the Republican Party nationally – not solely by her relationship to President Trump," state Sen. Phil Boyle of Long Island, who has a relatively moderate voting record in the Legislature, said in a text. "Elise has earned this position through years of hard work."
The Harvard-educated Stefanik entered Republican politics by working for more traditional conservative Republicans like former Rep. Paul Ryan of Wisconsin. Her years in Washington, D.C. were a mixed blessing during her successful 2014 campaign for Congress, when she emphasized political moderation and local roots as a native daughter of the Adirondacks – no matter accusations of carpetbagging. While she now claims otherwise, she also distanced herself from Trump's 2016 campaign. She then continued cultivating an independent political persona by criticizing some of Trump's more controversial moves in 2017 and 2018. 
That all changed in 2019 when she defended Trump against impeachment for his attempts to leverage military aid to Ukraine to dig up dirt on now-President Joe Biden as he sought the 2020 Democratic nomination. "I started out skeptical of Rep. Stefanik because I viewed her as part of the broken GOP establishment," Assembly Member Kieran Michael Lalor, a pro-Trump firebrand from the Hudson Valley who has appeared on right-wing cable news networks like Newsmax, said in a text message. "But she has shown real courage and a willingness to take on the DC swamp." 
Stefanik's office declined to comment on the record for this story, but a spokesperson said that the Congress member's evolving stance towards Trump reflected an effort to represent the views of her constituents. 
A day after the deadly insurrection, despite condemning the violence, Stefanik joined other Republicans in voting against the certification of the Electoral College results in the 2020 election, which she said was an attempt to highlight irregularities in four states. A spokesperson declined to provide any evidence to substantiate those election-irregularity claims when asked by City & State. 
Republican legislators say they have no problem with Stefanik's role in undermining public confidence in the Democratic process. "I don't see any concerns and it isn't relevant in my opinion," Assembly Member Michael Reilly of Staten Island, a former NYPD lieutenant known for reaching across the aisle, said in a text. 
"Rep. Stefanik stated that, 'We can and we should peacefully discuss concerns people had with some judges disregarding state election laws," Boyle added. 
Four months later, Republicans like Cheney who argue against promoting baseless conspiracy theories and for respecting the results of elections are increasingly a dying breed in the GOP. "President Trump started a movement that has given millions of people a voice to vent their frustrations with the status quo," Assembly Member John Salka of Central New York, who was first elected by a narrow margin in 2018 despite historic losses for the GOP elsewhere in the state that year. "I believe this sleeping giant is not going away." Even bigger losses for Republicans in 2020 are evidently not making New York Republicans give up on Trump.
Republicans like state party Chair Nick Langworthy, who once encouraged Trump to run for governor, are talking about winning their first statewide election in two decades in 2022, given how ongoing scandals might hurt Gov. Andrew Cuomo next year. With Rep. Lee Zeldin of Long Island, another Trump acolyte, having secured the backing of key Republican county party chairs for the gubernatorial nomination, Stefanik appears to be backing away from a rumored run that would require her to give up her seat in Congress. Perhaps news that New York is only losing one congressional seat eased any concerns Stefanik may have had about facing a tough reelection battle after redistricting. With her aspirations now dependent on the goodwill of fellow House Republicans rather than New York's statewide electorate, Stefanik's incentives point her toward being a loyal member of Team Trump. GOP leaders like Langworthy are now hoping her success in mobilizing other Republican women will help them flip the handful of seats the party needs to win the House majority in 2020. If Stefanik becomes the third-ranking Republican before that happens, she could be serving in the powerful post of House majority whip by 2023. 
And as the Republican Party moves farther to the right-wing fringes of Stefanik can claim to still be a relative moderate. Unlike some of her colleagues, she has never called for executing Democratic House Speaker Nancy Pelosi for treason for refusing to fund Trump's border wall or spread false conspiracy theories about Jewish lasers starting forest fires in California. With a reputation like that, New York Republicans expect big things are coming for Stefanik. "I fully expect to see her as a future Speaker of the House of Representatives," Boyle predicted. "We are not talking about (Rep. Marjorie Taylor Greene of Georgia) here."
Powered By
NEXT STORY: Advocates: Cuomo has ignored people with disabilities too often