Donald Trump
Trump's potential New York legal woes
The former president is the subject of several investigations in the Empire State.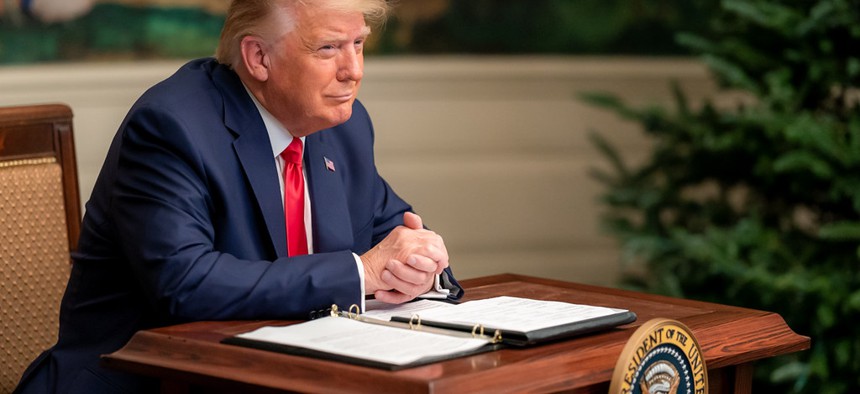 Investigations from New York prosecutors seemed to have been weighing heavily on former President Donald Trump's mind as he left office. In his 46-minute video posted in December propagating falsehoods about election results, he turned his attention to criticizing the numerous probes into him and his businesses.
"These same people that failed to get me in Washington have sent every piece of information to New York so they can try and get me there," he said, before accusing state Attorney General Letitia James of investigating him for political reasons.
Now without the insulation of the presidency, Trump continues to feel the heat of ongoing investigations, particularly those from James and Manhattan District Attorney Cy Vance. Vance has finally gotten his hands on Trump's tax returns after a prolonged legal battle, and James's office is now exploring possible criminal conduct at the Trump Organization. 
City & State revisited each of the lawsuits and investigations Trump has faced from entities in New York. This post was updated on May 19, 2021.
Attorney general investigates Trump Organization projects
James officially revealed that her office was investigating Trump's business dealings in August 2020, with an eye on four Trump Organization properties and his failed attempt to buy the Buffalo Bills. The civil probe is examining whether the company fraudulently inflated asset values to access loans and other benefits. As of May 2021, the attorney general disclosed that her office is also now actively investigating the Trump Organization in a "criminal capacity."
Eric Trump, an executive with the Trump Organization, was deposed in October as part of the investigation. And The New York Times reported last November that James' and Vances' offices both issued subpoenas to the Trump Organization for records related to consulting fees. The inquiry comes after the paper's bombshell report on Trump's tax returns, which found that Trump reduced his taxable income by writing off millions of dollars of consulting fees, some of which were paid to his daughter Ivanka. She denounced the inquiries as "harassment" motivated by "politics, publicity and rage."
In March 2019, The New York Times reported that the state attorney general's office had subpoenaed Deutsche Bank and Investors Bank for information regarding the financing of several Trump Organization projects. James issued the subpoena as a result of the congressional testimony of Michael Cohen, the president's former personal lawyer and fixer, who said that Trump has inflated the worth of his assets in financial documents. Trump dismissed the subpoena on Twitter, saying it is "All part of the Witch Hunt Hoax. Started by little Eric Schneiderman & Cuomo."
Manhattan district attorney's criminal probe
Vance's office has been conducting its own inquiries into Trump and the Trump Organization for more than two years now. The investigation initially focused on Trump's former personal attorney Michael Cohen's "hush money" paid in the lead up to the 2016 presidential election to two women who claimed to have sexual relationships with Trump. But Vance indicated last summer that the criminal probe has a broader scope, including allegations of bank and insurance fraud.
The district attorney's attempts to obtain Trump's tax returns as part of the investigation landed them in the U.S. Supreme Court twice as Trump unsuccessfully attempted to argue he was immune from the probe because he was president. Vance finally got the tax returns this February, and is now scrutinizing figures such as Allen Weisselberg, the Trump Organization's long-time chief financial officer, as the investigation progresses. 
Unknown Southern District of New York investigation
While testifying before Congress in 2019, Michael Cohen said that the U.S. attorney for the Southern District of New York was investigating "illegal actions" taken by Trump as part of a non-public inquiry. He could not offer additional details, saying that prosecutors had asked him not to discuss it.
Southern District of New York investigation into Trump inaugural committee
The Wall Street Journal reported in December 2018 that federal prosecutors in New York had opened an investigation into Trump's 2017 inaugural committee in order to determine if it misspent any of the record $107 million it raised. They will also look into whether donors gave money in exchange for access to the administration. Several months later, in February, prosecutors subpoenaed the inaugural committee for records relating to donors, vendors and franchises, as well as documents that may indicate donors received any "benefits" in exchange for their donations.
Southern District of New York investigationinto Giuliani and associates
Two businessmen who helped Giuliani dig up dirt on Biden in Ukraine were arrested in 2019 and charged with campaign finance violations. As part of the inquiry, federal prosecutors were said to be examining Giuliani's financial dealings as well. When asked about it, he denied any wrongdoing and told New York magazine: "If they're investigating me, they're assholes. They're absolutely assholes if they're investigating me." In September 2020, Lev Parnas – one of the associates – faced new charges accusing him of defrauding investors in a company that he founded and that Giuliani consulted for. However, prosecutors didn't implicate Giuliani, who denied any involvement.
Federal agents searched Giuliani's apartment and office in April, seizing electronic devices, escalating an ongoing investigation into his dealings in Ukraine. 
State tax department looks into fraud allegations
Following the 2018 investigation by The New York Times into Trump and his family's business dealings that included revelations of potential tax fraud and tax evasion, the state Department of Taxation and Finance said it would review the allegations to determine if Trump or members of his family broke any state laws. Trump's lawyer called all the allegations "100% false and highly defamatory" in a statement. A few days later, New York City officials also announced they would investigate the allegations made in the Times story in cooperation with state efforts.
Paul Manafort avoids Manhattan district attorney's charges 
Immediately after a second federal court handed down its sentencing of former Trump campaign chair Paul Manafort, Manhattan District Attorney Cyrus Vance Jr. announced a series of state indictments against Manafort. Vance implied the purpose of the charges is to ensure Manfort served jail time ahead of Trump's eventual pardon for Manafort's federal crimes. A New York appeals court sided with Manafort in October that the charges brought by Vance would violate double jeopardy laws because he had been tried and convicted for the same crimes on the federal level. Vance pushed back against the ruling, arguing that his inquiry was exploring different aspects of the alleged crime, but failed to succeed after the state's highest court upheld the lower court's ruling. 
Attorney general lawsuit against the Trump Foundation
The Donald J. Trump Foundation was dissolved in 2018 and was forced to pay $2 million to eight charities under a settlement last year, in which Trump also admitted to misusing charitable funds to boost his presidential campaign and to pay off his companies' debt. The settlement required mandatory training for Trump's oldest children who were officers of the foundation, and imposed restrictions on Trump if he were to become the director of another nonprofit.
The investigation by the state Attorney General's office began soon after the 2016 presidential election and following an investigation conducted by The Washington Post that uncovered many of the questionable expenditures addressed in the lawsuit. These included using foundation money to pay for legal expenses incurred by Trump's private businesses, paying for a new fountain outside of Trump Tower and purchasing a $10,000 portrait of Trump that used to hang in one of his golf clubs.
The lawsuit alleged that the Trump Foundation effectively became an illegal arm of the Trump campaign, with emails showing that then-campaign manager Corey Lewandowski directed the foundation's spending, even though that is illegal. The attorney general's office is seeking over $2.8 million in restitution, stating that is the sum that the foundation raised in illegal in-kind campaign contributions.
When the lawsuit was announced, Trump responded to it on Twitter by calling it an attempt by "sleazy New York Democrats" to smear him and that he has no plans to settle.
Tax department investigation into the Trump Foundation
About a month after the attorney general's office announced its lawsuit, The New York Times reported that the state Department of Taxation and Finance opened an investigation to examine whether the Donald J. Trump Foundation violated state tax law. 
A day after Cohen's guilty plea in federal court, the department subpoenaed Cohen for this investigation, requesting documents relating to the Trump Foundation. The night of that plea, Cohen's lawyer Lanny Davis made appearances on cable news, telling CNN that his client "has information about Mr. Trump that would be of interest both in Washington as well as New York state," and telling MSNBC off-air that Cohen has information about the Trump Foundation that would be of interest to the New York attorney general.
U.S. Attorney's Office for the Southern District of New York prosecutes Cohen
After a referral from special counsel Robert Mueller, the FBI executed a search warrant and raided Cohen's office in 2018. Although Mueller uncovered information that led to the raid, it did not fit into his line of inquiry into Russian meddling in the 2016 presidential election. So he handed it off to the U.S. attorney's office for the Southern District of New York, which began its own case. (U.S. Attorney Geoffrey Berman, who was appointed by Trump, recused himself. He was laterfired by Trump. The investigation is being overseen by his subordinates.) In the raid, the FBI searched for documents related to, most notably, the payment Cohen made to adult film actress Stormy Daniels, whose real name is Stephanie Gregory Clifford and is one of the women who alleged to have had an affair with Trump, before the 2016 election.
In addition to investigating the pay-off to Daniels and whether or not it violated campaign finance laws, reports emerged that Cohen was under investigation for over $20 million in loans related to his taxi business. Cohen pleaded guilty to eight counts, including tax evasion, bank fraud and campaign finance violations. As part of his plea, Cohen admitted to paying Daniels and one other woman in exchange for their silence regarding alleged affairs with Trump. He implicated the president as well, saying that he arranged those payments at then-candidate Trump's behest.
The plea reignited an ongoing debate about whether or not a sitting president can be indicted, since one has now been directly implicated in a crime. Following Cohen's plea, Trump said he knew about the payment after the fact, but said that since the money did not come from his campaign account, it was not illegal. This is not true.
Attorney general investigation of Cohen's finances
Following the completion of the federal investigation, then-state Attorney General Barbara Underwood decided to take a crack at Cohen as well. She was looking to begin a criminal tax investigation into Cohen, which would be separate from the federal tax evasion he has already pleaded guilty to, thus avoiding New York's strict double jeopardy laws. Underwood had been seeking a referral from the state Department of Taxation and Finances, which is necessary before the state attorney general's office can begin its inquiry. The current status of that potential investigation remains unknown.
Powered By
NEXT STORY: Could crime tip the scales of the mayoral race?