Campaigns & Elections
Why the Westchester County clerk race has gotten so heated
A young, Black Yonkers City Council member is challenging a 16-year white incumbent.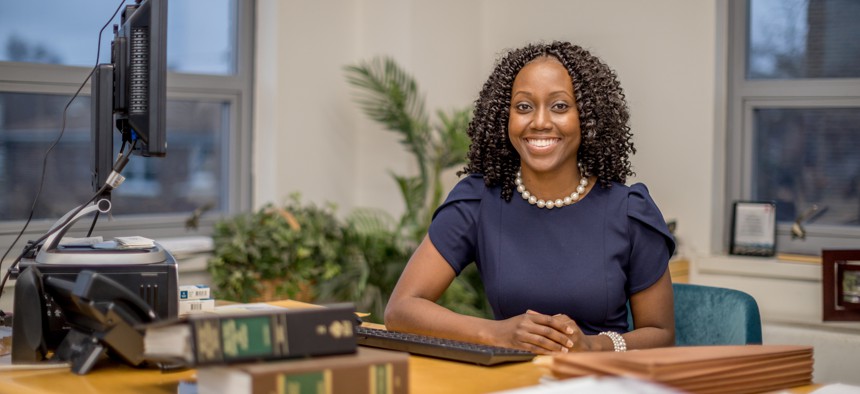 The Westchester County clerk largely operates as a non-ideological bureaucrat, responsible for maintaining land titles and court records and processing applications for passports, naturalization papers and pistol licenses among other documents. But this year the Democratic primary race for the position has been surprisingly controversial.
Democratic County Clerk Tim Idoni is running for reelection to a fifth-term, which would make him the third-longest serving clerk for the county since the position was created in 1683, according to the Journal News. Those plans could be derailed by Yonkers City Council Member Shanae Williams, who announced in December that she would challenge Idoni in this year's Democratic primary.
The face-off illustrates how incumbent Democrats in the county are more likely to face serious competition in the primaries from young candidates from diverse backgrounds rather than a competitive general election. As the mostly suburban, affluent county just north of the Bronx becomes more reliably Democratic and diverse, its politics become more like New York City's – in which the most high-profile, contentious races happen before the general election. In 2020, Reps. Jamaal Bowman and Rep. Mondaire Jones, both Black progressives, won Westchester's congressional seats by running to the left of their opponents. Left-leaning Westchester District Attorney Mimi Rocah, who is white, successfully defeated an incumbent in 2020, slamming him for not thoroughly investigating allegations of police corruption in Mount Vernon. 
But the county clerk's race is unusual because it is a managerial position. There's little room to make ideological arguments when running for a job that involves recording mortgages and maintaining court records. 
Idoni has emphasized that he's got the perfect resume for the position. His educational background was in city management, he used to serve as the mayor of New Rochelle and he has spent 16 years in the county clerk's office. During his tenure, he said he has diversified the office's staff, reduced the number of employees from 110 to 64 and saved $37 million in total. "It gives the taxpayers a break but it also gives the county executive the ability to use whatever money I'm saving, to put it in a different department, such as the health department, Social Services or Veterans Affairs," Idoni said. His work has resulted in a dozen national and statewide awards for the office's technological improvements.
But Willliams has made the case that it's time for a fresh change. "It could be like a hub of resources for people in Westchester County, but I think it's totally underutilized," she said about the clerk's office. "That's my motivation for running for this office. I think we can do a lot more to really bring services and resources directly into communities especially into marginalized communities." She said one of her priorities would be to expand the office's mobile passport offices to provide other resources and services, which Idoni also said would be one of his goals if elected to another term. 
Williams has criticized the incumbent for taking a pay raise in 2019 that boosted his salary from $153,000 to $195,000, saying that it swayed the county clerk to go back on his earlier comments indicating that he likely wouldn't run again. Idoni said that was the first raise he ever received since his 2005 election, and that he initially was unsure if he's pursue office again because of health problems. "I got up one morning late last year and said, 'you know what, I can do this again,'" he said. 
Idoni also saw his opponent criticizing him for taking on another term in office as hypocritical. Williams was one of several Yonkers City Council Members in 2018 who voted for a controversial increase to term limits that allowed Democratic Mayor Mike Spano and two other Council members to run for office again. 
"Three terms is not five terms," Williams countered. "What (Idoni's) seeking to be in the county clerk's office for 20 years – that's absurd."
One of the most tense moments of the race arose in April. The Working Families Party endorsed Idoni's reelection, but another WFP petition was filed for Jennifer Malota, a Yonkers resident. Several of her petitions were carried by Williams and Williams' aide at the City Council, raising criticism that she was trying to put in a spoiler candidate.
"It was one of the most disappointing things I've ever seen," Idoni said. "I've been involved in government for over 40 years now, and I've never seen somebody pull a stunt like that."
Williams defended her actions, saying she genuinely supported Malota over Idoni. "Quite frankly, I would rather see anyone, if not me, be in that position, as long as we are not putting someone there who has been there for so long and has been dismal."
The WFP isn't making any allegations of dirty tricks against Williams. "I don't know that Shanae was behind it," said David Schwartz of the Westchester Working Families Party. "We really don't know that and I don't think we ever made that accusation." 
A Westchester district leader who supports Idoni and spoke on the condition of anonymity because she was discussing a Democratic primary election speculated that Williams's campaign has received support from Zehy Jereis, the former head of the Republican Party in Yonkers, who spent four years in prison after being found guilty of bribery and extortion and has reemerged as a political operative in the area working with Democratic campaigns. "His family members carried a lot of those petitions, not him personally, but members of him and his extended family," she said. 
Frank Corvino, chair of the Harrison Town Democratic Committee, said in an emailed statement that Jereis reached out to him in January asking if Williams could appear before the committee. "He added that he hoped I would be able to support Ms. Williams," he wrote. "I told him the Harrison Democratic Town Committee had already voted to endorse Tim Idoni for Re-election, and I thanked him for letting me know that Shanae is running and wished her the best of luck."
When reached for comment, Jereis denied having any formal involvement in the county clerk's race. "There was no formal request of any sort, I have no formal role in this campaign," he said. "Can't be more clear or blunter." He added that he considers Corvino a friend, and regularly has conversations about politics with him. 
Williams has denied any involvement with Jereis, saying her only connection to him was through his wife, whom she befriended while working in Spano's mayoral office, and Jereis's son who carried her petition. They are both Democrats. "I'm an independent candidate, and I think that there are people within the establishment that are looking to find a fault with me to try and paint me as a Republican," she said. When asked about Corvino's account, Williams wrote back in an email: "As mentioned before, the consulting firm I hired is Berlin Rosen. Zehy has no formal role in this campaign but I welcome all voters who want to support the effort." She said she didn't not ask him to make any requests, formally or informally, to get support from the Harrison Democrats.
The Westchester Democratic Party and most Democratic elected officials have come out in support of Idoni, while Williams has largely received support from fellow Yonkers politicians, including Democratic Assembly Member Nader Sayegh and Spano.
Though Sayegh said he expressed some concern that Idoni's decision to run again was motivated by a salary increase, he said his main motivation to back Williams was because he liked her as a candidate. "It's a combination of my familiarization with her, with her youth, her enthusiasm, her understanding of diversity and her desire to really think beyond the box."
Schwartz said the Working Families Party's endorsement of Idoni wasn't a knock against Williams. "It wasn't an easy choice, but we just saw, why change from somebody we've been working with? And where we still need Shanae to stay in Yonkers and continue to do the work she's doing." He pointed to a bill she's recently spearheaded, which would double the number of mandated affordable housing units in new housing developments. 
Whoever wins, it's now clear that even seemingly safe Democratic incumbents in obscure posts can't assume they won't face an aggressive challenge.