New York City
10 candidates line up for New York City Council District 19
The primary race in Queens will give the GOP a chance to reclaim the seat last held by the party in 2009.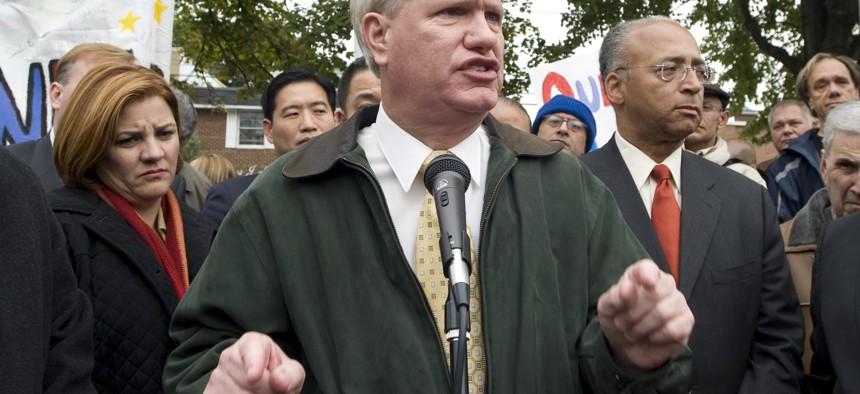 The last time New York City's District 19 seat was held by a Republican was when Dan Halloran won in 2009. Now with several candidates vying to fill term-limited Paul Vallone's seat, including two Republicans, the GOP has a shot at taking back the district. 
District 19 includes the neighborhoods Auburndale, Bay Terrace, Bayside Beechhurst, College Point, Douglaston, Flushing, Little Neck, Malba and Whitestone. It is home to 155,237 people, according to 2010 Census data, with white and Asian community members comprising the largest proportion, 53.4% and 28% respectively. The Hispanic population makes up 15.3%. 
The Democratic primary includes former District 19 city council member and a former senator, Tony Avella; Jeopardy game show superstar and former NYPD lieutenant, Francis E. Spangenberg; budget director for the Queens borough president, Richard Lee; former NYPD officer, Adriana Aviles; assistant governor for Rotary District 7255, Nabaraj KC and president of Metropolitan Public Strategies, Austin Shafran. 
Lee and Shafran have raised the most private funds with $68,543 and $50,783, respectively, according to the Campaign Finance Summary 2021 Citywide Elections. Avella trails behind with $34,755, KC with $28,884, Aviles with $14,104 and Spangenberg with $4,653. 
Avella has a large advantage in name recognition as he previously served the council in this district and has the most political experience.
"I think in politics just like if you hired a plumber for your house, experience matters," Avella said in an interview with PoliticsNY. "Eight years in the council, eight years in the senate representing this district gives me the experience and the know how…" 
However, looking at endorsements alone, Shafran appears to be the favorite. He has picked up endorsements from the Queens County Democratic Party, United Federation of Teachers and mayoral front runner, Eric Adams, among others. Shafran has also cross endorsed KC, a unique feature of ranked choice elections. Besides Shafran, KC is endorsed only by Council Member Fernando Cabrera. 
Lee has also amassed a number of endorsements including from Congressman Tom Suozzi, Senator Leroy Comrie, the New York City Asian-American Democratic Club, among others. 
The New York City Police Benevolent Association has endorsed Aviles and Avella while the New York City Lieutenant Benevolent Association has endorsed Spangenberg. Avella is also endorsed by Voters for Animal Rights. 
The Republican primary features professor and researcher John-Alexander Sakelos and former state senate candidate Vickie Paladino. 
Paladino has raised $35,148 in private funds and is endorsed by the New York Young Republicans Club. Sakelos has raised $22,157 in private funds and is endorsed by the PBA and congressional candidate Nicole Malliotakis. 
Dawn Anatra is on the ballot as a member of the Conservative Party but little public information is available about the candidate. The Campaign Finance Summary 2021 Citywide Elections does not list her as having raised any private or public funds. 
Public Safety 
District 19 has witnessed a number of hate crimes, principly against the Asian community. According to the NYPD hate crimes dashboard, there have been seven hate crimes in the 111th Precinct and one in the 109th precinct, both of which police the area. Public safety has become a major policy issue in the race, with the candidates supporting varying increases in police presence. 
Sakelos has made crime and safety the center of his platform. While his campaign website does not go into specifics, he promises to "defend the police," citing the 411% rise in NYPD officer retirements as alarming.
Paladino has taken a similar stance and proposes restoring the plainclothes anti-crime unit, dismantled by the NYPD in June 2020 and reversing Mayor DeBlasio's bail reform law which eliminated bail for most people accused of misdemeanors and non-violent felonies. 
The Democratic field has taken a moderate approach, expressing the desire for a community centered police force but avoiding the controversial slogan "defund the police." 
Avella, if elected, plans to introduce legislation to subdivide the 109th Precinct and increase the penalties for those convicted of hate crimes. Lee is an advocate for increasing NYPD resources and transforming the police academy into a two year Associate Degree program that focuses on de-escalation tactics and mental health response. Shafran does not include police-related issues on his campaign website but called for systemic change to public safety in an interview with the Jim Owles Liberal Democratic Club. He supports shifting social service calls related to mental health and homelessness away from the NYPD and into the hands of social service experts. 
Both Aviles and Spangenberg cite their experience in the NYPD as offering unique insight into the issue and agree the NYPD needs adequate funds to do their job successfully. 
Education
Education has also become a major political talking point for the candidates. District 19 is home to some of the city's best schools, including Townsend Harris High School, which U.S News ranked as the twelfth best public high school in the country. However, the 25th and 26th school districts in the area have also suffered from overcrowding. There were 25 schools classified as overcrowded in the 25th district alone. Similarly, the district's schools receive the lowest amount of funding per student – $2,000 less per student than the citywide average. 
Shafran wants, in addition to increased funding, to enact a ten year construction plan that will require each district to have enough K-12 seats. He also plans to cap class sizes at 20 students. 
His challenger, Spangenberg, believes the district needs a faster-paced plan to address overcrowding and supports policies proposed by the City Budget Commission.
Lee and Avella have also pledged to fight for increased funding in addition to extending the city's gifted and talented program. 
Both KC and Aviles cite education reform as key aspects of their platform. 
During her run for state senate in 2018, Paladino favored the use of a voucher program which would allocate public school funds to families who chose to send their children to private institutions. In an interview with PoliticsNY she said, "I say to Mayor de Blasio—fix the broken schools. The broken junior high schools [and] elementary schools. Fix it." She, like her Republican counterpart Sakelos, support the continued use of standardized tests such as the
SHSAT to determine admittance to the city's specialized schools. Sekelos also supports "race-blind" admissions.