New York City
State legislators running for New York City office in 2021
Who doesn't want more money and a shorter commute?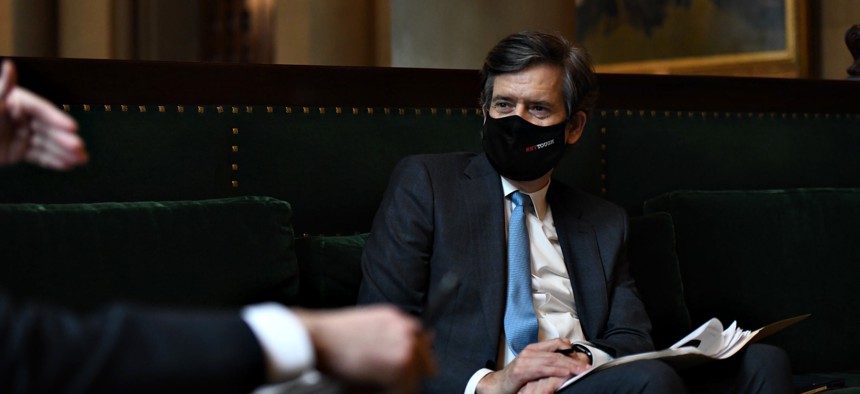 There are a few understandable reasons for state lawmakers to run in the New York City primaries that wrap up tomorrow. They get a chance to build their public profile by winning more prominent positions like city comptroller. A successful run for City Council also means a $38,500 boost to their annual income compared to the $110,000 they currently earn and no more commuting to Albany in the dead of winter. And if they lose, they still have their current jobs until the end of 2022. 
Ten state lawmakers are running for either city comptroller, borough president or the City Council. At least a few of them appear to have a good shot at winning the primary and the November general election and getting inaugurated next January. Special elections next year could fill the remaining time on their legislative terms that run through the end of 2022. Gov. Andrew Cuomo has the discretion to decide if and when special elections happen, according to Jerry Goldfeder, an election lawyer at Stroock & Stroock & Lavan LLP. 
State law would not allow special elections before mid-March (assuming none of the current legislators resigned before they assumed their new offices) for any seats that open up by the beginning of the year. Each party has its own ways of nominating candidates for special elections while any challengers would have to petition to get on the ballot as independents. 
Any wannabe legislators out there, however, will have to wait until all the ballots get counted and Democratic primary winners are declared. Here are the state legislators running for office and what is known about their electoral chances.
State Sen. Brad Hoylman of Manhattan
The Manhattan Democrat is running in a crowded field to replace the term-limited Gale Brewer as Manhattan borough president. Local power brokers like Manhattan Democratic Party Chair Keith Wright and the United Federation of Teachers have endorsed Hoylman, but other key endorsements have gone to rivals like City Council Member Mark Levine, who has an edge on Hoylman in fundraising. 
State Sen. Brian Benjamin of Manhattan
Benjamin is running for New York City comptroller. Getting endorsed by former Rep. Charles Rangel of Harlem could go a long way toward rallying Black voters in particular behind Benjamin, but a poll released June 21 shows him with just 7% support among likely voters. That suggests he has fallen far behind leading candidates like City Council Speaker Corey Johnson, who had 26% support in the poll. 
State Sen. Kevin Parker of Brooklyn
The Central Brooklyn legislator has struggled to win endorsements in the crowded race to replace the term-limited mayoral candidate Scott Stringer as New York City comptroller. Like Benjamin, recent polling shows Parker stuck in the single digits, but if he wins big in voter-rich Central Brooklyn (which he has represented for nearly two decades in the state Senate), he could exceed expectations. 
State Sen. Luis Sepúlveda of the Bronx
He has made a name for himself as a champion of criminal justice reforms in the Legislature, but an outstanding domestic violence charge – which Sepúlveda has denied – cost him his committee assignments this year. His struggles with fundraising have hardly helped what now appears to be a longshot bid for Bronx borough president. 
Assembly Member Charles Barron of Brooklyn
Some powerful Democrats might not like the former Black Panther, but he and his wife, Inez Barron, have a track record of winning in East New York. Now that she is term limited, he could win back his old City Council seat. She could later run for his Assembly seat, which she vacated at the end of 2013.
Assembly Member David Weprin of Queens
Running toward the center by seeking endorsements from the likes of the Police Benevolent Association has helped Weprin distinguish himself in the race for city comptroller against more progressive candidates. Polling shows him near the bottom of the back, however, and a closed primary means he cannot court political independents or Republicans who might prefer him to his opponents. 
Assembly Carmen De La Rosa of Manhattan
There are a half-dozen candidates running to replace the term-limited incumbent Ydanis Rodriguez in the City Council, but this millennial hopeful has a few unique advantages. She already has some name recognition in Upper Manhattan from representing much of the area in the Assembly. She also has endorsements from a litany of city and state lawmakers as well as powerful unions like 1199SEIU. 
Assembly Member Jo Anne Simon of Brooklyn
Simon has led the field in fundraising in the race for Brooklyn borough president and secured endorsements from Rep. Jerry Nadler and the UFT. However, it remains to be seen how much the Brownstone Brooklyn legislator will appeal to voters in areas of the borough that appear to favor Black candidates like City Council Member Robert Cornegy, Jr. or a Latino like City Council Member Antonio Reynoso. 
Assembly Member Nathalia Fernández of the Bronx
Council Member Vanessa Gibson has won big endorsements from Rep. Ritchie Torres and the UFT while City Council Member Fernando Cabrera has a big fundraising advantage in the race for Bronx borough president. However, Fernandez has nonetheless raised the money to be competitive while securing the support of progressive notables like state Sens. Gustavo Rivera of the Bronx and Julia Salazar of Brooklyn as well as mayoral candidate Maya Wiley. 
Assembly Member Dan Quart of Manhattan
The Upper East Side progressive is running on his record championing criminal justice reforms in Albany, but has struggled to break out in the ultra-competitive race for Manhattan district attorney, which is technically a state race that will not include ranked choice voting. A poll from early May found him in seventh place more than 20-points behind former Assistant U.S. Attorney Tali Farhadian Weinstein, who has pumped millions of dollars of her own money into the race.