New York City
A big night for Brad Lander
Everyone thought Corey Johnson had the comptroller race in the bag. Everyone was wrong.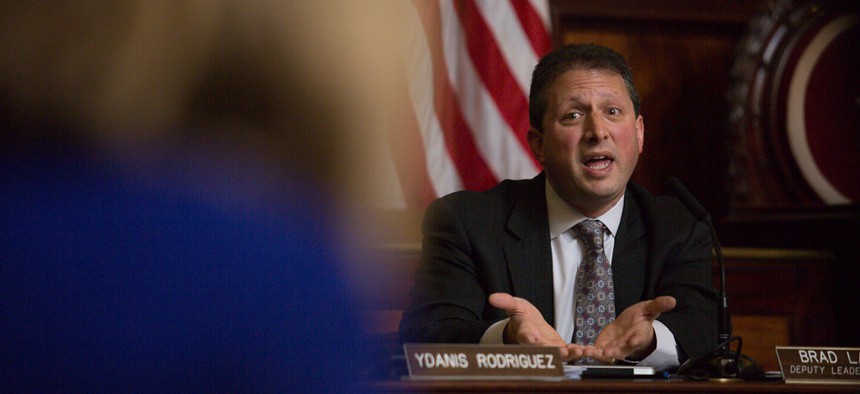 For weeks, New York City Council Speaker Corey Johnson has been the presumed frontrunner in the race to become New York City's next comptroller, judging by most polls of the all-important Democratic primary. He came under fire for being absent from the campaign trail at forums and from his job, fending off tough criticism in the only New York City Campaign Finance Board-sanctioned debate for Democratic comptroller candidates. On Tuesday, the rain did not stop him from crisscrossing the city, making his rounds on the Upper West Side, Upper East Side, Washington Heights, the Bronx, Brooklyn Heights and East Elmhurst.
By Tuesday night, however, City Council Member Brad Lander was ahead of Johnson in first-place votes. With 89% of precincts reporting, Lander led the field with 31% of first-place votes to Johnson's 23%. 
Lander had initially been considered a strong candidate, before Johnson, who enjoyed greater name recognition, entered the race in March. But the progressive left coalesced behind Lander, who was endorsed by U.S. Sens. Bernie Sanders and Elizabeth Warren, Reps. Alexandria Ocasio-Cortez and Jamaal Bowman, the Working Families Party and The New York Times. In a recent poll by left-leaning think tank Data for Progress, Lander led Johnson by eight points, just as he did on election night. 
"I'm feeling great," Lander told City & State, speaking from the Threes Brewing Bar in Gowanus, which is in his Brooklyn district. "It's too soon to make declarations, we have more results to come in tonight. I'm a supporter of ranked-choice voting, so we need to see the ranked-choice tabulations, but we are feeling great. This is a meaningful lead, we've built a broad coalition across the city and we're thrilled with what we're seeing." Lander, who had not yet spoken to any of the other comptroller candidates when reached,  credited the "broad and energetic" coalition he built in recent weeks with other elected officials, unions and community groups for his boost in the polls and said he believed he was always doing better than the polls predicted. 
Johnson and the third place candidate in the race as of Tuesday night – Michelle Caruso-Cabrera – also said they would wait patiently for the final results. "In New York City's first-ever ranked choice election, Corey Johnson built a broad, diverse citywide coalition. We're in a very strong position and will wait for all the votes to be counted," said Johnson's spokesperson Avi Small. 
Though Johnson entered the comptroller race late in the game, after he decided not to run for mayor, politicos had seen Johnson's name recognition and backing from major labor unions, including the United Federation of Teachers, 32BJ SEIU and 1199SEIU, as giving him a leg up in a race, in which 44% of Democratic voters recently polled said they're undecided.
"The top of the ticket always garners the most amount of attention, so it's all about the mayor's race – people coming out to vote based on who they're voting for mayor – and then a large percentage of people will also realize they have to choose somebody for comptroller, which is why it's not unusual that a large number of voters are still undecided," said former New York City Comptroller State Sen. John Liu, who endorsed State Sen. Brian Benjamin in the race, citing his experience in finance. Though Liu did not want to say who he thought had the best shot at winning less than eight hours before polls closed Tuesday, he did say that name recognition plays a role in any election,  and, so far, Johnson has the "highest level of name recognition" as a "quasi citywide official." 
Longtime Democratic political consultant Bruce Gyory said it was premature to assume Lander would ultimately come out on top, due to the large number of outstanding absentee ballots. "Lander's lead is now just shy of 8%. If after all the first place votes are counted, if Lander's lead is under 6 or 7% I think we are heading for a tight final outcome under (ranked-choice voting)," Gyory told City & State at 10:44 p.m. over text. 
The comptroller serves as the city's chief financial officer who conducts financial audits of city agencies and oversees the city's five public pension funds worth more than $253 billion in assets. If elected, Lander has vowed to invest in green energy, create at least 150,000 new social housing units across the city and invest in the arts by setting a minimum wage for freelancers and provide relief to those struggling on Broadway and the city's arts organizations. 
Lander and Johnson, like current Comptroller Scott Stringer, have no background in finance. Johnson, who represents neighborhoods on Manhattan's west side including Chelsea and Hell's Kitchen and would be the city's first openly gay citywide elected official, argued that his experience negotiating city budgets made him the best prepared for the job. 
There are eight other Democratic candidates in the race to become the city's next fiscal watchdog, including state Sens. Brian Benjamin and Kevin Parker and Assembly Member David Weprin, but none broke into double-digits among first-place votes, except for financial journalist Michelle Caruso-Cabrera, a fiscal conservative who ran to the right of both Lander and Johnson. Although voters second through fifth choices under the new ranked-choice system won't be counted in the instant runoff for several weeks, it is clear that the winner will be either Lander or Johnson, with Lander ahead thus far. 
Caruso-Cabrera, who unsuccessfully challenged Ocasio-Cortez in a Democratic House primary last year, had an arguably impressive showing by vaulting ahead of several elected officials with 14% as of this writing. Weprin, who ran a conservative-leaning campaign and won the backing of police unions, got only 7% of first-place votes, while Benjamin, a former investment banker and financial adviser from Harlem got 8%, and Kevin Parker, whose Flatbush-based district overlaps with Lander's Park Slope-based district, got just 5% and Zach Iscol, who was running for mayor before he joined the comptroller race had 3% of first-place votes. 
Jeff Simmons, a public relations executive who previously worked as the communications director for former New York City Comptroller Bill Thompson, said he struggled to decide who to vote for in the comptroller's race Tuesday. He wouldn't say who he voted for, but said "expertise" and the team the next comptroller surrounds themselves with in other top positions will be crucial. But ultimately, candidates' fiscal management qualifications likely won't matter so much to voters, it will boil down to who they know, he said. "It's the endorsements, it's the name recognition, it is being out there in the community in this election cycle," Simmons said. "When people are stepping into the polling station today, if they met you and know nothing about the position, that's going to count for a lot in this case, because people do not fully understand what the comptroller of this city does, even though it's one of the chief citywide elected positions in this city and there's so much that this office does that's important."
Powered By
NEXT STORY: 2021 New York City mayoral primary election results