Campaigns & Elections
Brooklyn judges compete for rare open Surrogate's Court seat
Some view the election as a test for the Brooklyn Democratic Party's power.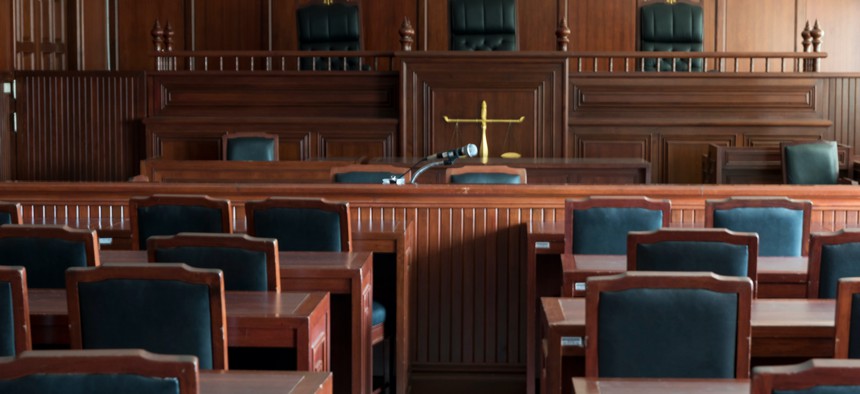 June 22 will be a busy day for the New York City Board of Elections and for voters who are weighing in on every citywide race, as well as local City Council races and some open races for borough president and district attorney. But oft-forgotten judicial races are also on the ballot, with a competitive contest for Surrogate's Court in Brooklyn seen by some as a test of the borough's once-powerful Democratic Party.
Judgeships are one of the last bastions of power for local political parties. Although they generally stay out of the smaller, municipal district judicial races, their endorsement in countywide races go a long way to getting those candidates elected. Pre-election politicking generally determines who gets the endorsement, and has in the past effectively guaranteed that candidate will get the position.
Judicial races often fly under the radar for all but the most plugged-in voters. New York's judiciary is incredibly convoluted, with several different ways lawyers can end up on the bench. And thanks to strict ethics laws about political campaigning in judge races, candidates can't weigh in on specific political issues voters may care about, like land use or criminal justice reform, making low-information races even harder to get informed about. 
In low-information races like these, having institutional support is crucial, as is being associated with better-known candidates on the party's slate. But while at one time the county party committee would have had near total control over who winds up on the bench, insurgent races have recently become more common, testing the influence of Democratic machines. 
This year, the race to watch is for Surrogate's Court in Brooklyn, which handles estate and will cases, as well as the public agency that handles the estates of people who die without wills. The race pits Civil Court Judge Dweynie Paul – who has the Brooklyn Democrats' support – against Supreme Court Justice Rosemarie Montalbano. They're vying to replace the retiring Judge Margarita López Torres, who famously bucked the county party to win her seat in 2005. 
Having an open Surrogate's Court seat is pretty rare – most counties have just one (although Brooklyn and Manhattan both have two) and judges serve for 14-year terms, so decades can go by without a change on the bench. The seat, more so than any other judgeship in the city, has been a source of lucrative political patronage for party loyalists. Surrogate's court judges have the unusual duty of appointing the public administrator in their borough, which is the head of a city agency that oversees the estates of people who die without wills. The judges also appoint the lawyers who administer the estates of those without wills on behalf of the city in court. There's a lot of money to be had, both in the form of city paychecks and court fees, and usually those with connections to the party are the ones benefiting.
Brooklyn has had its issues with Surrogate's Court in the past. Former judge and party boss Frank Seddio resigned in 2007 for misuse of campaign funds, and another Surrogate's judge got removed for corruption in 2005. More recently, sitting Surrogate's Court Judge Harriet Thompson has been publicly feuding with the public administrator, who was installed before she was elected. 
Many have called to reform the Surrogate's Court. Assembly Member Robert Carroll from Brooklyn has legislation that would remove the judges' authority to appoint the public administrator and give it to the mayor, as with any other city agency. Both candidates vying for the seat in Brooklyn come with strong legal backgrounds and specific experience they say prepared them to serve on the Surrogate's Court. Both have also been deemed "approved" for the position by the New York City Bar Association. But their position on this bill is one key difference between them. 
Paul doesn't support the bill, explaining In an interview with City & State that she believed allowing the mayor to appoint public administrators would just make the position more political. "If you are focused on progressive reform, why turn the public administrative office over to a politician who gets elected every four years?" Paul said, saying that she is not a politician. "To take the authority away from the surrogate to select and remove the public administrator, you render that surrogate weak, and without real authority." 
Montalbano, on the other hand, told City & State that the public administrator, who is paid by the city and not the state court system, should be independently appointed by the mayor like other commissioners. "If the law does not change and I had to (appoint someone), I would take that role very seriously," Montalbano said, adding that she is not beholden to political interests. "That vetting process would be very intense."
Paul's preference to maintain a status quo that has traditionally helped party insiders did not come as a surprise to some politicos, with reform-minded groups like the Jim Owles Democratic Club and North Brooklyn Progressive Democrats endorsing Montalbano. The Daily News endorsed Montalbano because of her thoughts on reforming the Public Administrator's Office.
Paul nonetheless rejects the reformer-versus-machine lens through which most observers see this race. Although current Brooklyn Democratic Party boss Assembly Member 
Rodneyse Bichotte Hermelyn once referred to her as "my sister" in 2015, Paul says she does not have ties to the "old guard" of the party. Bichotte Hermelyn took over in 2020. Paul said she's running a grassroots campaign, which is supported by a slew of local elected officials, including Rep. Yvette Clarke, state Sen. Kevin Parker and Council Member Robert Cornegy, as well as several major unions. And while she said she is "grateful" for the party's support, she would make appointments based on merit and not political connections. "I intend to put the community first and ensure that when estates are moving through the Surrogate's Court, the court is working for the people," Paul said, a sentiment that Montalbano shared when speaking with City & State as well. 
Still, some observers think the Brooklyn Democratic Party's influence is being tested in the race. If Paul loses, it shows Bichotte Hermelyn "has not strengthened the party's capacity to field and back candidates," according to Mariana Alexander, president of the New Kings Democrats, an organization that seeks party reforms and often challenges leadership. Bichotte Hermelyn's first year has been marked by lawsuits, dissent from reform factions of the County Committee and a dispute with the official youth arm of the party, even as she said she was attempting to unify the party. "She needs a win for the party more than she might otherwise," Alexander said.
Asked about the idea that the Surrogate's Court race offers a test of the Brooklyn Democratic Party's strength, a spokesperson for the party did not directly answer. "The Party supports the most qualified Democratic candidates," a party spokesperson said in a statement. "In the Surrogate's Court race, Rodneyse feels strongly about needing reform and integrity in the courts. Judge Dweynie Paul is the candidate that will best serve the people of Brooklyn." Montalbano said she had sought the Brooklyn Democratic Party's support, which she had in 2019 when she ran for Supreme Court, but that they informed her they had another candidate they were backing.
In addition to the Brooklyn Surrogate's Court election, a handful of Civil Court seats are open in each borough as well, including countywide and smaller municipal district seats. Judgeships are state positions, so the new ranked-choice voting system for city races won't apply. But pay attention to the instructions – voters weighing in for Civil Court judge in the Bronx's second municipal district will be asked to choose two candidates. This isn't to rank, but to fill two open seats.
Voters will similarly be asked to select judicial delegates, sometimes as many as 20 or more, to go to a judicial convention later in the year. Those people will be the ones to formally nominate candidates for the Supreme Court, for which there are no primaries. The nominees these delegates choose will appear on voters' ballots in November on the major party lines. Those general election races can be confusing too, but at least voters don't have to worry about it just yet.
Powered By
NEXT STORY: Maya Wiley won over The Strokes. For some, that's enough to back her.