Campaigns & Elections
Five things to watch in NYC's primaries
Keep an eye on the mayoral margin, the DSA slate, a self-funding candidate for Manhattan DA and Trump's pick on Staten Island.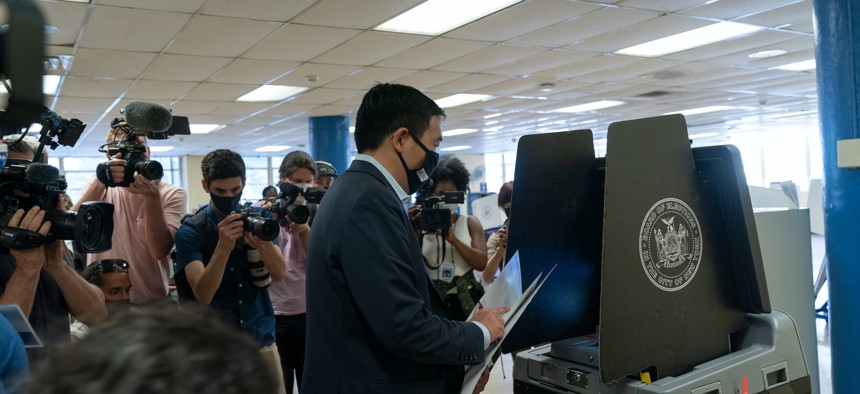 Tuesday, June 22 is the moment you've all been waiting for – the 2021 New York City primary. If you're a city resident, maybe you've been paying attention since political ads started blanketing TV, social media and storefront windows this spring. If you're a political junkie, maybe you've been paying attention since New York City Comptroller Scott Stringer launched his mayoral campaign in September 2020. And if you're Brooklyn Borough President Eric Adams, you've been waiting for this election since you became a captain in the NYPD in 2005.
It's the biggest municipal election in years, and thanks to term limits and retirements, the city will be guaranteed to elect a new mayor, comptroller and Manhattan district attorney. Borough presidents will turn over in at least four boroughs, and more than 30 City Council seats will change hands. Here are five interesting questions to keep your eye on, as the results come in. 
1. How much the leading mayoral candidate is ahead by on election night
New York City's first citywide election using ranked-choice voting could make for an anti-climactic night, particularly in the all-important Democratic mayoral race, because whoever the New York City Board of Election results show is leading might not end up the winner. Absentee ballots, which are expected to make up at least 10% of the total vote, won't all be received until a week after the election. And since no mayoral candidate is likely to get more than 50% of first-place votes in the crowded field, the election will be decided by ranked-choice voting. The New York City Board of Elections doesn't plan to "run" the RCV results and tabulate voters' lower-ranked choices until Monday, July 12.
If a candidate has a big lead on election night, they might hold onto it and win, but New Yorkers should be wary of anyone declaring themselves the winner. Recent polling suggests that four candidates have a real path to victory in the Democratic mayoral primary – Adams, former New York City Sanitation Commissioner Kathryn Garcia, Maya Wiley, former counsel to Mayor Bill de Blasio, and Andrew Yang, an entrepreneur and former presidential candidate. Garcia and Yang have been promoting ranked-choice voting, campaigning together on Saturday, Sunday and Monday before the election. But Adams has been skeptical of ranked-choice for months out of concerns that it will disadvantage Black and Latino voters, who may be less likely to rank multiple candidates. Yang and Garcia's partnership, unveiled on Juneteenth, a holiday celebrating the end of slavery for Black Americans, set Adams' campaign off, and it distributed a press release to reporters in which Adams supporters likened the two mayoral candidates' partnership to "voter suppression" and an attempt to "steal the election from" from Black voters. Expect to hear more such accusations, if Adams holds a slim lead on Wednesday and fears that the instant runoff may cost him the nomination.
2. Whether Corey Johnson's gambit will pay off
New York City Council Speaker Corey Johnson has appeared to be the frontrunner in the Democratic primary for comptroller since he launched his campaign in March – five months after he publicly announced he wouldn't run for mayor, citing mental health struggles. The same decision worked for Stringer in 2013, who had originally planned to run for mayor. Like Stringer, Johnson doesn't have any professional experience in investing or financial management, and is running instead on his record of political experience and dealing with government budgets. But while Stringer had a bachelors degree, Johnson didn't go to college until enrolling in two online courses in January. Assembly Member David Weprin from Queens, who is also running for comptroller, used that to attack Johnson as unqualified in a recent debate. Johnson's response? He's negotiated three $90 billion budgets as speaker, and knows the city finances better than anyone. 
Most polls in the race have shown Johnson with a comfortable lead, but the high number of undecided voters, even in the waning days, suggests other candidates may have a chance. That includes City Council Member Brad Lander, a Brooklyn progressive who has relentlessly criticized Johnson for absenteeism and for failing to move bills he has said he supports, Weprin, who is running a more conservative campaign with the support of the city's police unions, Michelle Caruso-Cabrera, a financial journalist who failed to unseat Rep. Alexandria Ocasio-Cortez in last year's Democratic congressional primary, and state Sen. Brian Benjamin from Manhattan, who is selling himself as a complete candidate with both investment banking experience and time as an elected official.
3. Whether Democratic Socialists get a foothold in the City Council
Enough people are wondering how many seats candidates endorsed by the New York City chapter of the Democratic Socialists of America will win in the City Council that gambling website PredictIt is taking bets on the question. Right now, the best odds are that three of the six will win, which seems like a decent assessment. 
Tiffany Cabán, running in District 22 in western Queens, and Alexa Avilés, running in District 38 in Sunset Park and Red Hook, Brooklyn, are both considered to be safe bets to win. 
Brandon West in District 39, which covers Brooklyn neighborhoods including Park Slope, Windsor Terrace and Gowanus, and Michael Hollingsworth in District 35, in Brooklyn's Fort Greene, Prospect Heights and Crown Heights, are both taking on strong opponents who also consider themselves to be progressives, including Shahana Hanif, Doug Schneider and Justin Krebs in District 39. Bridget Rein, a candidate with the backing of many labor unions and several elected officials, is also running to replace Lander. In District 35, which is currently represented by New York City Council Majority Leader Laurie Cumbo, former Cumbo staffer Crystal Hudson is also in the running. 
Jaslin Kaur, running in District 23 in eastern Queens, and Adolfo Abreu, running in District 14 in the northwest Bronx, are both hoping to bring socialist representation to areas that have normally supported more conservative Democratic candidates.
Of course, it's wrong to focus only on the six DSA-endorsed candidates. Multiple other candidates running identify as Democratic socialists but don't have the organization's formal blessing. And 60 candidates took the Courage to Change pledge, organized by Democratic Socialist Rep. Alexandria Ocasio-Cortez's political action committee that asked them to support left-wing positions such as reducing the NYPD's budget. Even if a more moderate Democrat like Adams wins the mayoral race, the City Council that takes office in January may have a larger progressive contingent than ever, including a standalone socialist caucus, like the one created in the state Legislature earlier this year following wins by candidates endorsed by NYC-DSA.
4. Can money buy you love in the Manhattan DA race
Manhattan district attorney candidate Tali Farhadian Weinstein has reported spending more on her race in the third most-populous borough than any single candidate for mayor has spent citywide. And more than $8 million of her $13 million haul came from herself – a donation likely made possible by her husband's job as a hedge fund manager. ProPublica reported that the couple made $107 million in 2011, but they paid no federal income tax in 2017, 2015 and 2013.She also has raised large sums from other financial industry executives. 
Farhadian Weinstein is vying to succeed the retiring Manhattan District Attorney Cy Vance, who has been criticized by progressives for appearing to go lightly on donors and other rich and powerful New Yorkers. Many observers expected the Manhattan DA race to favor one of the many candidates running to Vance's left. 
Farhadian Weinstein, however, clerked for Republican-appointed Supreme Court Justice Sandra Day O'Connor, took a meeting with President Donald Trump's administration in 2017 seeking appointment to a federal judgeship and she only registered as a Democrat in 2017, after years as an independent. 
Nonetheless, Farhadian Weinstein is seen as a frontrunner in the race, thanks in part to her outsized spending, but also her political platform, which seems to be appealing to voters in a year when rising rates of violent crime is a concern to many. Though Farhadian Weinstein would be considered a criminal justice reformer by national standards – she was most recently general counsel to Brooklyn District Attorney Eric Gonzalez, who is well-regarded by progressives – she is running on a more moderate platform than most of her left-leaning competitors, including former chief deputy state attorney general Alvin Bragg, civil rights attorney Tahanie Aboushi and Assembly Member Dan Quart. Bragg, who received The New York Times' endorsement, is generally seen as the other leading candidate. Since district attorney is technically a state, rather than city, election, it won't utilize ranked choice, so vote-splitting among the progressive candidates could help Farhadian Weinstein. 
Farhadian Weinstein has also earned endorsements from prominent Democrats, including former Secretary of State Hillary Clinton and Reps. Ritchie Torres, Nydia Velázquez and Adriano Espaillat, who has a reputation for getting out the vote in his home base of Upper Manhattan. 
5. Whether Donald Trump's candidate will win in the four-way Republican primary for borough president on Staten Island 
Former Rep. Vito Fossella has been running a low profile campaign in the four-way Republican primary for borough president on Staten Island. He has the smallest campaign account of the candidates, hasn't received public matching funds, doesn't have a campaign website or social media presence and hasn't held many public events. But on Friday he scored a major endorsement: ex-President Donald Trump, who has a devoted following in New York's most conservative borough. Trump's blessing could change the trajectory of the race in the final hours before the primaries, just as Trump's endorsement of then-Rep. Dan Donovan in the 2018 Republican primary for Congress carried Donovan to victory in a heated primary against ex-Rep. Michael Grimm. Trump's endorsement of Staten Island's current Republican Rep. Nicole Malliotakis gave her a boost in her campaign to topple Staten Island's former Democratic Rep. Max Rose last year. A Republican operative on Staten Island, who asked to remain anonymous to speak freely about the race, said Trump's endorsement could help Fossella, who didn't run for reelection to Congress in 2008 after a drunk driving arrest led to the public revelation that when in Washington, Fossella – who had a wife back in Staten Island – was living with another woman with whom he had a child, but only if he can leverage it in a short amount of time. "It could be a huge weapon for Vito, it could definitely push him over the line," the source said. "The only question is, does he have enough time to really get it out there to really use it to his best advantage?" 
Staten Island's Republican Party endorsed City Council Minority Leader Steven Matteo in the race, who is also a protege of outgoing Republican Borough President James Oddo and has raised the most money. Former Staten Island Republican Chair Leticia Remauro, who faced backlash for saying "Heil Hitler" at a protest against coronavirus lockdowns, has the backing of the borough's Conservative Party. But Malliotakis, Staten Island's most prominent current Republican elected official, hasn't made an endorsement in this race.
Trump's endorsement will be a test of his strength in the borough that voted for him in 2016 and 2020, said Staten Island Young Republican Club President Peter Giunta. "Trump getting into the mix here changes the dynamic a little bit," Giunta said. "I think we're going to see just how much the Trump endorsement means on Staten Island in a place where, for the large part, Trump helped our candidate win the congressional seat and helped a lot of our down-ticket candidates as well. We'll see if anything has changed in regards to how people feel about Trump this year."
Powered By
NEXT STORY: Co-campaigning controversially comes to New York