New York City
How does NYC's budget process work?
More hearings than you'd expect.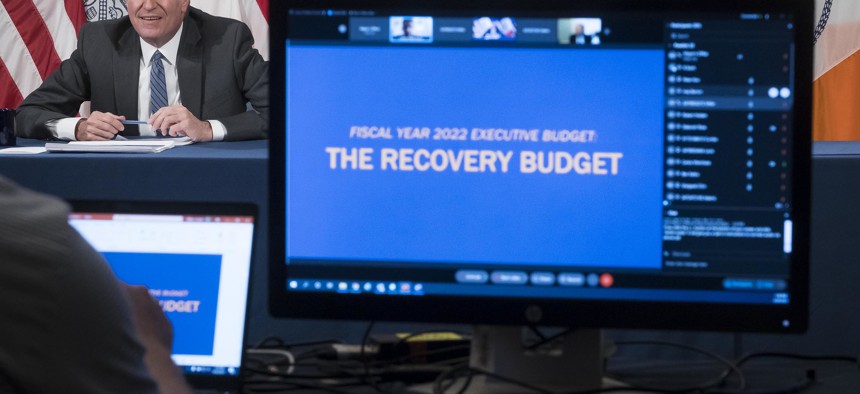 Because of the COVID-19 pandemic, New York City saw a drastic loss in jobs over the past year. However, employment levels are finally beginning to make a comeback.
On April 26, Mayor Bill de Blasio laid out his record-breaking 2022 budget proposal, calling it a $98.6 billion "recovery budget" to revive the city's economy. Despite the city's major losses over the past year, it is expected to receive roughly $15 billion in federal aid, which includes $6 billion in unrestricted funds, which will significantly boost the city's budget next year.
The mayor's budget plan centers around bringing the city's economy back to life by providing funds to small businesses, education and COVID-19 recovery efforts. However, some financial experts have criticized de Blasio for spending all of the city's federal money too quickly and setting up the city's next mayor for financial failure. But before we delve into this any further, we should address how the budget is formed and passed.
Let's start with the basics: Each year, the mayor has to come up with a budget to address all of the city's many needs, including funding public schools and major infrastructure projects.
The budget process begins on July 1, which is the start of the city's fiscal year. By Sept. 3, the mayor is expected to release a capital commitment plan, which details the plans and budget for major city projects, such as building public schools and street maintenance, that are financed by debt and typically take multiple years to complete. The capital budget is separate from the city's yearly expense budget. The executive budget includes funding for city departments, local offices for borough presidents and district attorneys, and the city's debt service, which helps finance capital projects.
The Mayor's Office of Management and Budget – which if you couldn't tell from its title is in charge of all things related to the budget – creates revenue projections that takes into account all of the "city taxes, user charges, federal and state grants, and other revenues such as licenses, permits, and fines" the city can expect to receive in the coming year, which influences how the budget is created.
By October 31, community boards are expected to submit their capital and expense budgets and priorities to the Mayor's Office of Management and Budget.
In January, the mayor is expected to share a preliminary outline of the budget. Between January and February, community boards submit their responses to the mayor's outlined proposal to both the mayor and the City Council.
In March, the council submits its budget proposal and borough presidents are also expected to submit their recommendations in response to the mayor's preliminary budget. In April, the mayor submits an executive budget and "message from the mayor," along with a 10-year capital strategy, which indicates all of the city's capital needs over the course of the next decade, if it is an odd year.
In May, the council holds hearings to discuss the executive budget and then pushes for any changes or amendments. This is where we currently are in the budget process, and if you're interested, you can watch the council's budget hearings remotely.
Both the mayor and the City Council are expected to agree on a finalized budget by June 5, although the budget doesn't always come in on time. If a new budget doesn't get finalized by June 30, which is the end of the city's fiscal year, then the last year's budget will continue to be used until the new budget is passed. And then one month later the process for the next year's budget begins!
By the numbers 
2021 budget breakdown
The biggest New York City budget proposal in history means some pretty big spending increases. Here's a breakdown of how much money de Blasio wants to spend on several key city departments in 2022, and how much they've changed from the 2021 executive budget:
$1.177 billion for the Department of Correction, up $36.6 million from last year
$31.4 billion for the Department of Education, up $2.4 billion from last year
$2.1 billion for the Department of Health and Mental Hygiene, down $260.8 million from last year
$980 million for New York City Health + Hospitals this year, down $1.3 billion from last year
$5.4 billion for the NYPD, up $52.2 million from last year
$11 billion for the Department of Social Services, up $1.2 billion from last year
$2.2 billion for the Department of Homeless Services, down $661 million from last year
Good luck to you new mayor!
Hizzoner's parting gift
Some financial experts have criticized de Blasio's budget because they think he's using the city's federal cash too freely, financing long-term projects and hiring more municipal workers without taking into account how much money will be available once the federal cash dries up around 2024.
"You have to spend money to make money," de Blasio said, defending his budget choices in April.
As it stands now, the budget would provide ample funds to schools, expand the city's free pre-K program, provide cash to help small businesses, create a Pandemic Response Institute and a City Cleanup Corps. While this all sounds great on paper – and allows the city to address some long-standing issues – experts point out that these new expenditures aren't necessarily sustainable and will spell trouble for the next mayor.
"Some of the federal aid is used wisely to support one-time fiscal and programmatic needs, including academic recovery, Summer Rising and the emergency food program," Citizens Budget Commission President Andrew Rein said in a statement regarding the mayor's proposed budget. "However, another portion supports recurring programs – including 3-K for All – that lack resources in the future. No matter how worthy the programs may be, this sets them up to fall off future budget cliffs since there are no efforts to identify efficiencies that could generate the resources to support the programs over time."
Power players
Who's in charge of the budget?
Participatory budgeting
How you can get involved in the budget process
Participatory budgeting, which allows constituents to propose projects in their communities, has been a pet project for City Council Member Brad Lander. Lander, alongside Council Members Carlos Menchaca, Ben Kallos and Stephen Levin, have set aside more than $4.5 million to fund these special projects and give constituents an opportunity to vote on local infrastructure projects. Participatory budgeting was put on hold last year due to the pandemic but the four council members have emphasized that community members should be the ones to decide how their district is rebuilt after the pandemic.
While participatory budgeting doesn't actually give civilians a huge say in the city's budget, it does allow them to influence how certain projects are prioritized in their community and work with experts to get them done. Click here to learn more about the participatory budget process and how to get involved.
– With reporting from Isabel Beebe