Energy & Environment
New York has a long road ahead to meet its climate goals
A new report from NYPIRG lays out where the state is now, and what still needs to happen to hit its climate benchmarks.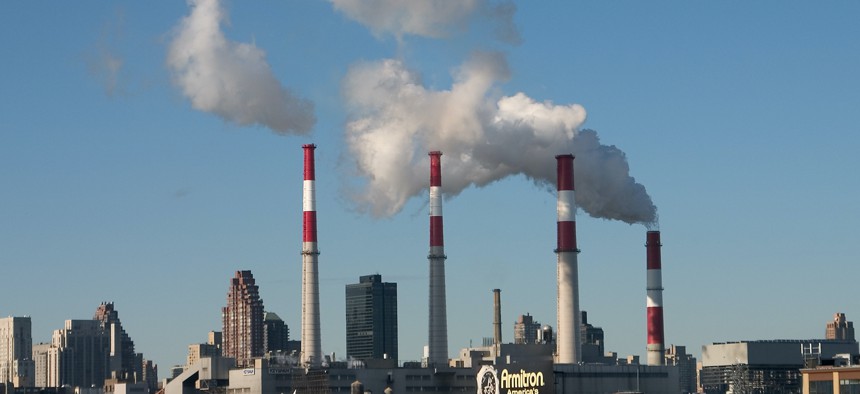 New York lawmakers just wrapped up what some environmental advocates considered a disappointing legislative session two years after setting ambitious climate goals. And a new scorecard from the New York Public Interest Group shows that if the state wants to meet those goals, it has its work cut out for it over the next several years and decades. 
State lawmakers passed the Climate Leadership and Community Protection Act in 2019, pledging to reduce greenhouse gas emissions by 85% by 2050, 100% carbon free electricity by 2040 and 70% of electricity from renewable sources by 2030. The goals were lauded at the time as the most ambitious in the country. But the state has a mixed history of actually being able to hit climate goals it sets for itself.
Two years in with a fast-approaching deadline, it may be difficult for New Yorkers to discern what progress, if any, the state has made towards those goals, and how far it still needs to go. To help keep track of that progress, NYPIRG released its first public slimate scorecard to assess where New York stands on meeting its biggest climate-related goals based on publicly available information. But the group is also calling on a state agency or entity to compile this information itself. "I think it's important that (the public is) aware we have these goals, and we're not there yet," said Liz Moran, environmental policy director at NYPIRG. "We're far from meeting them, and it's urgent that we do."
According to the scorecard, which draws from annual reports from agencies like the New York State Research and Energy Development Authority, New York has reduced greenhouse gas emission 13% since 1990, which means it would need to cut emissions annually by 3% until 2030, and 2.25% from 2030 through 2050 to meet the 85% reduction goal. For electricity, 27% comes from renewable sources, but only 5% from wind or solar. NYPIRG said the state will need to increase wind and solar (the organization does not support expanding hydropower) by 5% annually through 2030, and 3% thereafter. 
On a more positive note, the scorecard says the state appears to be on track for some of the other goals for solar energy production and energy efficiency set forth in the 2019 legislation. "It has to be a combination of setting up infrastructure to phase off of fossil fuels and building renewable energy sources at the same time," Moran said of the multifaceted approach the state will need to take to ensure that every one of the benchmarks are met.
The scorecard noted that it was limited by what information was publicly available, with some figures that have not not been updated in years and others from non-government entities. It's another reason why NYPIRG is calling on the state to produce such a scorecard itself with the most up-to-date numbers it has available to keep the public informed about climate progress.
Although the state Legislature is not the only part of government responsible for hitting climate goals, Moran said lawmakers' lack of action this year was discouraging. "I think it's fair to say this legislative session was profoundly disappointing when it came to addressing the climate crisis," Moran said. "There's tremendous concern that the Legislature did this important work of passing the Climate Leadership and Community Protection Act in 2019, and now, it's going to be hands off – and that can't be the case." Perhaps most notably, the lawmakers never voted on the Climate and Community Investment Act, which would have instituted a carbon tax on big polluters and use those funds to help meet climate goals. Amid pushback from business interests and conservatives, negotiations fizzled. 
Other larger climate-related legislation also failed to pass before the end of session, such as a bill to limit cryptocurrency mining, which is incredibly energy intensive, another to make it easier to sell electric vehicles and a third that would set a clean fuel standard to reduce emissions, just to name a few. "For environmentalists, this session brought some major wins, but unfortunately, the session ended with a lot still to do to fight climate change," the League of Conservation Voters' policy director Patrick McClellan wrote in a blog post. He noted that several environmental bills his organization advocated for passed, such as legislation to address lead in school drinking water, but that many others never crossed the finish line.
Public Power NY, a coalition of progessive organizations advocating for environmentally sustainable publicly-owned power, was more critical. "(The state Legislature's) inaction for yet another year on climate means more setbacks in meeting the targets of the Climate Leadership and Community Protection Act (CLCPA), more deference towards fossil fuel projects seeking approval from the state, and further harm to Black and Hispanic communities which bear the brunt of the climate catastrophe," the coalition wrote in a statement.