2021 NYC Mayoral Candidates
Ray McGuire walks a fine line on Wall Street background
The former Citigroup executive doesn't want to be too closely associated with his industry.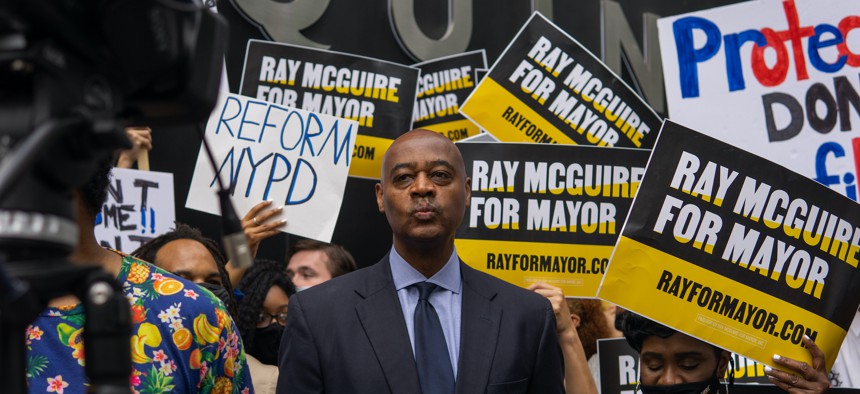 Ray McGuire's case to become New York City's mayor rests significantly on his time as a top Wall Street executive. He leans on his record at Citigroup to prove he can manage the city's finances, saying at the bank he handled a budget larger than those of many states.
But the former investment banker has taken a very careful approach to talking about his time on Wall Street, where he served as one of the few top Black executives, often contrasting it with his childhood being raised by a single mother in Dayton, Ohio. "People know me as a guy who's made it," he said in his campaign launch ad. "But I'm also the son of a single mother who worked unbelievably hard to give me every opportunity she could." 
That often creates tension where McGuire is simultaneously touting his financial chops while also trying to avoid being pigeonholed as the Wall Street candidate. When described as a "finance guy" during a radio appearance in April – after himself promoting his record in the corporate world – McGuire eschewed the description: "It's not a finance guy, but it's a guy who grew up in the neighborhood."
McGuire told The New York Times editorial board, "If you look at me as a Wall Street person, I actually embrace that." But not long after, he seemed to walk back on that statement. "Those people who have cast me with that brush, I don't accept. My brush is coming from the bottom to get to this point."
This highlights one of McGuire's lingering challenges on the campaign trail. He's attracted plenty of support from wealthy New Yorkers who've crossed paths with him in finance or philanthropy. Among his notable donors are Leonard Lauder, chairman emeritus of the Estée Lauder Companies, Republican megadonor and Home Depot co-founder Ken Langone and members of the Tisch family, who own significant chunks of Loews Corp. and the New York Giants. Numerous former Citigroup colleagues have also made contributions to his campaign, including Mark Shafir, global co-head of mergers and acquisitions at Citi, and Frank Yeary, who used to hold a similar title at Citi. McGuire has also received the greatest proportion of donors contributing $1,000 or more to his campaign, compared to any other mayoral candidate.
But the major fundraising gains he's made have yet to translate to broader public support as the primary nears. Despite raising $9.7 million and loaning his campaign another $2 million, McGuire consistently has ranked in the single digits in polling that's been released thus far. 
McGuire's campaign declined multiple interview requests seeking to discuss his time at Citigroup and the specific deals he worked on. City & State's requests for interviews sent to multiple former executives at Citigroup also went unanswered.
"During his career, Ray McGuire recruited and retained the world's most talented professionals to advise him, and empowered them to do their jobs," said campaign spokesperson Lupe Todd-Medina in a statement. "He is the only candidate in the field who has had to perform and deliver measurable results under the highest level of scrutiny for decades."
McGuire's first job on Wall Street was in First Boston's mergers and acquisitions group in 1984. He went on to follow two mentors, Joseph Perella and Bruce Wasserstein, to a firm they founded, before going on to work at Merrill (previously known as Merrill Lynch) and Morgan Stanley. But McGuire is most known for the work he did while at Citigroup, which he joined in 2005 as global co-head of investment banking.
When he first joined Citigroup, The New York Times wrote about the time that McGuire aimed to elevate the bank's status to become a "trusted adviser" on the mergers-and-acquisitions side. While there, he worked on high-profile multibillion-dollar deals. For example, McGuire advised Time Warner during negotiations that led to AT&T's major $85 billion acquisition of the media company in 2016.
There are several instances in which McGuire's work with certain clients at Citi landed him unfavorable media coverage during his mayoral run. Some critics questioned his liberal credentials because he represented Koch Industries – a chemical giant owned at the time by conservative mega-donors Charles Koch and the late David Koch – during its $21 billion purchase of Georgia-Pacific in 2005. A recent City Limits article outlined how mergers he helped negotiate led to layoffs. 
The McGuire campaign responded to City Limits saying that McGuire helped companies stay afloat, and argued that his business experience will help him lead New York City through the challenges of a post-pandemic shift toward telecommuting. 
While details about specific mergers he negotiated are unlikely to dwell on the average voters' mind, coming from a high finance background may be off-putting to some Democratic primary voters. "The vast majority of New Yorkers don't love Wall Street types," said Doug Muzzio, a political science professor at Baruch College. Ronnie Oliva, founder and CEO of Sykes Global Communications, said McGuire is struggling to connect with voters despite his careful messaging. "It's really hard to talk out of both sides of the mouth. … 'I'm humble, I had this poor background, but my claim to fame was working on Wall Street.' It's hard to get around that."
What also might be making McGuire's case to voters more difficult is the crowded field of candidates who may be attracting potential supporters. Front-runners Andrew Yang and Brooklyn Borough President Eric Adams are also running in the pro-business lane. 
"Given the fact that you have less than four weeks, it's difficult to see how (McGuire) could break through," Muzzio said.
Powered By
NEXT STORY: A breakdown of the 2021 NYC primary