Staten Island GOP BP primary: A Trump, Fossella and Malliotakis saga
After spending more than a decade out of politics, former Staten Island Rep. Vito Fossella made what could be a decisive comeback Tuesday in Staten Island politics.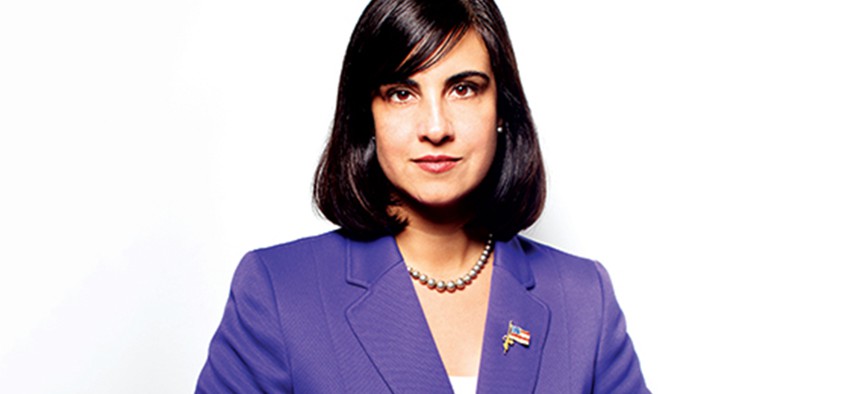 After spending more than a decade out of politics, former Staten Island Rep. Vito Fossella made what could be a decisive comeback Tuesday in Staten Island politics. His narrow lead in the Republican primary for borough president proves, politicos said, the strength of not just Fossella's name, but the strength of his last-minute backer on Staten Island: former President Donald Trump.
Fossella fell off the radar of the island's politics after deciding to not seek reelection to Congress after a 2008 drunken driving arrest revealed he was living with a second family in Virginia. But his long absence and scandal-ridden history was not a problem for Staten Island voters. By the end of Tuesday night, Fossella led New York City Council Minority Leader Steven Matteo, who was backed by the Staten Island Republican Party, by 211 votes, or about 1.2 percentage points, in a race that is still too close to call.
Heading into Election Day, Fossella landed Trump's endorsement and three days later, Trump robocalled Staten Islanders urging them to go out to the polls and vote for Fossella, which politicos said was likely what boosted him to an election night lead.
"I think there's a lot of evidence from these past few (election) cycles that the Trump blessing really matters," said Richard Flanagan, a political science professor at the College of Staten Island. Trump's endorsement helped former Republican Rep. Dan Donovan, then an incumbent, beat former Republican Rep. Michael Grimm in the heated 2018 Republican primary for Congress and also paved the way for current first-term Republican Rep. Nicole Malliotakis'victory against former Democratic Rep. Max Rose in the borough's contentious congressional race last year. "(Fossella's) a name, but on the other hand, 12 years, that's a long time in politics and I don't think anyone's name recognition hangs on that long," Flanagan said.
From the outside, a potential Fossella victory would appear to be a major blow to the party and its hand-picked candidate, but Republican insiders say the party is actually fine with Fossella or Matteo as its candidate because both are well-respected names in Staten Island Republican politics.
However, sources say there's one Republican the party is mad at: Malliotakis, who did not use her newfound starpower as the borough's representative in Congress to help the party win what is arguably Staten Island's most coveted local political seat, which Republicans have held since 1990 (with the exception of former Borough President James Molinaro, who is a Conservative Party member). Matteo was the first sitting Staten Island Republican politician to back Malliotakis in her run for Congress last year when no other Staten Island Republican politician wanted to. But Malliotakis did not endorse Matteo or any other candidate in the race and did not show up to the borough on election night.
Local Republicans say her staying out of the race could complicate her plans as she eyes what is likely to be an uphill battle for her seat in 2022 with redistricting on the horizon, and it paves the way for Fossella to mount a primary challenge against Malliotakis whether he wins the borough president seat or not and have the party readily coalesce behind him.
"Party folks are rightfully pissed off at (Malliotakis) because if the election is this close, she may have made a difference if she had come out for Matteo," a source within the Staten Island Republican Party said, requesting anonymity to speak freely about the party's thinking. "Vito has absolutely no use for her and even more than that, I think Vito is eyeing her seat because for him this is a steppingstone and so she is going to end up on an island of one."
Another party source, who also requested anonymity to speak candidly about the race, said they helped organize for Malliotakis during her congressional race last year but have not heard from her since early this year and the source does not plan to help her again since she did not help the party. "We did for her, she doesn't want to return it, it's basically a fuck you,"the source said. "I do think there are a lot of Republicans who feel a little bit burned by Nicole because of how missing she was this cycle," the source continued. "Next year, it would be hard to find people willing to come out and help her to organize the same way."
But Malliotakis was in a tough spot. She is close to the Fossella family and Leticia Remauro, another borough president candidate, worked on her 2020 congressional bid and was her campaign manager when she ran for mayor in 2017.
If Fossella does decide to primary Malliotakis next year, the source said Matteo and Trump loyalist, City Council Member Joseph Borelli, would likely help Fossella behind the scenes over Malliotakis. "I think Vito is definitely considering a run for Congress next year against Nicole. It's obviously a big deal that he had the president endorse him in a local government election, so clearly there's something bigger at play here."
Asked if he would press forward with a primary challenge against Malliotakis whether he wins or loses the borough president race, Fossella's spokesperson David Catalfamo would not say. "He's focused on this election and this race," he said.
For now, neither Matteo nor Fossella are rushing to declare victory. Between fourth-place candidate Jhong Uhk Kim and the third-place candidate, Remauro, there are 2,822 votes and over 3,500 Republican absentee ballots that have been requested on Staten Island, so it's unclear who will emerge as the clear winner. Some suspect the No. 2 candidate Staten Islanders ranked after ranking Remauro first could be Fossella because Remauro was aligned with Trump and attended the pre-insurrection rally outside of the Capitol on Jan. 6.
"I don't think Vito has it in the bag, but I think he's in a very good position. I think with ranked-choice voting, I think the preponderance of Leticia's votes probably go to Vito in the second round because I think a lot of Leticia's people tend to be more Trumpian style populists and the fact that Vito had that endorsement from Trump in the eleventh hour, it might have gotten a lot of Leticia people to rank Vito second," said Serve America Movement Party activist and Staten Islander Frank Morano, who thinks absentee ballots will ultimately favor Matteo. But Morano thinks it is unlikely Fossella would run for an incumbent's seat. Asked to comment on the Staten Island Republican Party's frustration with her, Malliotakis' spokesperson Natalie Baldassarre simply said: "The Congresswoman was in Washington on Tuesday."