New York City
Supersized PAC spending in the mayoral race
And more coverage of key 2021 races.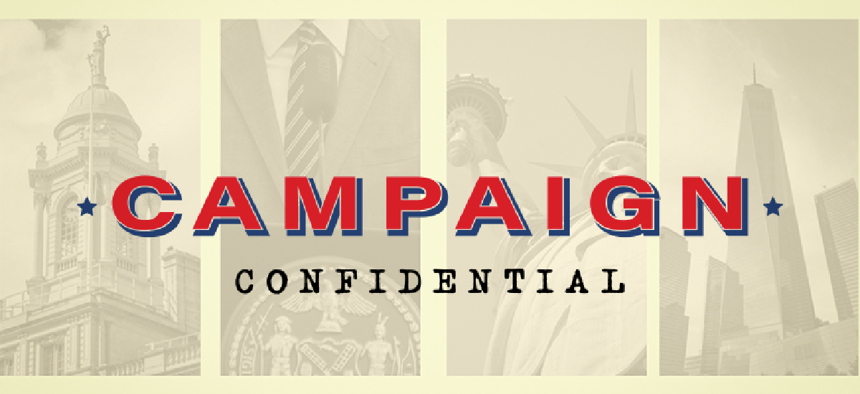 There's a lot of independent spending
The $15.7 million in independent spending reported so far in the 2021 New York City primaries is already near the $15.9 million reported spent for the entire 2013 cycle – primary and general. And it's 10 times the paltry $1.5 million in independent spending dropped in the 2017 cycle – which included $71,000 of anti-de Blasio ads from Bradley Tusk, now of the Yang Gang. But that $15.7 million figure doesn't reflect the full picture of super PAC spending in the mayoral race.
Some independent expenditure committees didn't spend until after the latest May 17 New York City Campaign Finance Board disclosure deadline, such as Comeback PAC, funded primarily by pro-charter school hedge fund magnates. But navigate the oft-frustrating state Board of Elections website correctly, and you'll see Comeback PAC spent $2 million on a TV ad buy supporting Andrew Yang on May 25. While the New York for Ray PAC, supporting Ray McGuire, already reported $3.9 million in spending to the Campaign Finance Board, state records show it has raised nearly $6.4 million – much of it from people with real estate interests – suggesting there might be more spending to come.
But the spending that's already come is massive, thanks in large part to Shaun Donovan's dad ($6.8 million given so far to New Start NYC). There's also NY4Kids, funded by teachers unions, with ads taking the form of a knockoff news channel where the child news anchors love Scott Stringer. Somehow it has reported spending $3.6 million while only raising $2 million – and that's just one of three super PACs supporting Stringer, despite his erroneous claim of not having support from "big Super PACs." Almost all of the leading mayoral candidates have super PACs supporting them, including Kathryn Garcia, who the Times reports may be getting $1 million in support from a new independent expenditure committee formed to support her. Maya Wiley will also reportedly be buoyed by at least $1 million in outside spending from 1199SEIU and Wiley's former boss, hedge fund manager George Soros.
So far, 99.8% of independent expenditure dollars reported are focused on the mayoral race, rather than the dozens of other races on the ballot. But that balance could change soon. Common Sense NYC, the PAC that made a splash with ads critical of Moumita Ahmed in the Feb. 2 District 24 special election in Queens, hasn't reported any spending yet in the primary, but a source familiar with the PAC's plans told Campaign Confidential that Common Sense and another PAC, Voters of NYC, will be ramping up their activity again, with mailings, digital ads and more "rolling down in the next several days." Those PACs, funded by big business interests including real estate developer Stephen Ross, are focused on electing more moderate, business-friendly council members, and plan to spend in more than two dozen races across the city.
A PAC associated with the New York City District Council of Carpenters will also be spending soon on ads opposing Queens borough president candidate Jimmy Van Bramer and ads supporting City Council candidates Erik Bottcher in District 3 in Manhattan, Jason Myles Clark in District 27 in Queens, Crystal Hudson in District 35 in Brooklyn and Ranti Ogunleye in District 49 on Staten Island. And the Together for NYC PAC supporting city comptroller candidate Michelle Caruso-Cabrera has been quiet so far, reporting just $20,000 in spending, but it has taken in more than $350,000 and will surely spend more. 
Other spending flying under the radar includes Vote for NYC's Future, a separate super PAC that is also funded primarily by Stephen Ross. It has reported a mere $875,000 in donations but spent more than $2.2 million so far. Some of it, presumably, on sending out absentee ballot applications – likely targeting moderate Democrats. The PAC didn't immediately respond to a request for comment about its plans.
But some spending flies under the radar because it isn't reported at all. An RV wrapped with Scott Stringer decals has been driving around the city blasting music and trolling other candidates' events since at least March. The Stringer campaign said they've got nothing to do with it, and in fact, the bus clearly says: "Paid for by The 700 Strong Voices Inc." But 700 Strong, a NYCHA tenants group that endorsed Stringer, hasn't reported any spending or even filed with the state or the city. A message sent to an email associated with the group bounced back, and the group did not immediately respond to a message on Twitter.
By the Numbers
691,801
The total votes counted in the 2013 Democratic primary for mayor, won by Bill de Blasio. But experts expect more votes in 2021 – maybe a lot more. "I think the turnout will be somewhere in the 800,000 range," said political consultant Jerry Skurnik. That's right around the 811,661 Democrats who voted for president in the June 2020 primary. City elections routinely have way lower turnout than higher profile federal primaries, but reforms like early voting and newly expanded absentee voting, plus excitement over this truly competitive mayoral primary, could drive turnout higher. Andrew Yang's campaign certainly hopes so, since part of its strategy is to activate new or infrequent voters – like Yang himself. Evan Roth Smith, Yang's pollster, estimated around 850,000 voters, telling Campaign Confidential that the team found there were 846,000 Democrats who had voted in at least two of seven selected recent primaries. But it could be as low as 700,000, or as high as 1.1 million. If the city hits the 28.6% turnout it did in the rescheduled 2001 mayoral primary in the wake of 9/11, that would be good for 979,000 votes this year.
You bettor, you better, you bet
After months with Andrew Yang as the odds-on favorite to be the next mayor, three betting markets taking money on the race show Eric Adams has recently become top pick on those sites. Adams is now up with a 38% chance of winning on PredictIt, a gambling site run by Victoria University of Wellington in New Zealand, over Yang's 34%. SportsBetting.ag has Adams at +110, or an implied 48% chance, to Yang's +160, or 38% chance. And Betfair has Adams with an implied 38% chance to Yang's 37%. All three sites have Kathryn Garcia in third place, with somewhere around a 25% chance, and every other candidate far behind. Adams has made some risky bets before – the former chair of the state Senate Racing, Gaming and Wagering Committee was formally criticized for canoodling with a casino operator that was gunning for a massive state contract in 2010. But Yang's into gaming too – he watches the betting markets, and is, at the very least, open to building another casino in the city.
The King of Staten Island
Eric Adams, Kathryn Garcia and Andrew Yang have all been spending time on Staten Island, and insiders say one of those three more moderate Democrats – and polling leaders – are a lock to win the conservative-leaning "forgotten borough" in the mayoral primary. But Adams was the only Democrat in the race who showed up at the island's premier Memorial Day parade. "Everybody makes choices, if you were looking to get in front of a good Staten Island crowd, (Monday) was a good day to do it," said John DeSio, a political insider and native Staten Islander, who thinks campaigns may have decided there wouldn't be enough "up for grabs Democrats" there. Politico New York reported that Adams has the most Staten Island money, but pointed out only 23,219 Staten Islanders voted in the 2013 Democratic primary – fewer than some showed up in single Assembly districts in Manhattan and Brooklyn. Insiders predict turnout in this year's primary will be significantly higher, given the crowded borough president and North Shore City Council races. Yang's campaign has said Staten Island is part of his path to victory – and he has the backing of Democratic Party boss Michael Cusick to show for it – while Garcia has positive name recognition there from her time as sanitation commissioner and is even reportedly dating a Staten Islander. But only Adams' spokesperson Evan Thies could gloat this weekend: "Staten Island is often forgotten by citywide campaigns – but not by Eric Adams."
Endorsement Watch
New York City Council Member Rafael Salamanca Jr. endorsed Eric Adams for mayor … #VoteProChoice released a full slate of ranked-choice endorsements, including Dianne Morales as its No. 1 selection for mayor, Maya Wiley as its No. 2 selection and Kathryn Garcia as its No. 3 selection, and endorsed Tahanie Aboushi for Manhattan district attorney … The Sephardic Community Federation endorsed Adams as its No. 1 selection for mayor, Andrew Yang as its No. 2 selection and Ray McGuire as its No. 3 choice … The Far Rockaway Jewish Alliance and United Crown Heights endorsed Adams for mayor … PLACE NYC also endorsed Adams for mayor … El Frente de Líderes y Ministros Dominicanos Unidos por el Cambio endorsed McGuire for mayor … The Jim Owles Liberal Democratic Club rescinded its endorsement of Morales and endorsed Maya Wiley for mayor … The New York State Nurses Association endorsed Corey Johnson for comptroller and Shahana Hanif in Council District 39 in Brooklyn … Comptroller candidate David Weprin and Council District 19 candidate Austin Shafran are cross-endorsing each other … The New York City Police Benevolent Association endorsed Weprin for comptroller … The NYC PBA also endorsed Liz Crotty for Manhattan district attorney, joining the other NYPD unions … Rapper Snoop Dogg endorsed Aboushi for Manhattan district attorney … Former Brooklyn District Attorney Elizabeth Holtzman endorsed Alvin Bragg for Manhattan district attorney … StreetsPAC released a second round of City Council endorsements, including Mario Rosser in District 9 in Manhattan and Amoy Barnes as its No. 1 selection in District 49 on Staten Island and Ranti Ogunleye as its No. 2 selection in District 49 … former state Sen. Thomas Duane endorsed Alfonso Quiroz in District 25 in Queens … and former state Sen. Marty Golden endorsed Marko Kepi in District 50 on Staten Island.
Got tips? Email JColtin@CityandStateNY.com or SKashiwagi@CityandStateNY.com or send a DM to @JCColtin or @SydneyKashiwagi
District Data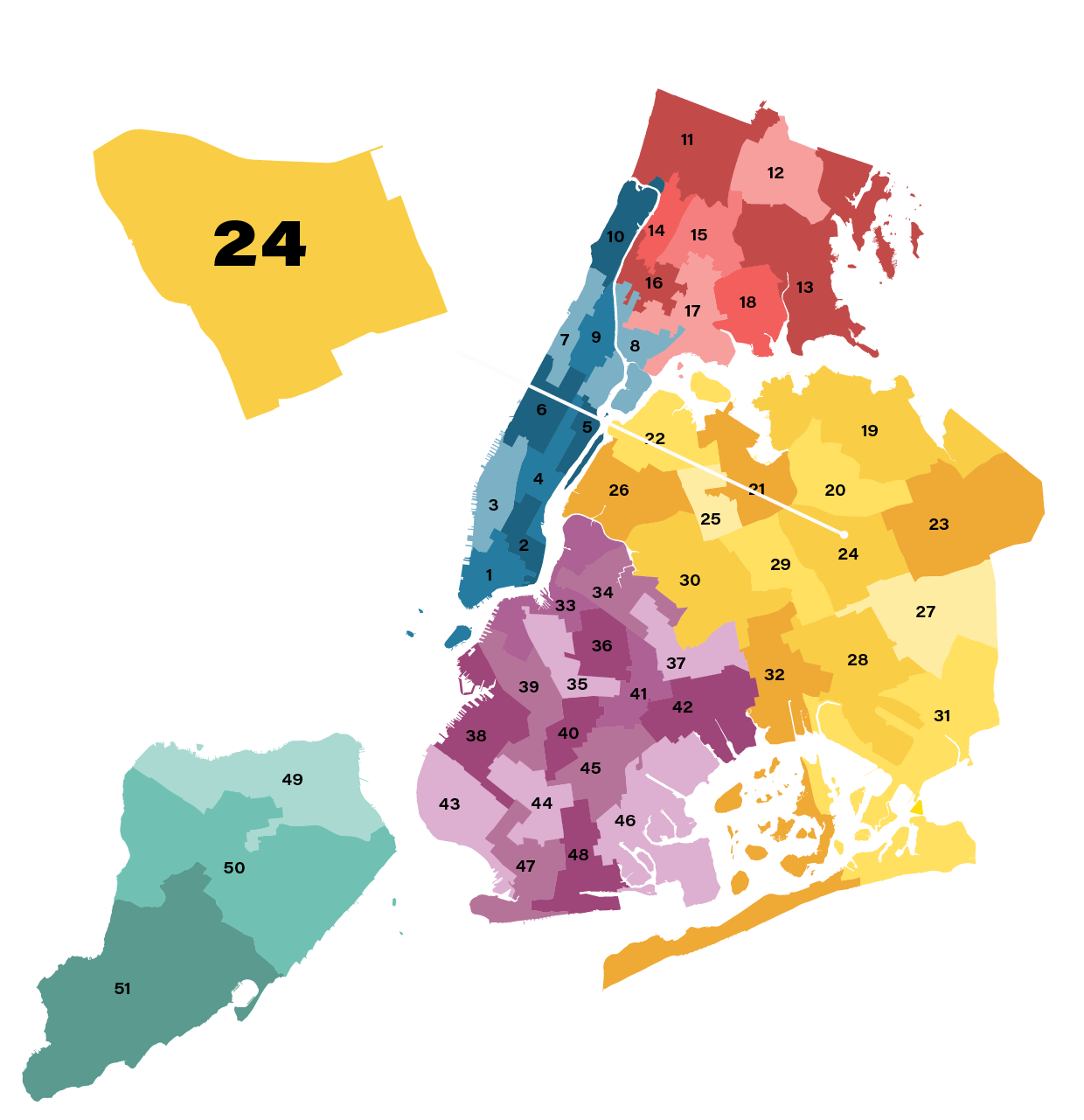 City Council District 24 in eastern Queens, covering neighborhoods including Kew Gardens Hills, Fresh Meadows and Jamaica Estates
Current council member: James Gennaro, since February,who won a special election to replace Rory Lancman, who resigned to take a job in the Cuomo administration in November
2010 census demographics: 33.2% white, 28.9% Asian and Pacific Islander, 21.8% Hispanic, 11.7% Black
Housing: 56.7% renter-occupied, 43.3% owner-occupied
2017 primary election results: Lancman: 62.6%, Mohammad Rahman: 36.8%
2021 special election results: Gennaro: 60.1%, Moumita Ahmed: 15.3%, Soma Syed: 7.9%, Deepti Sharma: 4.7%, Dilip Nath: 4.2%, Neeta Jain: 3.3%, Mujib U. Rahman: 2.8%, Michael Earl Brown: 1.4%
Who's running: James Gennaro, Moumita Ahmed, Saifur Khan and Mohammad Uddin. After serving only several months in his City Council seat, James Gennaro will face a number of South Asian opponents – just like he did in the special election to replace Rory Lancman in February – for the right to hold onto the district into 2022 and beyond. But given Gennaro's resounding victory in the special election, a Queens Democratic politician familiar with the district said Gennaro will more than likely win again. "There's not going to be a different result; Gennaro won the race by 60% of the vote. … It was the mother of all landslides, so that's not going to change," the source said. But Ahmed, who has the support of the Working Families Party and progressive elected officials, is still running hard against her moderate Democratic opponent, criticizing him for receiving support from an independent expenditure committee funded by billionaires.
Twitter Posting 
I love when phone bankers ask if I'm aware that there's a primary in three weeks as if this election hasn't been devouring my soul for years
Welcome to City & State's Campaign Confidential newsletter, where senior reporter Jeff Coltin – with help from staff reporter Sydney Kashiwagi – is covering the run-up to New York City's hugely consequential 2021 municipal elections for mayor, City Council and more.
Twice a week, on Wednesdays and Fridays. Sign up here.
Powered By
NEXT STORY: What's next after pot?