Campaigns & Elections
Big outside spending didn't always buy success in NYC's June primaries
Eric Adams may have gotten a lot of help from super PACs, but Kathryn Garcia was propelled by newspaper endorsements.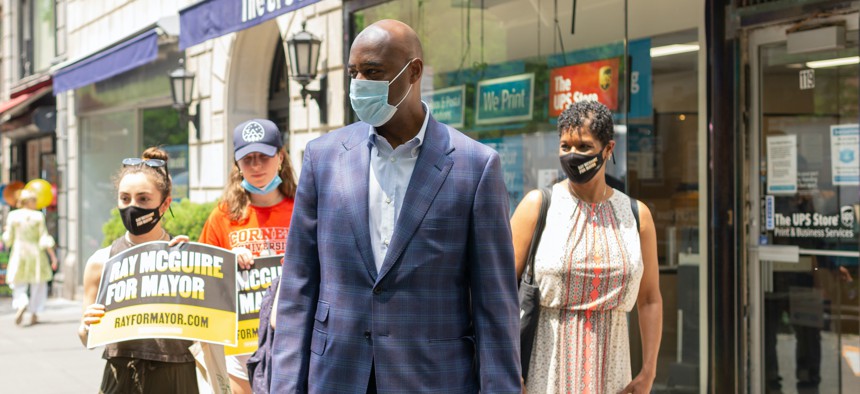 The New York City primary elections were notable in a number of ways this year: a record number of City Council candidates ran, ranked-choice voting was used for the first time and outside spending in the mayoral race hit record levels. But despite speculation about how all that money would impact the race, the influence of that spending was mixed at best.
All told, independent expenditure committees and super PACs spent $31.8 million on the mayoral race, with all but a small amount benefiting one of the eight leading Democratic contenders. That's a huge jump from 2013, the last time the seat was open, when outside spending on the mayoral race for the entire cycle was only $8 million. At the time, super PACs dominated the election conversation and the amount of money spent that year led to new laws to increase transparency around independent expenditures.
Each of the top eight mayoral contenders this year had a PAC supporting their campaign – without collaborating with the campaign, because that would be illegal.
Adams had the Strong Leadership NYC PAC, which spent $6.2 million to support him with money donated by a who's who of billionaire hedge fund managers. The New York Hotel and Motel Trades Council also spent over $1 million to support Adams through its committee Hotel Workers for Stronger Communities. Adams held a victory rally with the union after he won to thank them for their backing. All told, Adams saw the most outside spending on his behalf at $8.7 million and ultimately emerged victorious in the Democratic primary.
Conversely, Kathryn Garcia – who finished in a very close second – benefited from the least amount of outside spending among the top eight candidates. Outside groups spent only $776,000 to help her campaign, a paltry sum compared to some of her opponents. Most of the money – $235,000 – was spent by the New Generation of Leadership PAC, which was created to help elect Garcia and funded largely by real estate developers. Garcia's whole campaign was something of an anomaly in that no one necessarily expected a veteran bureaucrat lacking name recognition and institutional support to finish within 1 percentage point of Adams.
Outside spending certainly didn't help Ray McGuire or Shaun Donovan, who finished in seventh and eighth place respectively in first-place votes. Outside groups spent $6.3 million on McGuire, with the bulk of that coming from the independent expenditure committee New York for Ray. Donovan meanwhile had the help of $6.7 million from independent expenditure committees, largely bankrolled by his father. (The Campaign Finance Board determined that Donovan's campaign did not collaborate with his father in accordance with the law.) "Money can't buy you love," said Baruch College political science professor Doug Muzzio. Although Adams' success was further evidence that money is an important variable in any race, the Democratic primary for mayor wasn't solely determined by who spent the most, despite the huge influx of cash. "The conclusion is sometimes money works, sometimes it doesn't," Muzzio added, perhaps to the disappointment of Donovan and McGuire supporters.
Outside spending similarly did not seem to have huge influence on the Democratic primary for comptroller, the other open citywide election this year. New York City Council Speaker Corey Johnson, who was heavily favored when he first announced his candidacy in March, was the beneficiary of the majority of the $1.5 million spent on the race, but he still lost to Council Member Brad Lander. But Lander did benefit from the second-highest amount of independent expenditures.
City Council races also saw a lot of outside spending, although not nearly as much as compared to the mayoral race, and less than in 2013, despite a record number of candidates running this year. Outside groups spent $5.4 million on council races this primary season, compared to $6.3 million spent in 2013 over the course of the entire cycle. Of course, this year's number could still go up during the general election, but the vast majority of council seats won't have competitive general elections. Although it's not a record amount, spending this year still far outpaced the 2017 City Council outside spending, which only saw $1.2 million in independent expenditures. And arguably, the money had more impact in these smaller, local races than the citywide races. "Money tends to have more of a kick with outside races, because there is less money available," Muzzio said.
But even in those races, the impact was also mixed. The super PAC Rebuild NYC 2021 spent more than $190,000 to help elect Julie Menin in the District 5 primary, the most spent on any one candidate. NY4Kids Inc., a committee funded by teachers unions, spent the second most on Briget Rein – $171,000 – and she finished a distant fifth on election night for the District 39 race. The third-highest expenditure was to help incumbent Council Member Darma Diaz, who won a special election for District 37 last year, but she lost this year.
In some races, the outside spending may have had an impact, like the race for District 35. That was a close race between Crystal Hudson and DSA-endorsed Michael Hollingsworth. Unions spent over $232,000 via independent expenditures to support Hudson, while the committee Common Sense NYC Inc. – funded by real estate billionaire Stephen Ross – spent $113,611 to oppose Hollingsworth. Six of the eight of the progressive candidates that the committee spent to oppose ended up losing, and many of the classically liberal candidates it supported won.
Even with the ultimate influence of outside spending unclear, with this latest primary cycle as the latest example, good-government watchdogs still frown on the practice. "It's not playing by the rules of the game," said Betsy Gotbaum, executive director of Citizens Union. "The rules of the game are we have very good campaign finance laws (and) people get a lot of public money." Gotbaum said that outside spending, especially in council races, undercuts the city's public campaign financing system, which is meant to help level the playing field for candidates and minimize the influence of big donors.
But Gotbaum applauded the city's transparency laws regarding independent expenditures, which make it easy to see who is behind the spending. "I think that's a very effective way to kind of dissipate the influence of the independent expenditures," Gotbaum said.
Powered By
NEXT STORY: Why Cuomo and Adams need each other