New York State
5 takeaways from Kathy Hochul's first speech as governor
She laid out her priorities on mask mandates in schools, rent relief distribution and ethics reforms.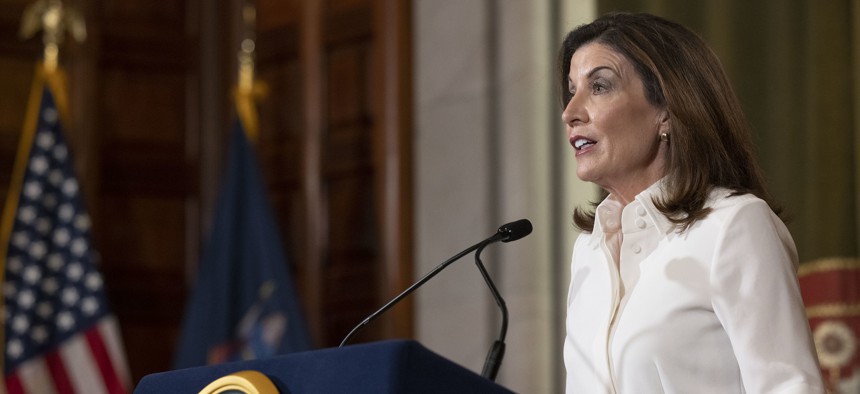 Addressing the public extensively for the first time, Gov. Kathy Hochul laid out her top priorities for the next year and a half as she fills out the rest of former Gov. Andrew Cuomo's term. She zeroed in COVID-19 response, ethics and rent relief as major issues.
Upon taking office, Hochul had no shortage of issues to tackle: the spread of the highly contagious delta variant of the coronavirus, stagnating vaccine rates, the delayed distribution of rent relief money, the end of the eviction moratorium next week and preparing for next year's budget process. And that would be on top of dealing with the continued fallout of Cuomo's resignation, filling the remaining roles in her administration and attempting to change the toxic culture in Albany that proliferated during Cuomo's time in office.
But Hochul made it clear that she is ready to take on the challenges that face her as the state's first female governor. "Today, for the first time in New York history, a woman will enter that arena as governor," Hochul said. "As I undertake the weighty responsibilities before me, know that I have the confidence, the courage and the ability to lead New Yorkers forward and make New York's women proud." She kept her Red Room address, the same place Cuomo held nationally televised press conferences about the coronavirus, short and direct. Here are the five key takeaways from her speech.
COVID-19 response is at the top of the to-do list
Hochul hit the ground running on her first day with an early focus on the pandemic. "Your priorities are my priorities, and right now, that means fighting the delta variant," Hochul said. She said she is directing the state Health Department to institute a universal mask mandate for all people entering schools, the first instance of statewide guidance that many districts had asked for a while ago. Hochul also said the state will launch a "back-to-school COVID-19 testing program" to ensure student and staff safety. Hochul said she is working with local partners to get a vaccine or weekly testing requirement for school employees across the state. "Priority No. 1, we get children back to school and protect the environment so they can learn and everyone is safe," Hochul said. She also opened the door to the prospect of reopening mass vaccination sites that were shut down now in order to get booster shots out to New Yorkers.
Shots at Cuomo are not off-limits
Hochul did not mention Cuomo's name during her roughly 10-minute speech, but two of her three priorities directly related to problems created by her predecessor: distributing rent relief money and strengthening ethics reforms. "I am not at all satisfied with the pace at which this COVID relief is getting out the door," Hochul said. "I want the money out now … with no more excuses or delays." She said she would hire more staff to process applications. Hochul also announced an "overhaul" of state government sexual harassment and ethics policies, starting with a requirement that all harassment training be completed live, "instead of allowing people to click their way through a class." Cuomo was accused of not completing his mandatory harassment training in recent years and having his staff do the online training course for him.
Hochul came to her first day with plans ...
In her first, brief address to the state, Hochul made her initial policy announcements, from a school mask mandate to the launch of a new campaign to reach people who need rent relief. Immediate steps like hiring more staff to speed up distribution of that money and plans to sign an executive order on ethics training were part of her broad vision that she laid out for the start of her term. Hochul said she will direct state agencies to review their compliance with transparency laws and would publish a report on those findings once it is completed.
… but much is still TBD
In many cases, New Yorkers will have to wait to get more information about her plans. Hochul said she will announce "school-related policies" in regard to COVID-19 later this week that will be "concise and consistent, giving the school districts what they've been asking for." Hochul said that people can "expect new vaccine requirements" thanks to the recent Food and Drug Administration approval of the Pfizer vaccine, but she did not elaborate further. She offered few specifics on what her "overhaul" of state ethics policies would look like or any additional steps behind the couple she mentioned to bring about "dramatic change" to Albany. And that's just on the topics that she mentioned. Issues like crime and racism were mentioned only in passing, while concerns like the budget and climate change were not mentioned at all. "It's our time to build trust between communities and law enforcement, invest in mental health resources and address the root problems of crime and keep our residents and children safe," Hochul said.
Immediate shift in tone
Obsessive Albany observers noticed new wait music on the executive livestream as they waited for Hochul's speech to begin, but that was hardly the only thing different about the address. Hochul kept her speech short and fairly direct. She spoke about the struggles of her family to get her to where she is today, the significance of being the first female governor, and how she connected with New Yorkers through her travels across the state as lieutenant governor. But at a brisk 10 minutes, nothing felt overly drawn out. "You'll find me to be direct, straight-talking and decisive," Hochul said at the end of her speech. This is in direct contrast to Cuomo's often long-winded approach to public speaking, replete with rhetorical questions and answers, asides about family dinners, anecdotes and questionable jokes. It's hard to read into just one speech, but the change in style seems apparent.
Powered By
NEXT STORY: New York welcomes its first female governor