This Week's Headline
Cuomo resigns and Kathy Hochul will be first female governor
Rounding up the week's political news.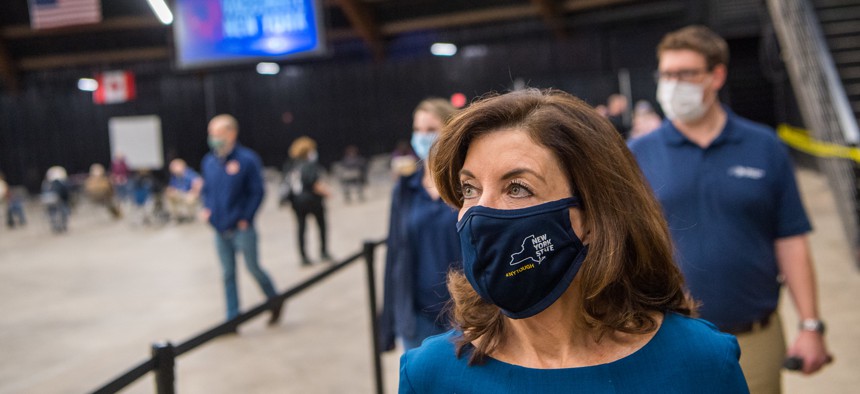 State politics are officially in a state of limbo. Gov. Andrew Cuomo announced he would resign by Aug. 24. Lt. Gov. Kathy Hochul has stepped into the political limelight, but the three-term governor still remains in the shadows. That has left more than a few watchers wondering who exactly is in charge of the Second Floor as a summer like no other begins to wind down. The only thing for sure is that Hochul is going to attract a lot more attention at the state fair this year than ever before – whether she is governor by then or not!
The Cuomo era coming to an end
A bad case of the Mondays apparently was too much for the scandal-plagued Gov. Andrew Cuomo to bear. Top staffer Melissa DeRosa had resigned. Members of the Assembly were talking impeachment at the Capitol and then there was that gubernatorial staffer telling all the world what a creep Cuomo could be. He officially succumbed to the much-feared curse of the third term by announcing on Aug. 10 that he would officially resign on Aug. 24, but more than a few post-mortems found his fall was many years in the making for the once all-powerful governor. Yet, despite the ongoing scandals over sexual harassment, nursing home data, and  self-enrichment through a $5 million book deal, Cuomo might still have a political future. Assembly Speaker Carl Heastie has said impeachment will be off the table once he's out the door, which leaves him an opening to mount a most improbable return to power. The odds are against Cuomo, but maybe, just maybe, he can emerge from this whole ordeal with an $18 million war chest and a theoretical path to political redemption as soon as next year.
New York will have a female governor
The fall of Cuomo means Lt. Gov. Kathy Hochul is on the rise. She will become the first female governor in state history just in time to position herself to win a full term in office next year. That will require her to overcome a number of obstacles. COVID-19 and rising crime are two, but the first one that Hochul is facing head-on is showing how she could be a very different governor. That was seemingly the theme of an Aug. 11 press conference where she promised to champion a new types of politics in Albany while ridding the Second Floor of the Capitol of the sexual harassment and toxic work environment detailed in the recent report released by state Attorney General Letitia James. Success on those fronts could go a long way toward helping her create a political identity separate from the man she has loyally served for years. So while political races tend to be more like marathons than sprints, she better get moving fast. 
Redistricting process gets serious
Move over Rochester – Yonkers is now the third largest city in the Empire State. A treasure trove of Census data released this week, however, is hardly a trivial matter. The data will play a big role in informing the Independent Redistricting Commission how best to divide the state into 150 Assembly districts, 63 state Senate districts and 26 congressional districts. That involves examining the demographics of cities, towns and villages across the state to determine which so-called "communities of interest" matter the most, especially when it comes to making sure that minority voters have a chance of electing representative candidates to office. The commission is expected to submit new maps to the state Legislature early next year.
Powered By
NEXT STORY: Kathy Hochul meets the press