New York State
Cuomo's appointees scrutinize their boss
Some of the governor's top officials are speaking out after the release of the attorney general's report.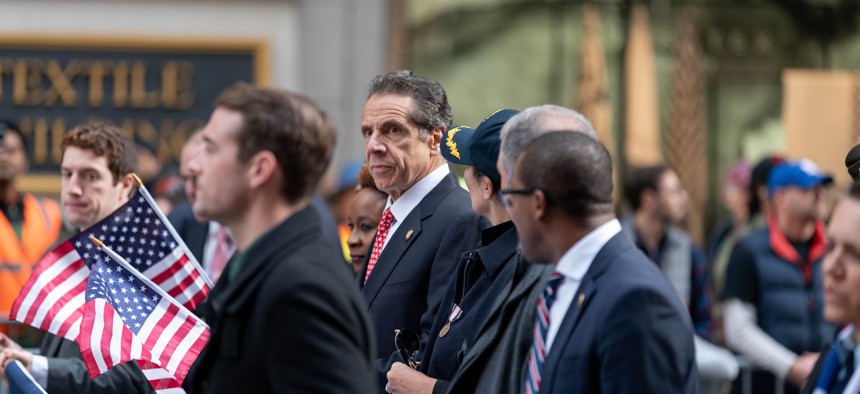 For Gov. Andrew Cuomo, 2021 is quickly looking like it's going to be a worse year, unexpectedly, than 2020. The embattled politician is grappling with the growing wrath of the public, stemming from allegations of sexual harassment against him that were corroborated by state Attorney General Letitia James' bombshell report last week. In the aftermath of the report, some of Cuomo's political appointees released critical statements about the governor, and they may decide in the coming weeks whether or not they want to continue working for him, potentially putting their own political futures in jeopardy.
Many of these appointees are also facing their own criticisms for their affiliation with the administration. The report outlined the actions of several Cuomo aides: former Secretary to the Governor Melissa DeRosa directed an effort to consolidate support for Cuomo in the initial aftermath of the sexual harassment allegations and worked to discredit accuser Lindsey Boylan; and former chief counsel Alphonso David, who leads the Human Rights Campaign, was implicated for helping Cuomo retaliate against Boylan and is now facing an investigation within his organization. Another prominent lawyer, Roberta Kaplan, was connected to the effort against Boylan as well and, on Monday, resigned as chair of the gender equity organization Time's Up.
Other former Cuomo associates have already sounded off on the governor: former state Department of Financial Services Superintendent Maria Vullo released a number of scathing tweets against the governor, criticizing Cuomo's personal lawyer Rita Glavin for her defense of Cuomo and stating her support for accuser Brittany Commisso.
Here are a few responses from current and former top members of the Cuomo administration who have responded to the attorney general's report.
Melissa DeRosa
In a shocking turn of events, Secretary to the Governor Melissa DeRosa resigned from her position Sunday night, saying in a statement that "the past two years have been emotionally and mentally trying." Many folks in Albany are reeling from the implications of her resignation, a clear indicator of a loss of confidence in Cuomo from one of his staunchest allies, and perhaps a harbinger of resignations to come from other administration members who may be emboldened by her actions. State Democratic Party Chair Jay Jacobs noted that DeRosa's resignation "is as big as it gets" and that it "would be an indication that his options have been exhausted." Sources familiar with the situation stated that DeRosa no longer sees a viable path forward for the governor, and seeks to shed her public image as being his defender.
Basil Seggos
State Department of Environmental Conservation Commissioner Basil Seggos tweeted early last week in support of Cuomo's accusers, saying Cuomo's behavior "is outrageous and unacceptable and unbecoming of a public official – or any person. I'm in awe of the strength of these women. Enough."
Sheila Poole
State Office of Children and Family Services Commissioner Sheila Poole had a strong response to the Cuomo scandal, sending out an agencywide email last week saying she is "appalled and angry" with the findings of James' report and that she has "great respect" for Cuomo's accusers.
Kathy Hochul
Lt. Gov. Kathy Hochul also firmly positioned herself against the governor, tweeting her disgust with the governor's behavior toward his accusers and commending the accusers. She wrote: "I believe these brave women & admire their courage coming forward." She refused to comment further, due to her position as his potential successor. 
Kelli Owens
State Office for the Prevention of Domestic Violence Executive Director Kelli Owens told City & State that the guiding principle of her career "is advocating for women's rights" and that "(n)othing will change or detract us from this important work."