New York State
Cuomo's first go at a political comeback
The outgoing governor spent his final weeks in office reminding New Yorkers recent scandals have not changed him one bit.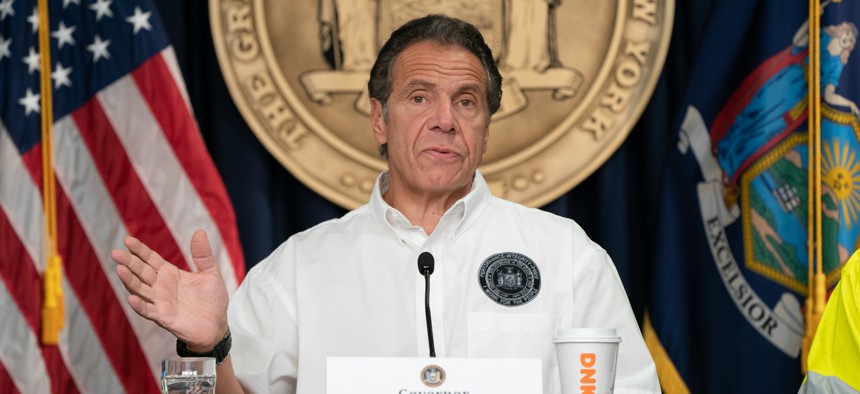 There was a catch when Gov. Andrew Cuomo announced his resignation on Aug. 10. He would not leave office for two more weeks – supposedly for the good of the Empire State. "This transition must be seamless," he said in a prerecorded address when he presented his resignation. "We have a lot going on." This period of time also gave the three-term governor a chance to burnish his legacy before his resignation becomes final at 11:59 p.m. tonight. Some politicos watching even wondered whether he was still hoping to run for election next year.
So the embattled governor spent his final fortnight in power appearing to position himself for a future comeback by attacking his political opponents and women who have accused him of sexual harassment as well as performing for the cameras as Action Andy one last time as a tropical storm approached the state. But the whirlwind two-week period ended with the three-term governor announcing via a statement sent by his top aide that he doesn't intend to run for another term as governor in 2022.
Then came the announcement that he would stage a final address like those where he once dazzled a national audience with his COVID-19 briefings. "There are moments of intense political pressure and media frenzy that cause a rush to judgment," he said in a final address touting his accomplishments in office while throwing shade on the long list of scandals driving him out of office. "I worked my hardest. I gave it my all and I tried my best to deliver for you."
The transition of power has not been as smooth as the governor promised. For starters, there is the confusion that he has sown about when he will actually leave office. He has yet to deliver a formal resignation letter to legislative leaders as of Monday morning, like past governors, and implied during a Sunday storm briefing that he might stay on for an extra day to deal with the state response to Tropical Storm Henri – which required a spokesperson to reaffirm that he would indeed be leaving office today. Incoming Gov. Kathy Hochul meanwhile had to get ready for office while wondering whether Cuomo would begin campaigning for a new term as soon as he left. "Unless he's actually convicted in a court of law of committing crimes," one Cuomo adviser told New York magazine, "Who's to say he can't come back?" Such suspense hardly makes it easier for the first female governor in state history to get going remaking the state in a better image. 
He is hardly the only disgraced elected official to want a second chance. If the likes of former Gov. Eliot Spitzer and former Rep. Anthony Weiner could run for office again, why not Cuomo? "Everybody who gets destroyed in public life thinks they're coming back," political consultant Hank Sheinkopf said in an interview. The governor still has somewhere around $18 million to spend on another gubernatorial campaign, far more than Hochul or other possible candidates like Attorney General Letitia James. 
The outgoing governor gave New Yorkers plenty of reasons to believe that he was the same old Cuomo as before. "I literally am not any tougher than I need to be to get the job done, because I understand there's a price of being tough," he told New York in a story published just days after he announced his resignation. "There is no long-term path to be a strong executive without being strong." He showed what that means in practice by deploying his attorney to discredit women accusing him of unwanted touching and sexual harassment. "The socialist wing of the Democratic Party is the tail wagging the dog," spokesperson Rich Azzopardi wrote in the Daily News while claiming that an erstwhile political ally like James "railroaded" the governor in her report.  
There were some instances where the governor appeared to do the types of things he claimed he would do in his final days in office. He signed bills that renamed highways and made tweaks to tax law. He ordered health care workers across the state to get vaccinated in the coming weeks. He even issued a few pardons and commutations for people convicted of crimes. That was hardly enough to satisfy his critics, but it was not nothing. Such efforts might have even spared Hochul a little time before and after she took office. 
Yet, Cuomo was still Cuomo, and an impending storm gave him one last chance to play competent emergency manager. He used powerpoint presentations and the full audio-visual might of the Empire State one last time. "I am governor today, and I am in charge," he told a reporter who asked why Lt. Gov Kathy Hochul was not present at the briefing. This was his show. He was the main character. Secretary to the Governor Melissa DeRosa was to his right and special guest stars like the heads of the Metropolitan Transportation Authority and the Port Authority of New York and New Jersey were on hand to show how the once almighty governor could still had the most powerful people in the state at his beck and call. 
And as he was prepared to hand off his briefing for the last time, he could not help but add one last little touch. He spoke of the "cynical man in the storm" – the guy who does not accept impending disaster until it is too late. Rescuers come, but the man always refuses to leave because he thinks that he will somehow escape through divine intervention alone. That guy is no Cuomo. The outgoing governor saw that he could not survive the political storm that has been swirling for months. He chose to leave office rather than risk getting impeached, but he said in his farewell address as governor that the "time will come" to continue challenging the notion that he sexually harassed anyone or did much of anything wrong as governor. That is just one more sign that Cuomo is not quitting the political game anytime soon, however much he helped or hindered his chances of ever winning an election again during his final two weeks in office. "There's always going to be this shadow of Cuomo that exists in the state," political consultant L. Joy Williams said in an interview. "His presence is still going to be felt in the state for some time."