Politics
New York politicians react to Cuomo sexual harassment report
President Joe Biden, House Speaker Nancy Pelosi and state Senate Majority Leader Andrea Stewart-Cousins are among the lawmakers calling for Cuomo to step down or be impeached.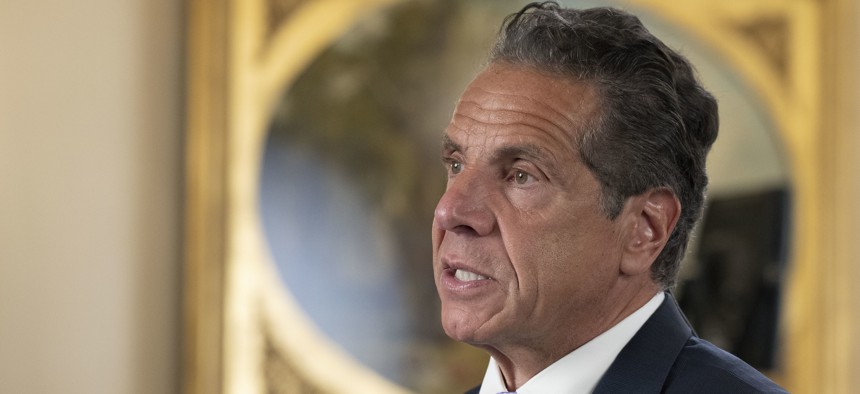 State Attorney General Letitia James just released a long-awaited report outlining the findings of her office's investigation into accusations of sexual harassment and assault against Gov. Andrew Cuomo. The report, led by attorneys Anne Clark and Joon Kim, confirmed the accounts by women who had already come forward and included new information and accounts from additional women, including a state trooper in Cuomo's protective detail.
The investigators interviewed 179 people, included 11 complainants and reviewed 74,000 pieces of evidence, such as audio files, documents, texts and images, according to James. 
James said with the conclusion of the investigation, her office's work is done. She said it is up to local prosecutors and police departments and legislators to determine next steps and consequences. In a press conference announcing the release of the report, James refused to comment on what kind of consequences the governor may face. "I am inspired by all the brave women who came forward," James said. "But more importantly, I believe them." 
Cuomo responded to the report early Tuesday afternoon, denying that he had ever touched anyone inappropriately or made inappropriate sexual advances. He pointed to photos of him hugging and kissing politicians and other people, and described it as a gesture "meant to convey warmth, nothing more."
President Joe Biden called on Cuomo to resign on Tuesday. Responding to questions from the press on Tuesday, Biden addressed the findings of the report, responding "I stand by that statement," when a reporter asked if he now stood by his call in March for Cuomo to resign if the accusations are confirmed.
Here are some initial reactions to the news from New York lawmakers and politicos.
Congress
U.S. Sens. Chuck Schumer and Kirsten Gillibrand: "As we have said before, the reported actions of the Governor were profoundly disturbing, inappropriate and completely unacceptable. Today's report from the New York State Attorney General substantiated and corroborated the allegations of the brave women who came forward to share their stories – and we commend the women for doing so. The New York State Attorney General has conducted an independent, thorough and professional investigation that found the Governor violated state and federal law, had a pattern of sexually harassing current and former employees, retaliated against at least one of the accusers and created a hostile work environment. No elected official is above the law. The people of New York deserve better leadership in the governor's office. We continue to believe that the Governor should resign."
Reps. Gregory Meeks, Hakeem Jeffries and Thomas Suozzi: "The office of Attorney General Tish James conducted a complete, thorough and professional investigation of the disturbing allegations against Governor Andrew Cuomo. The investigation has found that the Governor engaged in abusive behavior toward women, including subordinates, created a hostile work environment and violated state and federal law. We commend the brave women who came forward and spoke truth to power. The time has come for Governor Andrew Cuomo to do the right thing for the people of New York State and resign."
Reps. Grace Meng, Jerrold Nadler, Carolyn Maloney, Brian Higgins, Nydia Velázquez, Ritchie Torres, Yvette Clarke, Kathleen Rice, Adriano Espaillat, Jamaal Bowman, Mondaire Jones, and Alexandria Ocasio-Cortez: "Sexual harassment is an extremely serious transgression, and we stand with the brave women who have come forward to share their experiences working for and around Governor Andrew Cuomo. It is clear that he engaged in inappropriate, unlawful and abusive behavior. The Attorney General's report is deeply disturbing, clear and thorough. For the good of New York State, Andrew Cuomo must resign. If he does not, the New York State Assembly must begin impeachment proceedings. We note with interest Governor Cuomo's own May 17, 2013 statement calling on Assembly Member Vito Lopez to 'resign, effective immediately' when the Assembly investigation announced its findings: 'there should be a zero tolerance policy when it comes to sexual harassment and we must now send a clear message that this behavior is not tolerated.' We agree."
Rep. Elise Stefanik: "ARREST CUOMO !! Proud to be the 1st to correctly call him: THE WORST GOVERNOR IN AMERICA. A CRIMINAL SEXUAL PREDATOR. #SaveNewYork!"
Rep. Grace Meng: "The results of AG @TishJames's independent investigation are clear: Governor Cuomo engaged in horrifying, abusive, and unlawful behavior. I stand with the brave women who have come forward. For the good of NY, he must resign, or the Assembly must begin impeachment proceedings."
Rep. Chris Jacobs: "Andrew Cuomo has irreparably disgraced his office, broken numerous laws, and intimidated at least one brave employee who came forward and reported his consistent abuse. He cannot serve as Governor of New York any longer, he must resign immediately and face justice for his crimes."
Rep. Paul Tonko: "Earlier this year I called for a full independent investigation into credible allegations that Governor Cuomo had sexually harassed several women—including members of his own staff. As the allegations worsened, I called on him to do the right thing for all New Yorkers and resign. The New York Attorney General's report today confirms my worst fears. The governor's victims deserve justice, the people of our state deserve better. The governor needs to resign."
Rep. Nydia Velázquez: "In March, I called for Gov. Cuomo to resign. Today, the AG released the independent report we called for & it's clear that Cuomo sexually harassed women working for him & broke state & federal laws. He must resign -- if he doesn't, he must be impeached."
Rep. Lee Zeldin: "Brutal AG report against Cuomo, but he's still refusing to resign & still attacking his accusers & investigators. Between his deadly nursing home order & coverup, his $5.1M book deal, & his sexual harassment, abuse & intimidation, the State Legislature MUST impeach IMMEDIATELY!"
Rep. Nicole Malliotakis: "As I said months ago, Cuomo will go whether it be by resignation, prosecution, impeachment or at the ballot box for his mishandling of nursing homes. The new findings from the AG's investigation into sexual harassment just adds to the reason why."
State Senate
Andrea Stewart-Cousins: "This report highlights unacceptable behavior by Governor Cuomo and his administration. As I said, when these disturbing allegations first came to light, the Governor must resign for the good of the state. Now that the investigation is complete and the allegations have been substantiated, it should be clear to everyone that he can no longer serve as Governor.  Our highest elected offices must reflect the values and integrity that they profess and New Yorkers hold dear. I thank the Attorney General and her investigators for their thorough investigation.  I also wanted to give a special thank you to the courageous women who bravely stepped forward to shed light on this awful situation. We all owe them a debt of gratitude."
Michael Gianaris: "The report by Attorney General James correctly uplifts the courageous voices of the women who suffered from the Governor's behavior. The Attorney General's report clearly and concisely documents that Governor Cuomo engaged in disturbing and unacceptable behavior. Andrew Cuomo lacks the integrity required to be the leader of our state and can no longer serve as New York's Governor. He must heed the calls of so many New York leaders and resign."
Brad Hoylman: "New Yorkers should be extremely grateful to the eleven courageous survivors who came forward to share their traumatic stories during the Attorney General's investigation … The Attorney General's integrity throughout this process cannot be questioned. "I've listened to Governor Cuomo's pre-produced response that seemed to mock these serious and disturbing charges and shamefully called into question the truthfulness of the survivors. I reiterate my earlier call that Governor Cuomo resign. If not, I trust the State Assembly will take the appropriate steps to begin his removal from office."
Gustavo Rivera: ".@NYGovCuomo MUST. RESIGN."
Alessandra Biaggi: The Attorney General's independent investigation concluded that Andrew Cuomo sexually harassed current and former staff, violating federal and state law. I am calling on him to resign. If Cuomo refuses, I am calling on @carlheastie & the Assembly to move to impeach immediately."
Zellnor Myrie: "Twin public health crises of COVID and gun violence. Crisis of democracy. Eviction crisis. New York has been through too much and cannot withstand an additional crisis of confidence in our government. I reiterate my call for the governor to resign."
Elijah Reichlin-Melnick: "AG @TishJames and her team have found that Gov. Cuomo sexually harassed multiple women in violation of state & federal law. It is long past time for him to resign and face consequences for his actions. If he refuses, the Assembly should impeach."
Samra Brouk: "I didn't need a report to know to believe women. It's never been clearer that this governor needs to resign. Thank you to all the survivors who came forward. I continue to stand with you."
Jessica Ramos: "No one should be subjected to this kind of harassment. And certainly not by someone who is charged with leading our state & upholding the labor laws meant to rid our workplaces of this abhorrent, misogynistic behavior. NYers deserve better. 
@NYGovCuomo: resign or be impeached!"
Todd Kaminsky: "On March 12, I said that Governor Cuomo should step aside. Now we know that he must step aside or be removed. These damning findings from Attorney General James, who has done a great job, show quite clearly that the governor must resign – and if he will not, that he should be impeached. Not only has Gov. Cuomo broken the law by committing disturbing and dehumanizing acts against women, he has engaged in retaliation against his accusers, and also abused his power as an employer, boss and the leader of New York and most powerful person in this state. Andrew Cuomo does not deserve to be governor of New York."
Andrew Gounardes: "It was clear from these brave women's stories months ago that Governor Cuomo should not remain in office. There are no more excuses. No more equivocating. No more if/maybe/then. The Governor must resign or be impeached."
Phil Boyle: "Remember my prediction. Cuomo resigns within 72 hours of the AG's report being issued. Start your clocks!!!"
Tim Kennedy: "I said it 6 months ago, and stand by it today tenfold. The @NewYorkStateAG's investigation shows a clear pattern of unethical, inappropriate, and downright disgusting behavior. The courageous women who shared their stories deserve justice and accountability. Resign."
Liz Krueger: "Governor Cuomo must resign. The Attorney General's report leaves no room for any other acceptable course. It confirms that federal and state laws were broken. 11 women is 11 too many. If he does not resign, he must be impeached as swiftly as possible."
John Liu: "Governor Cuomo's actions are unacceptable, as confirmed by the report of the independent investigators. Governor Cuomo should accept responsibility for his wrongdoing. He should resign immediately, or be impeached."
Jabari Brisport: "Governor Cuomo has betrayed his office in so many truly horrifying ways. I'm calling on the legislature to immediately reconvene and impeach w/ 
@JuliaCarmel__ @phara4assembly @ZohranKMamdani & @EmilyAssembly"
James Skoufis: "Five months ago to the day, I was one of the first Democratic legislators to call for the Governor's resignation. I'd seen enough. And for his part, the Governor pleaded for us all to 'wait for the facts' and allow for due process … Well, many New Yorkers waited. Due process is now over. This report is damning."
Jim Tedisco: "This is truly a disappointing day for all New Yorkers but an important one to begin to provide some closure for all the women who were victims of this Governor's actions. The New York State Attorney General's disturbing report confirms what I've been saying for months, that Andrew Cuomo must be impeached and removed from office immediately. Enough is enough!"
Assembly
Carl Heastie: "We have received the Attorney General's 168 page report containing findings of sexual harassment and misconduct committed by Governor Cuomo. The findings contained in the report are disturbing. The details provided by the victims are gut-wrenching. Our hearts go out to all the individuals who have had to endure this horrible experience. The conduct by the Governor outlined in this report would indicate someone who is not fit for office. The report has been forwarded to the members of the Judiciary Committee as well as all members of the Assembly. We will now undertake an in-depth examination of the report and its corresponding exhibits with our Assembly counsels as well the legal firm we have retained to assist us. We will have more to say in the very near future."
Ron Kim: "#ImpeachCuomo"
Yuh-Line Niou: "The New York State legislature must impeach the Governor. We must."
Harvey Epstein: "We must impeach @NYGovCuomo now."
Mike Lawler: "Groping. Retaliation. Coordination. Toxic workplace. Hostile. Unwanted touching. Kissing. Advances. Violated multiple state and federal laws. RESIGN OR BE IMPEACHED."
Ed Ra: "The findings of the attorney general confirm what so many of us already knew- this governor isn't fit to lead. Democrats and Republicans must to come together and take a definitive, bipartisan stand against sexual harassment and toxic abuse in the workplace."
Kevin Byrne: "Impeach."
Diana Richardson: "The investigation is crystal clear - We MUST protect women - we MUST believe women. I reaffirm that Cuomo must resign"
Jessica González-Rojas: "The @NewYorkStateAG's report confirms what we knew to be true. The Governor sexually harassed women. Albany can no longer look the other way and must pass real reform. The Governor should resign and if he does not the legislature must impeach him."
Deborah Glick: "Any CEO of a major company facing credible findings of sexual harassment as found by  @NewYorkStateAG would be gone"
Kenny Burgos: "The report by the Attorney General's office confirms that Governor Cuomo engaged in a disturbing pattern of monstrous and predatory behavior, and broke state and federal law. His actions have no place in politics or anywhere else. It has now been determined that the Governor has lost all credibility, and thus, is no longer fit to serve. I call for his immediate resignation. And if he refuses to step down, I am prepared to vote yes on impeachment proceedings."
Rodneyse Bichotte Hermelyn: "My full sympathy goes out to the brave victims who endured these egregious experiences, but took heroic steps forward to provide evidence and live testimonies for the public of the disturbing behavior and abuse in a work environment "filled with fear and intimidation." As a childhood sexual abuse survivor who also endured sexual harassment throughout my career, these testimonies triggered an emotional disturbance. There is absolutely no room for this abuse, especially with elected officials who've been entrusted to fight it. Governor Cuomo's conduct found in the report is heinous and a gross abuse of power … Lastly, the conduct by Governor Cuomo found in the report indicates that he is unfit for office and should step down and resign."
Anna Kelles: "The treatment of women by @NYGovCuomo as documented in tremendous detail in AG @TishJames report is unconscionable. The only way to honor these 11 women is for Cuomo to resign and for the NY Assembly to send articles of impeachment with all documentation necessary for justice."
Richard Gottfried: "The NYS Attorney General has independently corroborated the allegations against the Governor and the toxic environment in his office. If the Governor continues to refuse to resign, we must move forward with impeachment and remove him from office."
Others
Lt. Gov. Kathy Hochul: "Sexual harassment is unacceptable in any workplace, and certainly not in public service. The AG's investigation has documented repulsive & unlawful behavior by the Governor towards multiple women. I believe these brave women & admire their courage coming forward. No one is above the law. Under the New York Constitution, the Assembly will now determine the next steps. Because Lieutenant Governors stand next in the line of succession, it would not be appropriate to comment further on the process at this moment."
Speaker of the U.S. House of Representatives Nancy Pelosi: "Under Attorney General Letitia James, a comprehensive and independent investigation into the allegations against Governor Cuomo has been completed. As always, I commend the women who came forward to speak their truth. Recognizing his love of New York and the respect for the office he holds, I call upon the Governor to resign." 
New York City Mayor Bill de Blasio: "My first thoughts are with the women who were subject to this abhorrent behavior, and their bravery in stepping forward to share their stories. The Attorney General's detailed and thorough report substantiates many disturbing instances of severe misconduct. Andrew Cuomo committed sexual assault and sexual harassment, and intimidated a whistleblower. It is disqualifying. It is beyond clear that Andrew Cuomo is not fit to hold office and can no longer serve as Governor. He must resign, and if he continues to resist and attack the investigators who did their jobs, he should be impeached immediately."
New York City Democratic mayoral candidate and Brooklyn Borough President Eric Adams: "Attorney General James conducted a thorough and revealing investigation that yielded disturbing conclusions about the conduct of Governor Cuomo. It is now the duty of the New York State Assembly to take swift and appropriate action and move forward with impeachment proceedings if the Governor will not resign."
New York State Comptroller Tom DiNapoli: "This is a sad day for New York. The Attorney General's report documents unacceptable workplace behavior in the Executive Chamber at the highest level of state leadership. The women who came forward are courageous, and they have been heard. As I stated months ago, the Governor should step down."
New York City Public Advocate Jumaane Williams: "The Attorney General's investigation confirmed today what we've known since the first courageous women came forward with their experiences - the Governor repeatedly, with intent and without care for the pain he caused or concern for consequences, sexually harassed multiple women, violating the law and the standards which we must demand, especially of our elected officials … Andrew Cuomo has acted for his entire career with abusive impunity, but his shamelessness cannot equate with immunity. He created a culture of abuse which he has long employed to evade accountability, but the creation of that culture itself demands accountability. He cannot continue to serve as Governor, and must resign immediately or be impeached expeditiously."
Democratic New York City Comptroller candidate Brad Lander: "Gov. Cuomo should have resigned in March. He should resign now. If he does not, he should be impeached. If he is not, he should be defeated at the polls. Thank you to Attorney General James for conducting this thorough and independent review, talking to scores of witnesses, reviewing tens of thousands of documents, and providing the evidence for this clear conclusion: Andrew Cuomo is a serial harasser who has broken State and Federal laws. Thank you to the women who came forward to tell your stories and confront these abuses of power. Your courage and today's findings must inspire us to action."
Republican New York City mayoral candidate Curtis Sliwa: "If this isn't a statement of why Cuomo must go, I don't know what is. When applied to Republicans and Democrats who have faced similar charges, they have either gracefully retired, gone into private life, or they have been prosecuted to the fullest extent of the law. But Cuomo, I guess, feels that he is bulletproof when it comes to this. So hopefully the Attorney General, Letitia James, will prosecute him to the fullest extent of the law and make an example of Andrew Cuomo, who is so quick to accuse everyone else of sexual harassment. There's a long litany of people he's said should be forced to leave their positions, or not be considered for electoral office. He was so quick to be judgemental. And now that the weight of evidence is clearly against Andrew Cuomo, he could do us all a big favor by resigning now. Resign now, let his lieutenant government take charge. And then let's resolve who is the governor in the future when a Republican candidate is chosen. The Democrats will choose their own candidate. … Let the people decide. But as far as I am concerned, good riddance."
Former Cuomo aide and accuser Charlotte Bennett: Resign, @NYGovCuomo. 
Former Cuomo aide and accuser Ana Liss: "Thank you, thank you to everyone who expressed support out loud and in whispers. For hugs and hand squeezes and texts. Thank you @LindseyBoylan, @_char_bennett_ , @KarenHinton, @SenatorBiaggi., @JaniceDean, and beyond."
New York State Republican Committee Chairman Nick Langworthy: "I called for Cuomo's impeachment on February 11th & once again I renew that call. If the governor doesn't immediately resign, Speaker @CarlHeastie must act & bring articles of impeachment to the floor for a vote, NOW. @NYGovCuomo cannot be allowed to serve another day."
Nassau County Executive Laura Curran: "The Attorney General's findings are clear. The Governor must resign immediately."
New York City Council Speaker Corey Johnson: ""Gov. Cuomo's actions outlined in the Attorney General's report are intolerable. No employee should (be) subjected to the kind of behavior detailed in this report, and no one is above the law. He is unfit to lead this state, and I reiterate my call for him to step down from office. I commend the women who came forward. I also want to thank Attorney General Letitia James and the investigators for this thorough, independent investigation."
– With reporting by Jeff Coltin
Powered By
NEXT STORY: The mad dash for a new MTA leader