15th Anniversary
New York's resilient media industry
Experts weigh in on the future of news and City & State's role in the local landscape.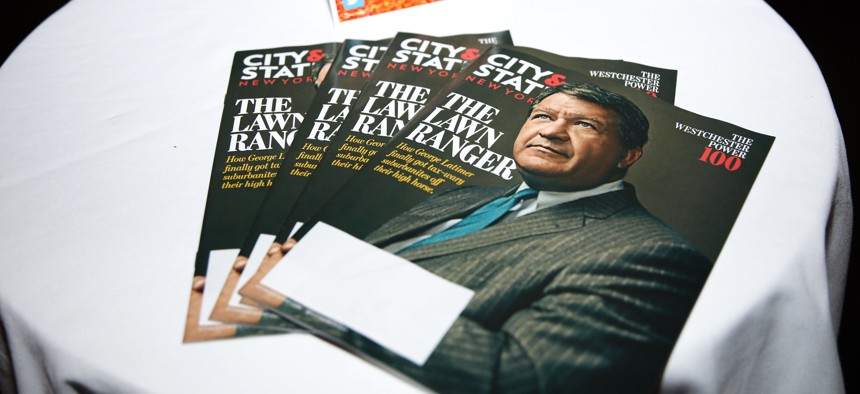 When City & State first launched 15 years ago, journalism was already in the throes of a massive transformation. The decline of print was accompanied by grim stats: Nearly 1,800 newspapers have shuttered since 2004, and there has been a 57% drop in newspaper newsroom employment between 2008 and 2020. This transformation has been painful for media outlets and the communities they cover, but the entities that have survived and taken their place – print and digital hybrids, community and ethnic media outlets, nonprofit newsrooms and more – are full of promise.
For a special edition of Ask the Experts, City & State consulted experts on the local media landscape, including Elinor Tatum, publisher and editor-in-chief of the New York Amsterdam News; Javier Lacayo, senior vice president at SKDK; and Jere Hester, editor-in-chief of The City. The responses have been edited for length and clarity.
What are the most important changes the local news landscape has gone through in the past 15 years?
Jere Hester: We all know the bad news: The shrinking of local news staffs, especially at the Daily News. Major losses, from the shuttering of DNAinfo to the end of regular publication of The Village Voice to the recent nixing of The Wall Street Journal's Greater New York section.
But the most important changes are the seeds of a good-news story: a burgeoning nonprofit media sector that's built on what City Limits started over 40 years ago – from the rise of outlets like Chalkbeat, Documented and, yes, The City. Put that together with a certain 15th birthday well worth celebrating, and there's good reason for hope.
Elinor Tatum: The most important changes that the local news landscape has gone through over the past 15 years is the slaughter of the local newsroom. Daily newspapers have gutted their newsrooms and local news, and the communities that were once served have been the victims. If it were not for community-based news outlets, no one would know what was happening in this great city of ours.
Javier Lacayo: The past decade has been devastating for local newspapers nationwide – with many having to lay off reporters, sell to larger media companies and sometimes close altogether. There's also been a digital media revolution that's transformed local news, just like we've seen on the national front. Print circulation in New York is a fraction of what it once was, and where a story lands on the homepage or whether it trends on Twitter can mean much more than its placement in a publication's print edition. But New York's local media has proved incredibly resilient – even at the borough level.
What do you expect will change about local news in the next five years?
Elinor Tatum: Local, community, ethnic media will continue to gather strength and will be the real voice of New York and metro areas around the country. With the help of grants and other initiatives popping up nationwide, local media will be the heart and sole of news going forward.
Javier Lacayo: Digital media will increasingly keep shaping how we consume news and interact with local reporting. We're already in a new age where outlets can reach fresh, highly engaged audiences on a daily basis thanks to the Twitter presence of their reporters or content that is adapted for a TikTok video – a trend that will only continue. And we'll see more paywalls to replace traditional avenues of revenue. While this may seem like a downside for consumers, I hope it will lead to bolder and better reporting that can incentivize readers to make more personal investments in their local news.
Jere Hester: The stakes have never been higher for local news – and, perhaps, for our city. The pandemic underscored the urgency of getting New Yorkers the news and information they need to navigate tough times, make decisions and hold elected officials accountable. 
The next five years, certain to be filled with decisions that will shape New York City for decades to come, demand a vibrant, accessible local media built on service.
The energy and innovation are there. The future hinges on key players – from foundations to corporations to civic leaders to readers – recognizing that local news is vital to keeping the lifeblood of our city pumping.
How do you see publications like City & State fitting into that new media landscape?
Jere Hester: We're in a post-competition era: There are more stories than all our local news outlets can possibly cover. There are also endless opportunities: for new players to emerge, for using digital media to better serve audiences, for outlets working in tandem to give New Yorkers the news and information they demand and deserve. Over the past 15 years, City & State has emerged as an authority on the intersection of policy and power, putting institutional knowledge into the service of chronicling changing times. That will be a key role as New York – and its media – enter some uncharted territory.
Elinor Tatum: Absolutely, it serves a niche that is untouched by other publications and can pivot off of the community and ethnic press. So by working in tandem with those outlets, it can fill a void that was never adequately addressed in the first place: 360-(degree) coverage that takes into account the nuances of ethnicity, community and politics.
Javier Lacayo: City & State must never lose sight of the unique value it has consistently brought to its readers despite years of change. It was one of the pioneers of New York's local digital media landscape with its morning newsletter, and will continue to be a go-to resource for local politics as long as it remains responsive to the appetites of its well-informed readers. For instance, the new "Campaign Confidential" has provided details on the 2021 primaries you can't get anywhere else, bringing in a new generation of politically active newcomers. I have no doubt City & State will keep meeting the moment.