This Week's Headline
Deadly flooding in NYC and an extraordinary session in Albany
Rounding up the week's political news.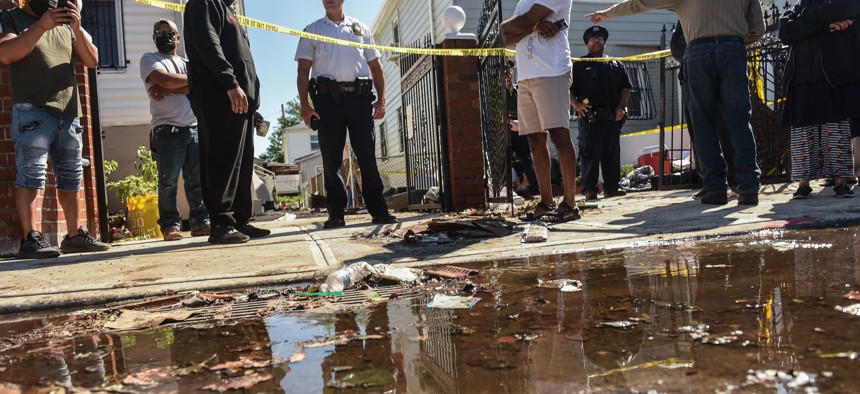 Things are never boring in New York City, but the rescue of a cougar cub from a Bronx apartment was certainly not on most people's 2021 bingo card. But that's what the state Department of Environmental Conservation had to deal with this week. Thankfully, the owner realized they got in over their head and willingly gave up the big cat with little fuss. But this serves as a good reminder, as NYSDEC Commissioner Basil Seggos said, "Wild animals like cougars aren't pets." Keep reading for the rest of this week's news.
Deadly flooding in NYC area
As the remnants of Hurricane Ida moved through the northeast, the New York City area was drenched with torrential downpours and intense flooding that left at least 12 people dead, most of whom drowned in their basements. A two-year-old in Queens was among those who were killed by the storm. A record 3.15 inches of rain fell in the course of one hour in Central Park, shattering the old record of 1.94 inches set just the week before. By the time the storm had passed, the city had experienced over eight inches of rain over just one night. The flooding shut down every subway line and caused suspensions on the commuter rail lines. The Metropolitan Transportation Authority had to evacuate subway cars stuck between stations, which left some passengers stranded for hours. Feet-deep rain water in streets and expressways left drivers with no choice but to abandon their cars as roads like the Bronx River Parkway effectively became the rivers. Although the rain was expected, officials seemed caught off guard by the unprecedented volume of rain that fell over a short period of time as evacuation orders and warnings like those seen when the region was hit by Tropical Storm Henri did not come, and an emergency declaration was not made until flooding was well underway. In the aftermath of the storm, Gov. Kathy Hochul committed to investigating the state's apparent lack of preparedness as she and other politicians including New York City Mayor Bill de Blasio and Senate Majority Leader Chuck Schumer emphasized the need to tackle climate change as catastrophic weather events are becoming more common.
An extraordinary session in Albany
Hochul called lawmakers back to Albany for an extraordinary session to extend the eviction moratorium, which had expired on Aug. 31, and to dedicate some more money to the rent relief program to help both struggling tenants and landlords. Rather than the legislative leaders telling their colleagues to return, which they could have done, Hochul issued a proclamation for what is called an extraordinary session, allowing her to have control over the agenda, which she kept narrow. Lawmakers were limited to acting on evictions, rent relief and confirming two appointments to leadership positions in the new Office of Cannabis Management. Although criminal justice reform advocates would have liked to see action on parole reform and passage of the Clean Slate Act, Hochul did not expand the agenda. Lawmakers did as they were instructed and passed a bill extending the moratorium until Jan. 15, 2022 and another adding millions of dollars to the rent relief program. Housing and tenant advocates celebrated the move after expressing deep concern over looming evictions. Not long after Hochul signed the extended moratorium into law, however, a landlord group sued to block enforcement. The state Senate also confirmed former Assembly Member Tremaine Wright to chair the Cannabis Control Board and legalization advocate Christopher Alexander as executive director of the Office of Cannabis Management. Their appointments are the first step in jumpstarting the stalled recreational marijuana program. The extraordinary session may have had some unintended consequences too as at least two members of the Assembly have tested positive for COVID-19 since going to Albany.
Electrical hiccup wreaks subway havoc
Before Ida swept through the region causing massive issues for the trains, half the subway system temporarily shut down. Con Edison experienced a momentary voltage dip, which caused a power surge for most New York City residents, though not a full outage. But a series of failures with the MTA power systems led to system-wide problems that left straphangers trapped on trains and caused service on many train lines to come to a standstill. Hochul directed the MTA to hire outside engineering firms to investigate the unprecedented failures to ensure a similar situation never happens again.