New York State
Hochul sets new agenda for abortion rights in NY
It includes an education campaign, but no additional legislation yet.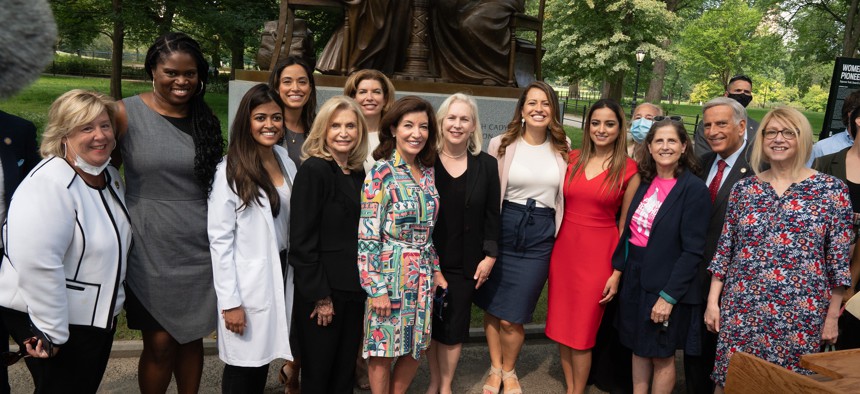 As she stood in front of the Women's Rights Pioneers statue in New York City's Central Park to decry Texas' strict new abortion law, Gov. Kathy Hochul spoke about her own first pregnancy. "I can guarantee I did not know I was pregnant with my first child at six weeks," Hochul said. "I actually went on a whitewater rafting trip, it turns out, at three months, because I didn't know I was pregnant. That is the reality of real people." She's the first governor in state history to be able to speak about reproductive and abortion rights in this way, the first to have the personal experience of carrying children to term and dealing with the issues around bodily autonomy.
It was not the first time that Hochul has criticized the Texas law since the U.S. Supreme Court allowed it to go into effect on Sept. 1. And it likely won't be her last as she steps into the spotlight like no New York governor before her as she looks ahead to reelection. On Monday, Hochul announced several parts of a new agenda to promote abortion rights and education in New York.
Surrounded by abortion rights advocates and elected officials, including U.S. Sen. Kirsten Gillibrand, Rep. Carolyn Maloney and state Senate Majority Leader Andrea Stewart-Cousins, Hochul said she wanted to tie up some "loose ends" not addressed in the Reproductive Health Act, which codified in state law a person's right to an abortion in 2019. "We want to make sure New York patients, first of all, and anyone who comes knows their rights," Hochul said. "You don't know your rights, you might as well not have them." To that end, she said she was directing state agencies – particularly the Department of Health – to launch an education campaign to ensure that everyone in New York knows their rights in regard to abortion access. This would include a patients' bill of rights that would be distributed to doctors' offices and clinics.
Hochul also said she would direct the health department to create an updated set of guidelines for health care providers regarding the abortion and reproductive rights laws that they need to follow. This is in part to help women from Texas that may look to New York for abortion care in the wake of restrictive laws that ban abortions after a fetal heartbeat is detected, which is roughly six weeks after becoming pregnant. "Our harbor is open for people to come here and understand that we will be there to take care of them and protect them," Hochul said.
But absent from the agenda that Hochul announced was new legislation that would further enshrine abortion rights and provide support to the women who seek them. Instead, she focused on getting information out on a law that was passed over three years ago. Several bills are currently awaiting action by lawmakers and could be priorities in the upcoming session. One bill sponsored Rochester state Sen. Samra Brouk and Queens Assembly Member Jessica González-Rojas, neither of whom were at Hochul's well-attended press conference, would require all insurers in the state to cover abortions. Another sponsored by Bronx state Sen. Alessandra Biaggi and Bronx Assembly Member Karines Reyes – neither of whom were there either – would create an abortion care fund run by the state and financed through optional donations from New Yorkers on their tax forms. "It's things like transportation, it's things like the actual procedure of abortion itself," Biaggi recently told City & State. "Codifying Roe v. Wade was an amazing feat that we overcame, and we did. But also, it's not enough."
The state has the New York Abortion Access Fund, a nonprofit fund run by volunteers, but the state doesn't contribute to it. New York City made history in 2019 when it included $250,000 for the volunteer fund in its fiscal year 2020 budget, which activists said was the first time a U.S. city had directly funded abortions. The state legislation would also mark a historic first as a state has never run such a fund that provides money directly for abortions and abortion-related care. New York already pays for abortion care for low-income people through Medicaid, one of a small minority of states to do so voluntarily. 
Asked if she supported the abortion care fund legislation, Hochul at first said she would be "looking at that" when she erroneously thought the bill had passed and awaited her signature. When it was pointed out the bill still must pass, Hochul changed her tune. "Then it's not on my desk, but I support it," she said, without elaborating on whether it would be a legislative priority of hers in the next session or in her first budget. In a statement to City & State, Biaggi said she was "happy to hear" Hochul voice support for the bill and looks forward to working with her and legislative leaders to get it passed in the next session. In a text message, Reyes said she had not yet spoken to Hochul or her staff about the legislation, but echoed Biaggi's sentiment. "Hopefully the governor can help us get our bill through the Legislature and those are conversations we'll begin to have as we move into the coming session," Reyes wrote.
And abortion rights advocates were heartened by Hochul's announcements on Monday, even if they would have liked to have seen additional legislation become part of her agenda. "What the governor has proposed today is really important change that we're really excited about," National Institute for Reproductive Health Action Fund Vice President of Political and Government Affairs Danielle Castaldi-Micca told City & State. "And we also feel confident that she'll work with us on legislation in the future. I just think that given that this is such a rapidly changing situation, she wasn't in a place to talk about legislation."
This "rapidly changing situation" has allowed Hochul to jump into a national issue that had not been mentioned as an early priority as she settles into office. It's similar to how when the remnants of Hurricane Ida hit New York, it opened the door for her to begin talking about climate change, another issue that had not seemingly been on her radar when she abruptly took over as governor. "We were a little preoccupied with a hurricane hitting at that moment," Hochul said of Sept. 1 when the Texas abortion law was upheld. "But I didn't realize there was another hurricane brewing in our nation's capital as well."
The Central Park press conference was the second time Hochul gave a major speech about the Texas abortion ban. On Sept. 9, she attended a boisterous abortion rights rally in Brooklyn, where she declared that women were "sick and tired" of lawmakers legislating their reproductive health decisions. "Keep your damn hands off our bodies!" she said, while highlighting the difficulties she faced running for local office and Congress in a more conservative part of upstate as an abortion rights politician.
Hochul has highlighted her stances on abortion rights in the past, namely in her 2018 Democratic primary race against New York City Public Advocate Jumaane Williams. She attacked Williams for past statements in which he said he was not personally supportive of abortions while positioning herself as a lifelong abortion rights champion.
With the Texas abortion law and the Supreme Court decision putting reproductive rights back in the spotlight, Hochul once again has the opportunity to tout her women's rights bona fides while distancing herself from working for former Gov. Andrew Cuomo.
At the press conference, Hochul also said she would direct the health department to make sure updates were made to state regulations so that people could access abortion care medicine through telehealth. And she said she would send a letter to Facebook asking for their help to combat misinformation about abortion through social media. All the announcements were met with cheers by a defiantly spirited crowd. As she wrapped up her speech, she said, "I'm going forward, I'm not going back, and I'm taking every one of you with me."
Powered By
NEXT STORY: A new LG in town as storm recovery continues