New York State
Progressives praise appointment of Dr. Mary Bassett to head DOH
The new state health commissioner has a lot of experience and many fans on the political left.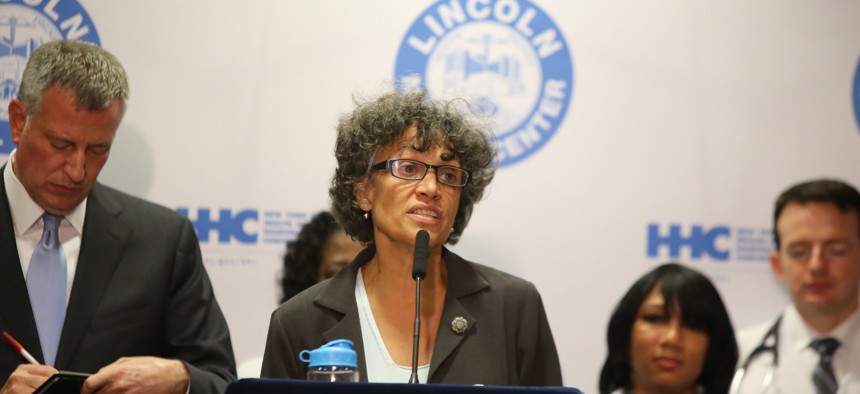 Gov. Kathy Hochul is appointing Dr. Mary Bassett as state health commissioner and progressive legislators could seemingly not be any more happier. "Being Jewish, I don't really know what it feels like to be a kid on Christmas morning – but I think it must be kind of like this," Assembly Health Committee Chair Richard Gottfried of Manhattan said in an interview. "She is somebody with the strongest progressive public health values." His counterpart in the state Senate, Gustavo Rivera of the Bronx, sent City & State a GIF of a slam dunk when asked his thoughts on her appointment. They are hardly the only left-leaning people singing the praises of the former New York City health commissioner on social media. 
Bassett will become commissioner of the Department of Health at a pivotal time in its history. The coronavirus pandemic is continuing to rage across New York, but the state agency tasked with confronting the pandemic appears to be in disarray. Top officials have left over the past year and critics of outgoing Commissioner Howard Zucker say the agency's political independence has disappeared under his watch, especially given his role in the nursing home scandal that helped drive ex-Gov. Andrew Cuomo from power last month. "There's an incredible exodus of folks who just left because they felt that the agency was over politicized, and it had strayed from its mission," Rivera said of the department in an interview. "I believe that her presence will mean that a lot of these folks will come back, or that new talent will want to come in."
COVID-19 is continuing to kill dozens of New Yorkers every day. Many people remain resistant to masks and vaccines. Booster shots present an enormous logistical challenge. Longstanding problems like AIDS and substance abuse continue to afflict people across the state. Bassett has to deal with all that, plus the institutional damage legislators say Zucker caused at his department. One prominent example was his months-long refusal to release data showing the number of nursing home residents who died of COVID-19 in hospitals at a time when the former governor was writing a book about his handling of the pandemic. "She comes into the position during a critical time and with a tremendous amount of work," Assembly Minority Leader William Barclay of Central New York said in a statement. "The strength and credibility of DOH were severely damaged by her predecessor. I hope Dr. Bassett's tenure is defined by a commitment to protecting public health and she is able to carry out her duties free of the political influence that we witnessed in the previous administration." 
Her experience in public health spans the decades that followed her graduation from the Columbia University Vagelos College of Physicians and Surgeons. She developed strategies for reducing the spread of HIV at the University of Zimbabwe and later worked for the Rockefeller Foundation before becoming a deputy commissioner at the city Department of Health and Mental Hygiene in 2002. Mayor Bill de Blasio appointed her as commissioner in 2014 and her responses to outbreaks of Ebola and other infectious diseases have been widely praised. "We had a cluster in my district," New York City Council Health Chair Mark Levine said in an interview of an outbreak of Legionnaires' disease in Manhattan. "This inspection program that we set up on cooling towers. It's way beyond anywhere else and that was built on her watch." She left the department in 2018 to become director of the François-Xavier Bagnoud Center for Health and Human Rights at the Harvard T.H. Chan School of Public Health. Her appointment as commissioner will take effect Dec. 1 although final approval by the state Senate is unlikely to happen before early next year. 
A focus on the role of structural racism is one part of her legacy in public health that progressives are particularly excited about. "Racial justice is not just a value for public health work, but a necessary commitment if we are to do our jobs competently," she said in a 2016 speech. In her past city roles, this meant highlighting how health issues like obesity, tobacco use and hunger combined to hurt the health of people of color in ways that had not been recognized as much before. The coronavirus pandemic appears to have made her double down on such thinking five years later. "The pandemic underscored the importance of public health, while also revealing inequities driven by structural racism," Bassett said in the gubernatorial press release announcing her appointment on Wednesday. "As we move to end the pandemic, we have a unique opportunity to create a state that is more equitable for all New Yorkers." This could potentially mean big changes to how the state approaches racism as a matter of public health, one of many issues that are already testing the new governor as well.
Legislation that would declare racism a public health crisis – and then task the Department of Health with establishing a working group to come up with solutions – is one example of how Hochul and Bassett might team up in the coming months as she continues her own efforts to develop a political identity separate from Cuomo, who she served for years as lieutenant governor. Naming a new health commissioner means she has one less erstwhile loyalist to the former governor to worry about as she approaches her Oct. 8 deadline for ridding her new administration of people tied to Cuomo's various ethics scandals. Progressive lawmakers are more than happy to see Zucker go, but they are particularly happy that Bassett is who Hochul named to replace him – and what that might mean for their constituents moving forward. "I am looking for somebody who understands the challenges – the unique challenges that communities of color face, and are proactively going to look for ways to address them,"  Assembly Member Karines Reyes, a registered nurse who represents parts of the Bronx, said in an interview. "(Bassett) has a unique perspective that is much needed during this time."
Powered By
NEXT STORY: Letitia James and the great non-campaign, campaign speech