Politics
State Sen. Luis Sepúlveda expected to chair a committee again
The Bronx Democrat is once again a member in good standing despite ongoing questions about alleged domestic violence.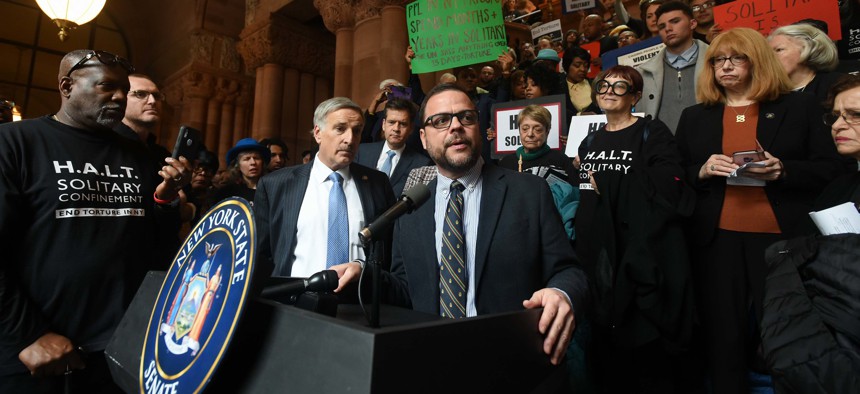 State Sen. Luis Sepúlveda of the Bronx is on his way to becoming a Democratic legislator in good standing after prosecutors dropped domestic violence charges against him earlier this week. 
The three-term legislator was stripped of his committee memberships last January after being charged with choking his estranged wife, whose refusal to testify was a key reason why the prosecutors dropped the case, according to the Office of the Bronx District Attorney. He could now regain his chairmanship of the powerful state Senate Committee on Crime Victims, Crime and Correction as soon as the new legislative session begins next January. 
"Formal committee assignments are given out at the beginning of every year and we certainly expect all our members to serve on and chair committees," a spokesperson for State Senate Majority Leader Andrea Stewart-Cousins of Westchester said in an email. Multiple members of the state Senate say the end of the criminal case against Sepulveda – who has denied the allegations against him – means the matter ought to be closed. An attorney for Sepúlveda told City & State that the dropping of the charges means his client has been exonerated. 
Democratic legislators have called for others to lose elected positions or appointments under circumstances similar to the case involving Sepúlveda, whose wife reportedly pursued an order of protection against him in 2015. Yet, no Democratic member of the chamber was willing to speak on the record – out of 20 contacted for this story – about the situation despite the unease felt by some on how it contrasts with their desire to be seen as the unimpeachable champion of abuse survivors. "It's very troubling," one Democratic state senator said in an interview. "At least in the short term he seems to have prevailed."
State Sen. Hiram Monserrate of Queens, who allegedly attacked his girlfriend with a shard of glass, was expelled from the state senate in 2010 after being convicted of misdemeanor assault. In Monserrate's case, the domestic partner he assaulted also later declined to testify against him – a situation that is "quite common" among survivors of domestic violence, according to Christine Perumal, director of the Domestic Violence Law Project at the nonprofit advocacy group Safe Horizon. The incident involving Monserrate was captured on video, and he was later convicted of misdemeanor assault and subsequently expelled from the chamber by an overwhelming vote following an investigation by his colleagues. 
A range of alleged wrongdoing, including how Monserrate raised money for a legal defense fund, also factored into his historic ouster from the chamber, according to Democratic state Sen. Diane Savino of Staten Island. "We determined that he was unfit to serve – not because of his conviction, but in addition to it," she said of a select committee she sat on at the time. Monserrate's role in temporarily giving Republicans control of the state Senate in 2009 hardly helped maintain support among fellow Democrats. 
Sepúlveda has not been found guilty of anything. Savino is one of several Democratic state senators who told City & State that the lack of a criminal conviction means Sepúlveda ought to get his committee assignments back. "You have a situation where an accusation was made, charges were brought, and there was sufficient time to examine the evidence on the part of the district attorney's office," she added. "Ultimately they made a decision that there was no there, there." 
A spokesperson for the Office of the Bronx District Attorney said in an email that prosecutors were unable to prove their case against Sepúlveda because "the complaining witness no longer wishes to testify." Members of the state Senate are ill-positioned to do any better in investigating the matter, though its Ethics Committee – whose chair, Democratic state Sen. Alessandra Biaggi of the Bronx, did not respond to a request for comment by publication time – does have the authority to investigate members of the chamber. "We are forced into a situation of innocent until proven guilty," state Sen. James Sanders, Jr., a Democrat from Queens, said in an interview. 
Democratic senators are unsure what to do with Sepúlveda now that charges have been dropped. His estranged wife requested an order of protection against him in 2015 while he was an Assembly member, the Daily News reported at the time, and it remains unclear why exactly she decided to not cooperate with prosecutors this year. An investigation by the state Senate is one place for lawmakers to start, according to Erica Vladimer, a co-founder of the Sexual Harassment Working Group, a group organized by former legislative staffers who have advocated for greater protections for victims of sexual violence. 
"There's obviously the legal judicial process, and that will always have its own decisions and outcomes, but that should not take the place of ethics," she said in an interview. "The senate majority has an opportunity to show a commitment to ethics."